Modest Homes Once Owned by Star-Studded Celebrities
Of course, a career in the entertainment industry can be pretty challenging. Despite the hurdle, though, that hasn't stopped people from giving it a shot. Because of that, they have since become the celebrities we now see under the spotlight. We may know them for their work in movies, TV shows, or the songs they made, but these stars undoubtedly earn quite a fortune despite their different career paths. Even so, that doesn't mean some of them still opt for a more modest lifestyle.
For this article, we'll discuss celebrities who owned relatively not-so-pricey homes with price tags that barely even reach a million dollars. Thanks to their reputation skyrocketing to an extremely high degree, it comes as no surprise that some of these properties eventually became historical landmarks and tourist attractions for fans and newcomers to visit – some of them are even on the market! From all-time classics like Diana Ross to modern-day stars such as Taylor Swift and Jennifer Lawrence, let's take a look at these homes once – or still – owned by these star-studded people, shall we?
Diana Ross | Estimated $206k| North End, Detroit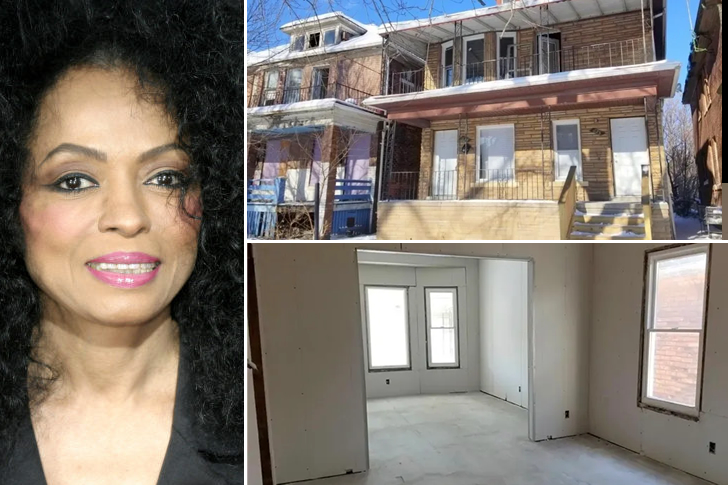 Despite her initially aspiring to be a fashion designer, one can't deny that Diana Ross has an impressive singing voice. With that in mind, she eventually found her way to being the lead singer of the all-girl group The Supremes, who, to this day, still take credit for being a best-selling artist in the music industry worldwide.
Along with her successful career as a solo artist and actress, it's safe to say this Golden Globe Award-winning star has since earned quite a fortune. Even so, like many of her colleagues, Diana started her career with humble beginnings. Before she found her way under the spotlight, the singer and her family lived in this four-bedroom home. Located in Detroit's North End section, they bade farewell to the property back in 1958, and since then, it has been fluctuating on the market.
Marlon Brando | $230k| Omaha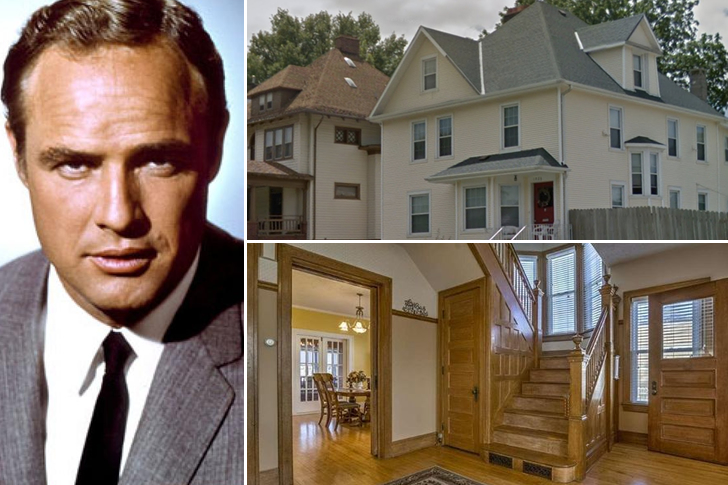 Even during his childhood, Marlon Brand0 possessed the makings of a talented and skilled actor. Well, with the gift of retrospect, it sure looks like that hobby of his eventually became one of his most significant investments. With a decades-long career, the actor got his first shot to fame with his 1951 film A Streetcar Named Desire. Among his many projects, though, it goes without saying that Marlon is universally known for his Academy Award-winning performance as Vito Corleone in 1972's The Godfather.
Among the many properties he's owned throughout his career, it would be a disservice not to acknowledge his childhood home in Omaha. Moreover, the establishment came to be in 1900, and the house features a master suite for a third floor and has five other bedrooms. Recently, it placed on the market for around $250,000 but ultimately sold in 2017 for a lower price tag of $230,000.
Maya Angelou | $237k| St. Louis, Missouri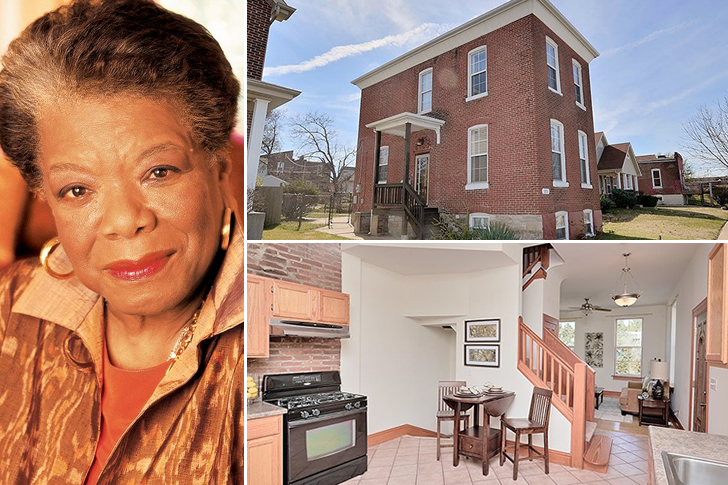 Before she gained recognition among the most outstanding figures in the world of literature, Maya Angelou worked various jobs to help with her day-to-day needs. From a fry cook to a cast member of Porgy and Bess, Maya eventually also dabbled in directing, acting, and producing a couple of movies and films. Thanks to the impact she's made on the world throughout her five-decade career, Maya also happily received plenty of awards and honorary degrees along the way.
During the earlier years of her childhood, this world-famous writer resided in this two-story home. With the reputation and legacy she's left, it comes as no surprise this modest-looking property has since achieved landmark status, making it a tourist attraction of sorts. With that said, the I Know Why the Caged Bird Sings author's former home is recently reported to be worth around $237,000, a significant rise from when it saw a sale for $159,000.
Janis Joplin | $200k| Port Arthur, Texas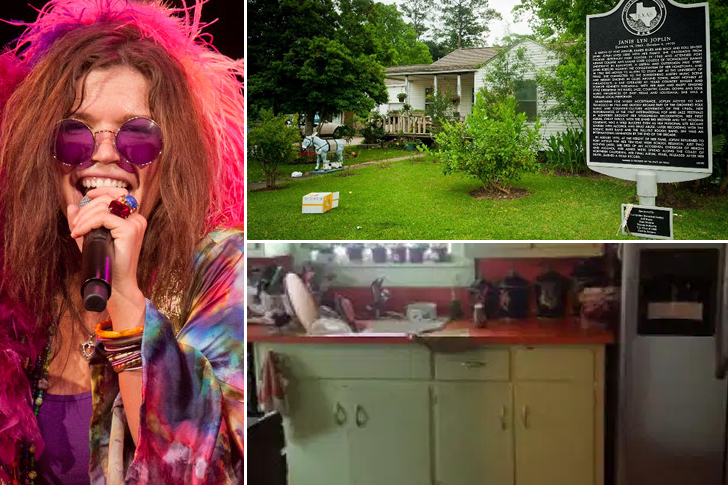 More often than not, the people we meet along the way, no matter how brief the interaction, undoubtedly leave a significant influence on us. Well, the same can be said for Janis Joplin and her friends, who introduced her to the wonders of blues music. A few years later, Janis followed in her idols' footsteps and became a world-famous musician. She received induction into the Hall of Fame for all her work, marking her place among the industry's most iconic figures.
Janis and her family requested a moving company's services more than a couple of times throughout her childhood. One such time was when they moved to this five-bedroom home located in Port Arthur, Texas. With that said, the property eventually became a historic landmark, and one of its attractions is the singer's childhood signature written on a cement slab.
Johnny Cash | $575k| Kingsland, Arkansas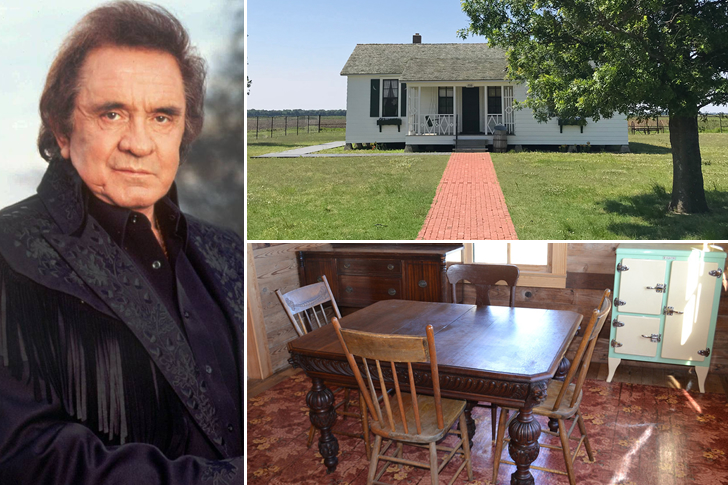 A name undoubtedly well-known in the music industry, Johnny Cash first learned how to play the guitar in his pre-adolescent years and sang on a local radio station during his high school years. With his talents polished and improve since then, he eventually made quite a name for himself under the spotlight, bringing the world hit songs like I Walk the Line, Ring of Fire, and his rendition of the Nine Inch Nails track Hurt.
At this point, if there's one thing famous music artists have in common, it's that their childhood homes eventually become historic landmarks. Well, the same can be said for Johnny and his house in Kingsland, Arkansas. A modest-looking abode that blends in with neighboring properties, the house joined the National Register of Historic Places back in 2018. Plus, Arkansas State University reportedly spent around $575,000 worth of investment money purchasing the property and restoring it to a better condition.
Judy Garland | $550k| Lancaster, California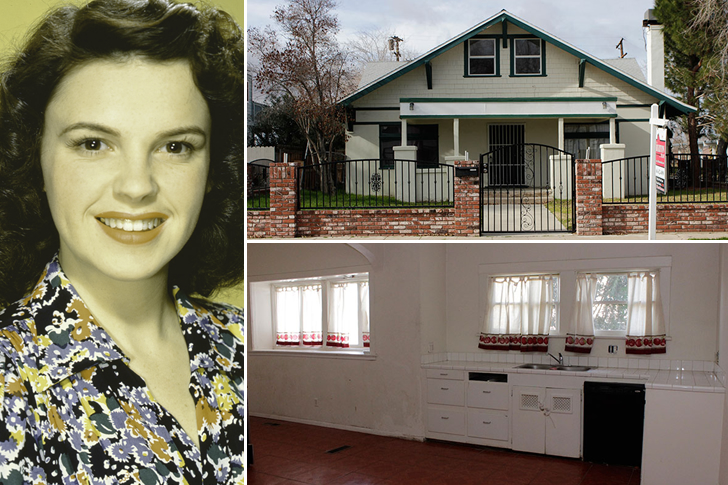 Born to a family of experienced performers, it's no wonder Judy Garland got her first experience under the spotlight when she was just two years old. Alongside her two elder sisters, Judy's earlier stints as a child star were at her father's theater, with her mother on the piano accompanying her and her siblings' musical numbers.
Nowadays, though, it's safe to say that Judy is universally known for her acting credit as Dorothy Gale in 1939's The Wizard of Oz. Besides her legacy in the entertainment industry, another property to commemorate the actress would undoubtedly be her childhood home in Lancaster, California. The established around the 1920s; this humble abode comes with eight bedrooms, among other amenities. Despite receiving some damage through the years, the house received a makeover and restored to excellent condition, with the last reported asking price is around $550,000.
Martha Stewart | Estimated $499k| Nutley, New Jersey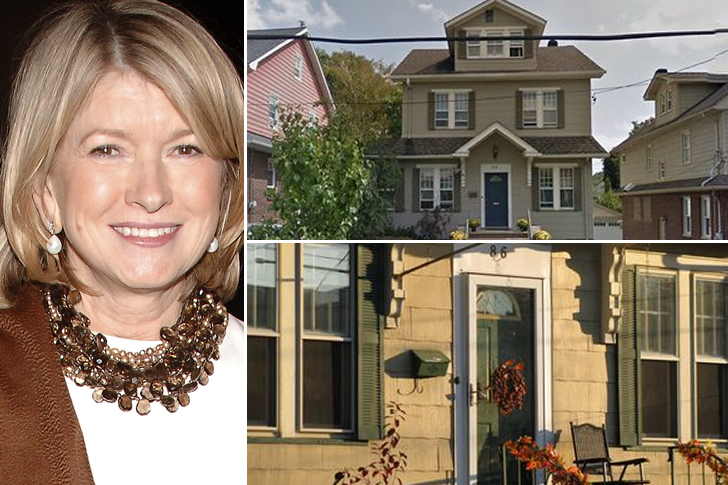 At ten years old, Martha Stewart already had a chance to be with a couple of celebrities. She worked as a babysitter for the children of New York Yankees players such as Yogi Berra and Mickey Mantle. A few years later, she began her career under the spotlight, modeling brands like Chanel and appearing in TV commercials.
Since then, she has made numerous successful investments, with the most notable one being her diversified media and merchandising company, Martha Stewart Living Omnipedia. Along the way, however, it's safe to say she would also look back to fond memories now and then. Back in 2014, the businesswoman/writer blogged her experience of revisiting her childhood home in Nutley, New Jersey. Well, a couple of aspects may have changed, but to her surprise, many things were still the way she remembered.
Warren Buffett | Estimated $650k| Omaha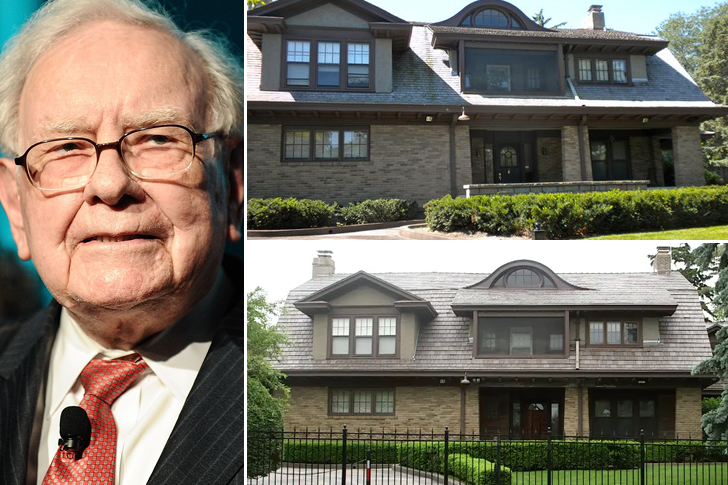 Even during his childhood, Warren Buffett was already quite fond of making investments in various ventures. After reading One Thousand Ways to Make $1000 when he was seven years old, Warren undoubtedly followed the book's many pieces of advice to heart. Buffet sold chewing gum, Coca-Cola bottles and even installed a pinball machine in a couple of barbershops around his hometown. By the looks of it, all these endeavors undoubtedly helped him become the successful businessman he is today.
With his net worth accumulating to as much as $100.6 billion, Warren is now one of the world's wealthiest figures. Despite that status, though, the Berkshire Hathaway CEO still prefers to live in a modest home, which just so happens to be a monument in his childhood town of Omaha. He repurchased this calm and peaceful abode in 1958 for $31,500, and since then, its value has risen to around $650,000.
George Harrison | $250k| Liverpool, England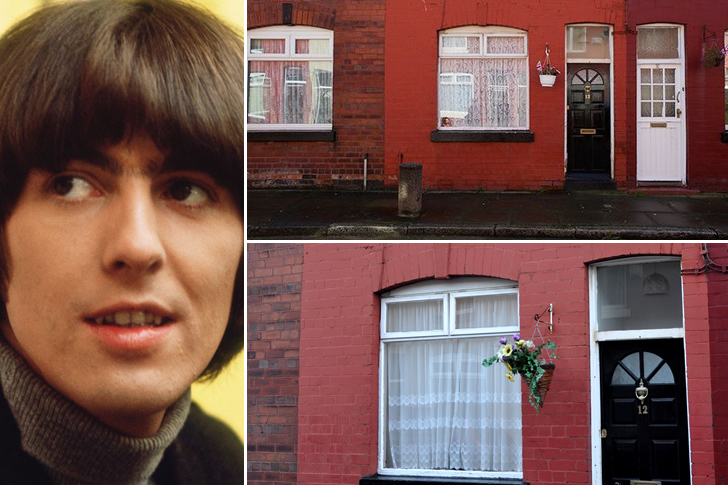 Music undoubtedly plays an integral part in most – if not all – of our lives. Well, the same can also be said for George Harrison, who found his love for rock and roll after hearing Elvis Presley's song Heartbreak Hotel. Nowadays, though, it's safe to say George is in the same degree of acclaim as Presley, and that's thanks to his work as the guitarist of the now-iconic band, the Beatles.
During his childhood, George and his family lived in this house in Liverpool, England. Thanks to his popularity and reputation, many Beatles fans have come and visited the property, making it a landmark of sorts. After some time, though, in 2014, the house was auctioned and sold to an all-time Beatles fan for $250,000. Perhaps the buyer purchased the abode while singing a happy-sounding song – like the Beatles track Here Comes the Sun, composed by George.
Paul McCartney | $231k| Liverpool, England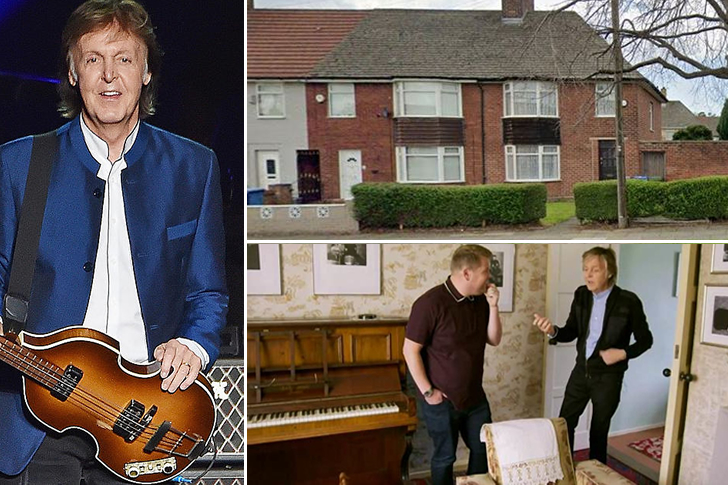 Besides George, another figure most known for being a Beatles member is none other than Paul McCartney. Along with his fondness for music, Paul also knows his way around the guitar, keyboard, drums, and bass, the latter being the main instrument he plays.
To this day, many of the tracks he wrote for the band, such as Blackbird, And I Love Her, and Yesterday, take credit for being among the most covered songs in the music industry, with numerous artists providing their renditions of them. Like his colleagues, it's no surprise the musician began his journey in humble roots, with one of his childhood homes being in Liverpool, England. More importantly, the property sits in a working-class neighborhood sold in 2015 for $231,000. By the looks of it, though, it sure seems like Paul still opts to reside in a modest-looking property.
Jimmy Fallon | $116k| Saugerties, New York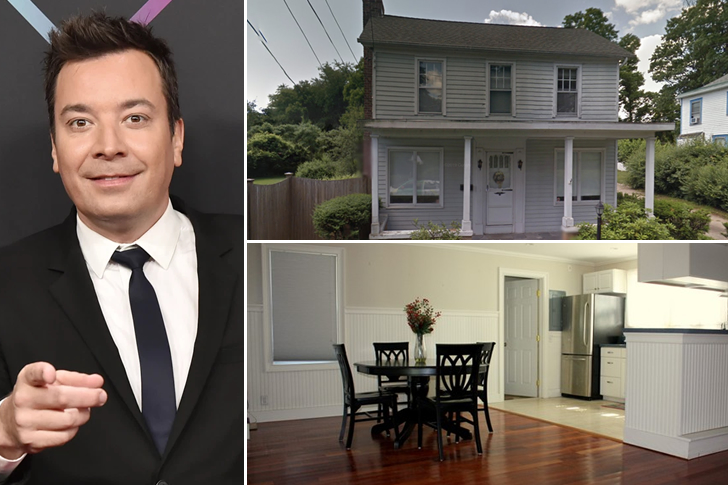 For his introduction to the world of comedy and music, it's safe to say Jimmy Fallon owes it to The Dr. Demento Show radio program – he would record and listen again to many of its episodes, too. A few years after, he began his career as a stand-up comedian before landing his first big break as a member of Saturday Night Live.
Nowadays, Jimmy is most known for his work as a talk show host on The Tonight Show, Starring Jimmy Fallon. Along with his fame, Jimmy also earns quite a fortune, so it comes as no surprise he spends some of his investment money on luxurious things. Even so, the comedian/show host hasn't forgotten about his humble beginnings. During his earlier years, he resided in this house in Saugerties, New York. When it was placed on the market back in 2012, Jimmy promoted it to his fans on his Twitter account, advertising it as a "great place to grow up."
Oprah Winfrey | $375k| Chicago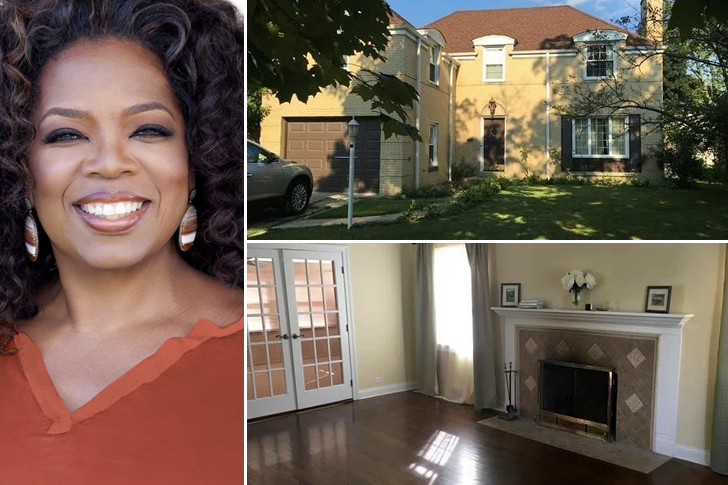 At this point, it would be quite challenging to find someone who at least hasn't heard of Oprah Winfrey. With her childhood passion for speaking in public and giving interviews, she has since become most known for her work on The Oprah Winfrey Show, which also undoubtedly earned her the title "Queen of All Media."
Along with her projects and endeavors over the years, Oprah has also requested a moving company's services for her real estate. Before her humongous 40-acre estate, The Promised Land, became a reality, the talk show host once called this house her home. Located in Chicago, Oprah purchased the property back in 2001 for a price tag of $298,000. She eventually placed it on the market in 2018 for around $400,000 and ultimately sold it for $375,000. There may have been some sort of loss from this transaction, but it's safe to say it didn't hinder her from accumulating a net worth of $2.7 billion.
Michael Jackson | Estimated $43k| Gary, Indiana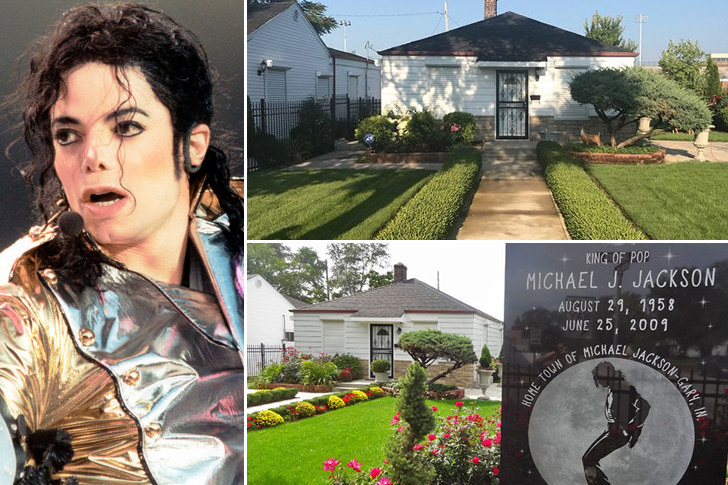 The music industry has produced countless musical figures over the years. With that said, one such artist who is well-known to this day is none other than the King of Pop, Michael Jackson. Along with his iconic singing voice, Michael is also known for his energetic performance at his concerts – he'd be as lively as a bouncing ball of electricity.
Before he garnered widespread recognition as a solo artist, the Billie Jean singer began his journey to the music industry as a member of the Jackson 5 along with his elder brothers. At this time, the family lived in this tiny house in Gary, Indiana. In one way or another, the property looks like a house equivalent of a clown car filled with a comically large amount of clown passengers. After all, it's pretty impressive how a family of ten siblings could fit in a home-like this.
Fred Rogers | $850k| Pittsburgh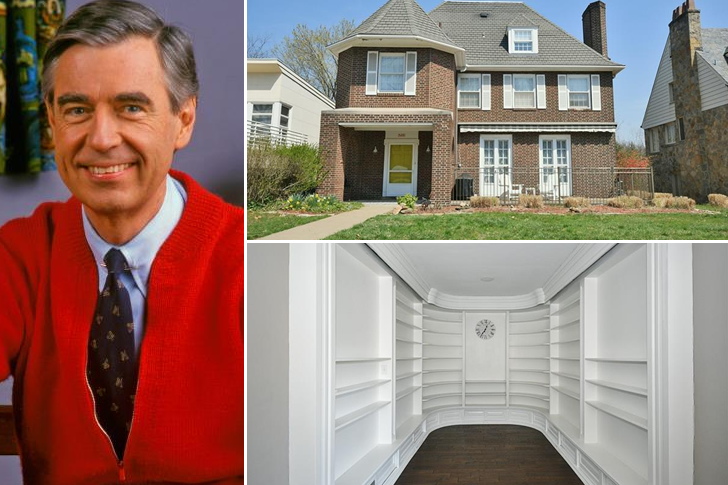 Among many things, it would be a disservice not to acknowledge the impact kids' shows have on their audience – especially the kids. In this entertainment category, one such figure that has since garnered a skyrocketing degree of recognition would undoubtedly be Fred Rogers, famously known for his TV show Mister Rogers' Neighborhood.
Well-known for his genuinely lovely personality, it comes as no surprise Fred's Pittsburgh home greatly reflects his overall wholesome aura. He lived in this 3,700-square-foot abode between the 1950s and '60s. It features a library and a basketball hoop near its garage, among other amenities. With that said, fans of the star have a chance to call the property their own for $850,000. Well, when it does finally get purchased, it's safe to say that moment will be a beautiful day in the neighborhood for the lucky buyer.
Jennifer Lopez | $659k | New York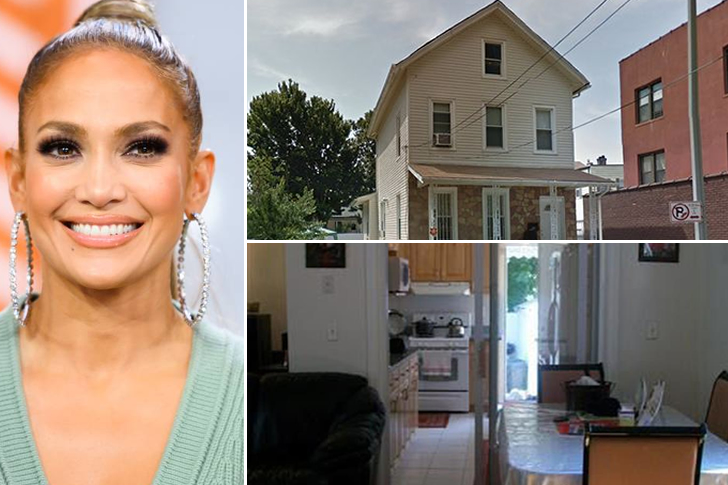 Jennifer Lopez has been loud and proud about growing up in the Bronx. She may be spending her time now in Los Angeles, but the singer-songwriter lived in this modest home, where she "can remember dancing and singing" and getting "all the strength" that she needed from growing up in the neighborhood. Perhaps, this simple two-family Bronx property was her reference in her song Jenny from the Block.
Lopez's career has spanned over 25 years, and today, she is undeniably one of Hollywood's A-list celebrities. She started her acting job in the early '90s with minor roles in TV shows and films. She became a household name in 1995 when she portrayed the title character in the biopic, Selena. From there, Lopez would go on to receive more acting credits, primarily in leading roles. She also kicked off her musical career at the same time.
Taylor Swift | $700k | Reading, Pennsylvania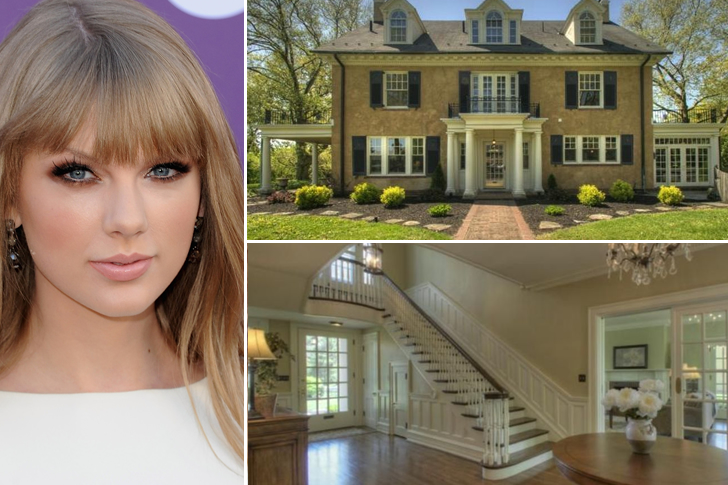 Before calling a moving company to relocate to Nashville so Taylor Swift could pursue a career in music, her family lived in this six-bedroom Pennsylvania house. The current homeowners didn't know the singer-songwriter had lived there until her fans showed up to take pictures outside.
Swift was discovered at age 15 by the future music bigwig Scott Borchetta while playing at a Nashville cafe. Borchetta signed her as the first artist under his newly-established Big Machine Records. Today, she is one of the most successful entertainers in the world. In some touring years, Swift has quickly earned over $150 million. She has also made several television and movie appearances, including Saturday Night Live, Valentine's Day, and CSI: Crime Scene Investigation. Swift recently dropped her chart-topping album called Folklore. Additionally, she has appeared in many publications, such as Rolling Stone and Seventeen.
Blake Shelton | $156k | Ada, Oklahoma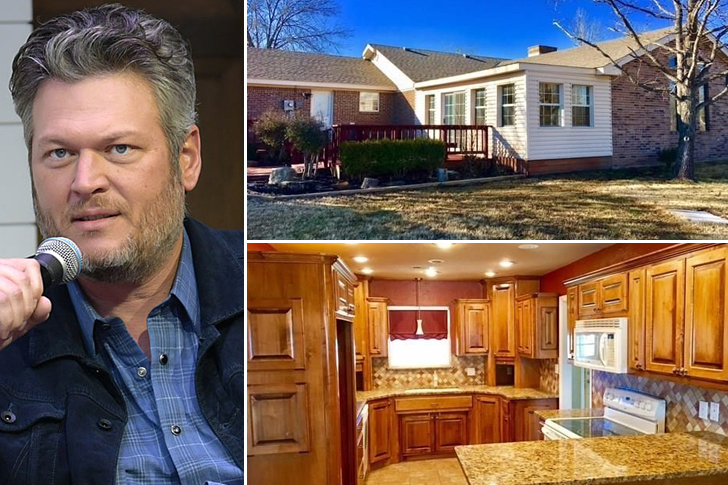 Before becoming a fan-favorite country music artist, Blake Shelton grew up in this simple ranch-style house in Ada, a small town sometimes featured in his music videos. Its sale price was almost $100,000 less than its initial asking price of $250,000. In 2018, it sold for a cool $156,000. Conversely, the property has seen many celebrity features throughout the years.
Aside from being a country music singer, Shelton is also a television personality notable for NBC's The Voice. In the early days of the reality show, he earned a competitive salary of $4 million per cycle. Now, his pay per cycle is $13 million! It's no wonder that he has a considerable net worth of $100 million and a high credit score. Shelton has also garnered many positive reviews from critics, fellow musicians, and fans throughout his career, making him one of today's biggest country music stars.
Laura Bush | $430k | Midland, Texas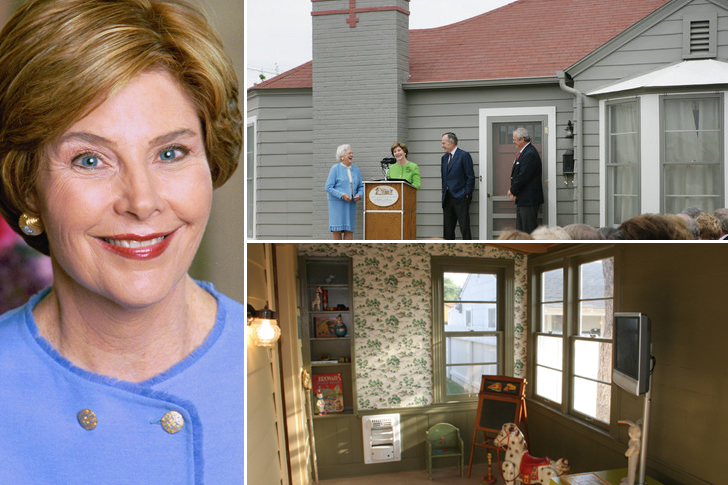 Before hiring a moving company to live in the White House in 2001, Laura Bush lived in this modest three-bedroom ranch. The former first lady once described the small Midland city as "a place of ice cream sundaes and morning pony rides." It sold for over $100,000 less than the original asking price of $425,000 in 2017.
Bush graduated from the Southern Methodist University in Dallas. Soon afterward, she began a career as a grade-school teacher and `was then employed as a librarian in Houston. She met her husband, George W. Bush, in July 1977 when their mutual friends Joe and Jan O'Neill invited them to a backyard barbecue at their house. Bush popped the question in September, and they tied the knot on November 5th of that same year. They welcomed their twin daughters in 1981, Barbara and Jenna.
Kurt Vonnegut | $1.1m | Indianapolis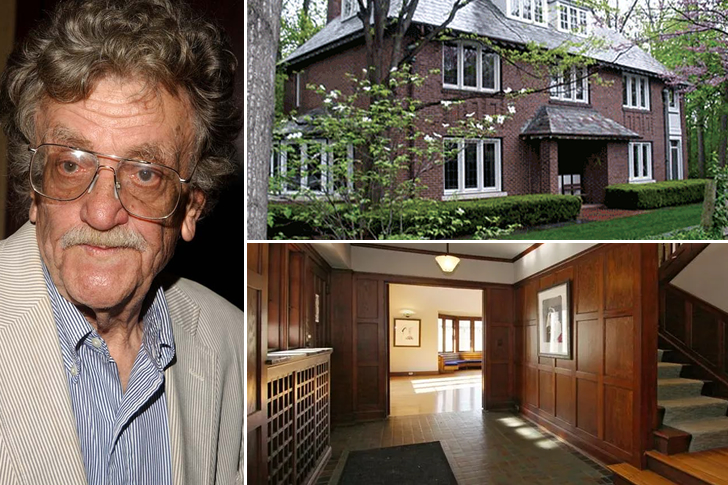 Legendary writer Kurt Vonnegut, who authored books like Cat's Cradle and Slaughterhouse-Five, grew up in this 5,907-square-foot property, which his architect dad designed. This four-bedroom brick home has an estimated market price of $1.1 million, but we're unsure if home insurance is included in the rate. About his hometown of Indianapolis, the famed author once said: "All my attitudes are Indianapolis. What people like about me is Indianapolis."
Vonnegut published 14 novels, five plays, five nonfiction works, and three short story collections throughout his five-decade career. His first novel, Player Piano, was published in 1952, but it wasn't until 1969 that he received his breakthrough in his sixth novel Slaughterhouse-Five. The book's anti-war sentiment was commercially and critically successful as readers resonated with its theme. After its release, Vonnegut was thrust into fame and was invited to give lectures and speeches around the country.
Elijah Wood | $1.85m | Austin, Texas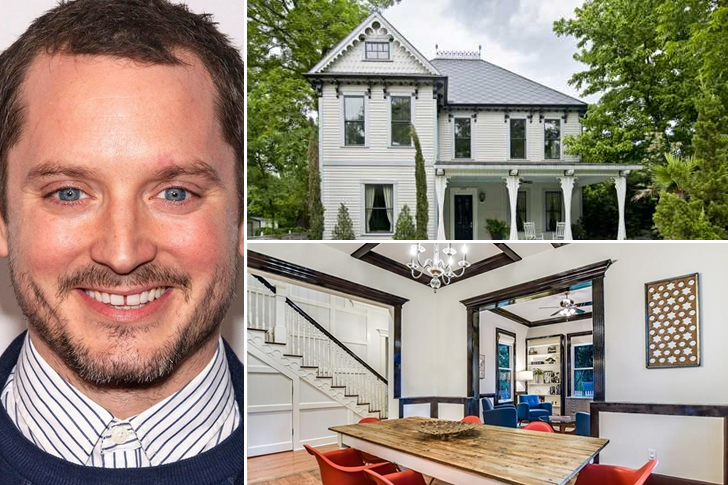 Lord of the Rings actor Elijah Wood exchanged his Santa Monica property for this vast Victorian mansion in the neighborhood of Austin. Checking in at 3,285 square feet and priced well on the high side, it's not a hobbit house. Wood purchased the property in 2012 for $1 million and listed it for sale for $1.85 million.
Before Lord of the Rings, Wood did local commercials when he was just a child. He appeared in the films The Good Son and Flipper before he transitioned into teen roles in Deep Impact and The Faculty. Outside the film industry, he is also a producer and DJ. He launched a record label called Simian Records and has provided the voice to animations like Happy Feet and its sequel. Throughout his career, he has amassed over 100 acting credits to his name.
Shaquille O'Neal | $270k | Orlando, Florida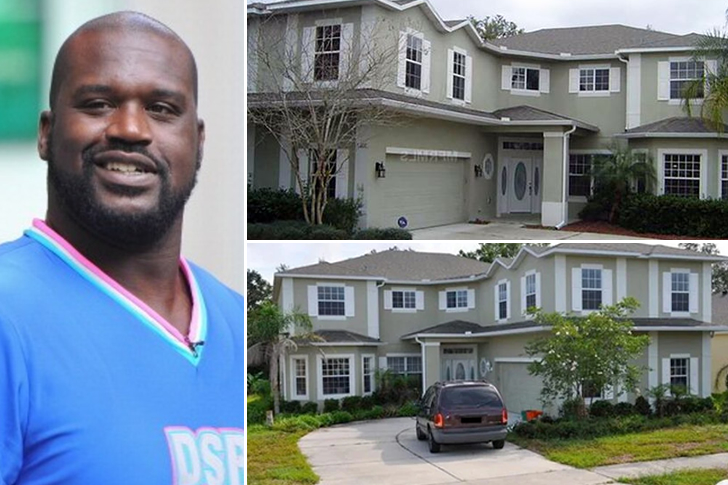 TMZ once reported that basketball star Shaquille O'Neal sold his suburban Orlando property for just $10. Of course, that was false, and it turned out that the NBA athlete had paid $10 to the county appraisal office as a recording fee. In any case, O'Neal sold this property for about $270,000 in 2017.
The 49-year-old former basketball player now has a net worth of $400 million. He reportedly earned $292 million in salary during his work with the NBA. Aside from his salary, he also received over $200 million from endorsements. Even though he has already retired from the sport, he still earns around $60 million annually from various business investments. His endeavors include the stock market and real estate. O'Neal recently invested about $840,000 to purchase 30% of a 9-unit franchise of the pizza restaurant Papa Johns.
John Krasinski | $880k | Los Angeles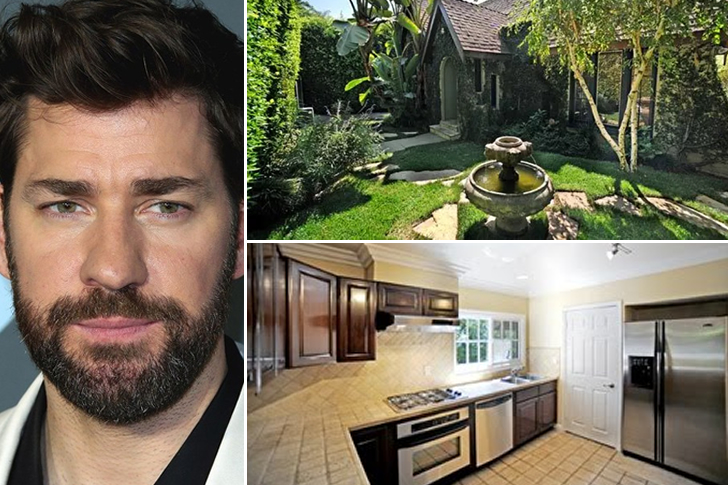 John Krasinski, widely known for his role in The Office, took a huge loss when he sold this Country English home in West Hollywood. He purchased the three-bedroom house in 2008 for $1,050,000 and only sold it for $880,000 in 2011. He and his wife, movie star Emily Blunt, are probably not sweating because they later moved into a lavish midcentury home in the Hollywood Hills neighborhood.
Krasinski relocated to New York to embark on a Hollywood career, appearing in various commercials, off-Broadway play readings, and guest-starring roles on television series. By 2005, he would become a cast member in The Office, which ran from 2005 to 2013. In addition to starring on the hit sitcom, he received directorial credits on three episodes and even filmed the Scranton footage that appears on the show's opening scene.
George Hamilton | $121k | Blytheville, Arkansas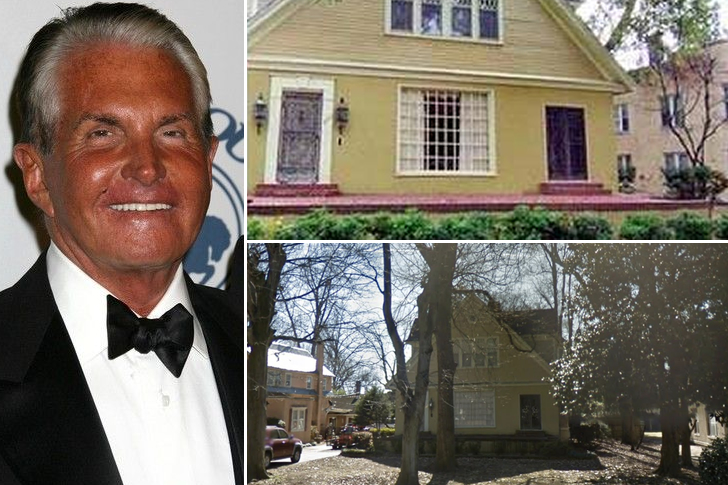 Golden Globe-winning actor George Hamilton spent his boyhood in this lovely four-bedroom Arkansas house. The actor is still fond of his hometown to this day, as he recently said, "It's the very earth where I'm going to be." His childhood home's estimated market value today is $121,000.
After making a cameo in the 1964 film Looking for Love, Hamilton portrayed Hank Williams in Your Cheatin' Heart, which was not widely acclaimed, but the actor's excellent performance. By the 1970s, he decided to venture into film production to give himself more opportunities and greater control over his Hollywood career. With that said, he played the titular role and produced Evel Knievel in 1971. He was also given another break in 1990 when notable director Francis Ford Coppola offered him the role of Corleone family's attorney in The Godfather III.
Madonna | $411k | Rochester Hills, Michigan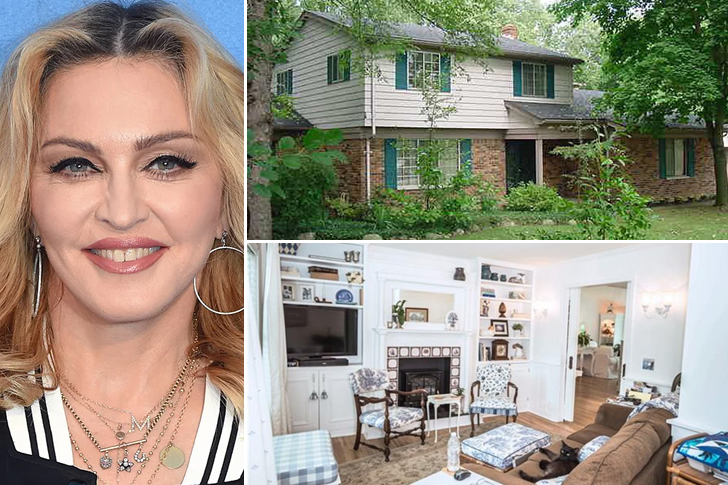 Madonna divides her time between houses in London and New York City, but she originally grew up in this humble abode about 30 minutes outside of Detroit. She lived in this two-story colonial home with her parents and seven siblings, and the house was recently sold for $411,000.
Perhaps not surprisingly, the pop singer owns spectacular properties all around the world. At one point, she owned six estates in London alone. She also paid nearly $9 million for an 18th-century mansion in Sintra, Portugal, in September 2017. For many years, the "Queen of Pop" owned a 6,000-square-foot New York apartment, which she sold for $16 million back in 2013. She also bought a Beverly Hills mansion from actress Sela Ward, which she later sold for $19.5 million. With a net worth of $850 million, Madonna surely prefers spending her fortune on real estate investments.
Tyler Perry | $374k | New Orleans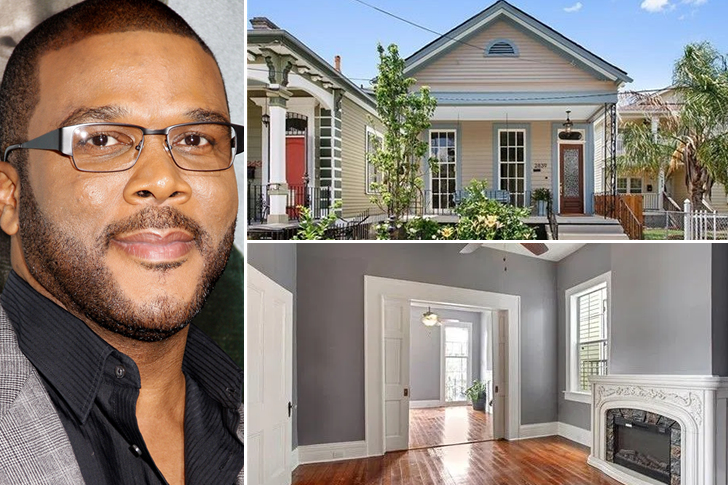 Filmmaker Tyler Perry lived in this little shotgun house in New Orleans during his childhood. Two blocks north were huge mansions, while two blocks down south were housing projects. The director once shared to The New York Times that residing between the two borders "became my metaphor for life."
Throughout his career, Perry has produced and directed more than 30 films, eight TV shows, and 20 stage productions. He is widely considered as a self-made tycoon, having built his empire from scratch, beginning with a single play he produced and wrote entitled I Know I've Been Changed. He once lived in his car, where he reportedly parlayed that play into a mini-theater domain which eventually grew into today's multi-media empire. Perry owns 100% of his revenues, costs, and profits, and his investments contributed to his enormous $800 million net worth and annual salary of $80 million.
Jack White | $510k | Kalamazoo, Michigan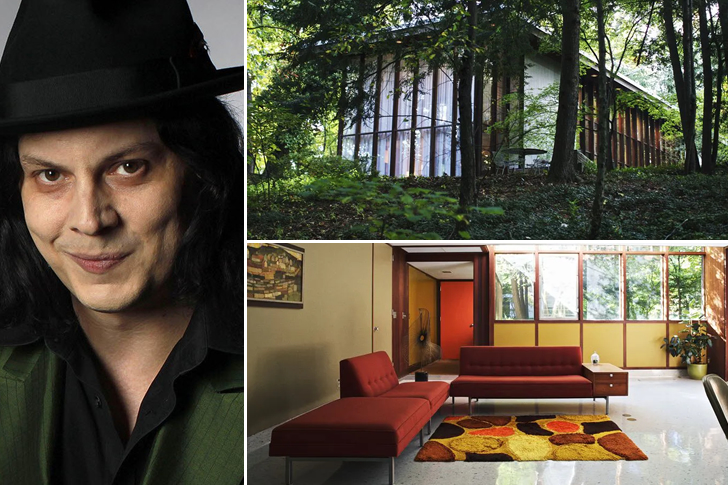 Designed by the famed modernist architect George Nelson, this beautiful home was bought in 2017 by music artist Jack White for only $510,000. The singer-songwriter calls himself a custodian of the property, as he told The New Yorker. With some renovations, the revamped home must've cost him a fortune, and it is probably equipped with a state-of-the-art home security system.
Did you know White originally wanted to become a priest? Yes, he was about to enter a seminary but later changed his mind after learning he couldn't bring his musical instruments with him. During his teenage years, he met Meg White, with whom he formed a rock duo called The White Stripes. The pair started out as part of Detroit's underground garage rock music scene, and they later became a critical and commercial success after releasing their third album, White Blood Cells.
Renée Zellweger | $650k |Katy, Texas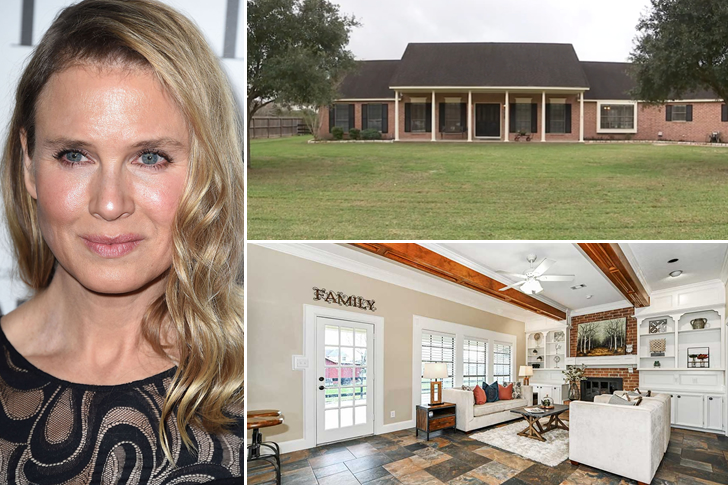 Renée Zellweger is now well recognized for starring in movies like Jerry Maguire and Chicago, but during her high school days, she was known as a "Dream Date" to her classmates, who gave her the cute title in a homecoming contest. The future actress spent her childhood in this ranch-style home in Katy, near Houston, Texas. The four-bedroom home was recently sold for a staggering price of $650,000.
Born and raised in Katy, Texas, to a mechanical engineer and a nurse, Zellweger participated in various activities while in school, such as cheerleading, football, drama, and speech. With a sparked interest in the acting craft, she started getting small roles— her first being a television commercial. She auditioned for movies around Austin and Houston until she landed a role in Texas Chainsaw Massacre in 1994 alongside Matthew McConaughey. Her performance in the film helped gas up her career.
Adrian Peterson | $539k | Eden Prairie, Minnesota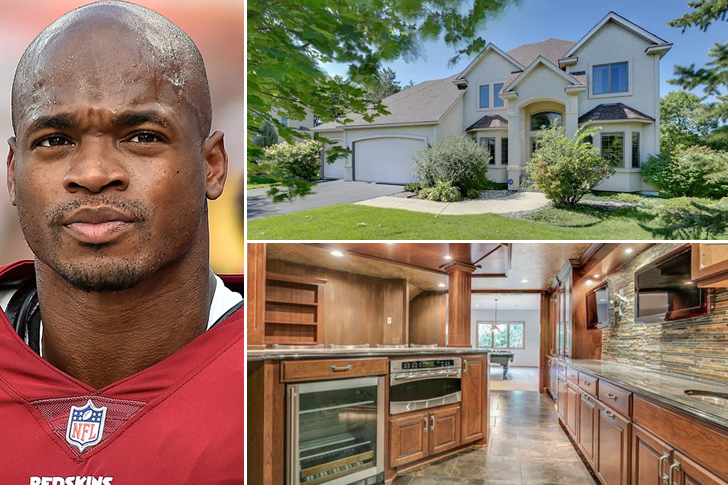 Football running back Adrian Peterson put his old home on the market a few years ago and saw it sell for $156,000 less than the original asking price. In 2018, his five-bedroom house was ultimately sold for $539,000. We think it was already a relatively cheap property for an NFL MVP like him.
Anyway, Peterson's lawyers said in 2019 that he experienced some financial stress after "trusting the wrong people" with his money. It's safe to say that he got this predicament covered already because that same year, he signed an $8-million deal with the Washington Redskins. The 36-year-old football star then made waves in 2013 after becoming the third-fastest player to reach a record-breaking 10,000 rushing yards. In 2012, he also racked up 2,314 all-purpose yards. For his efforts, Peterson amassed the NFL MVP Award during the 2012 NFL season.
Kurt Cobain | $190k | Aberdeen, Washington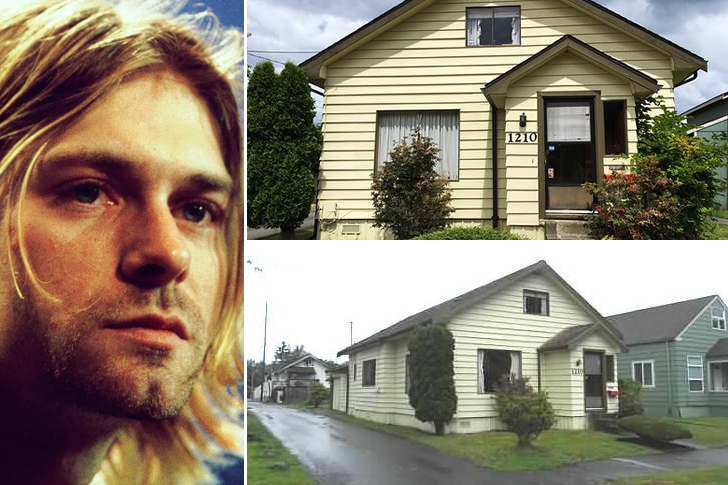 Kurt Cobain spent his youth in this little house in suburban Washington. The four-bedroom home was originally listed at $400,000, which is a high price in comparison to the nearby homes that have sold for about $50,000. Its price, however, was reduced to a huge degree until it finally sold for $190,000 back in 2018.
Cobain became massively popular after he became the frontman for the American rock band Nirvana. As early as age four, he already began playing the piano and singing songs that he had composed and written himself. While growing up, he became involved in the punk scene and eventually dropped out of high school to pursue his interest in music. Cobain eventually met fellow music artist Courtney Love in 1989, and they began dating in the early '90s. By 1992, they tied the knot, and Love gave birth to their only child.
Paula Deen | $294k | Tybee Island, Georgia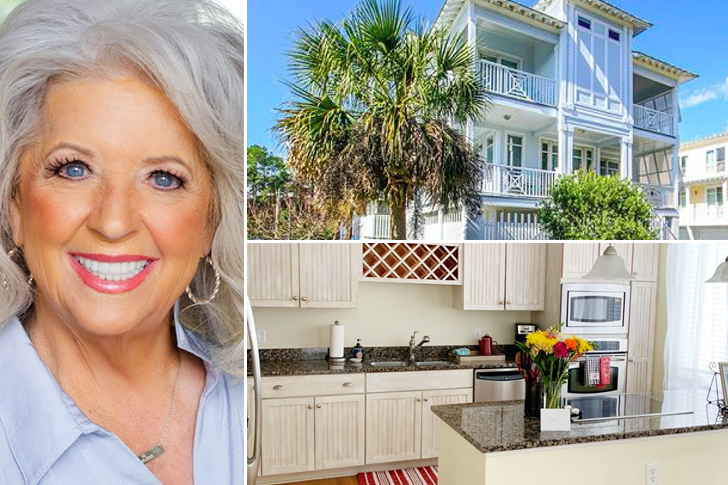 Cooking show host and television personality Paula Deen owns and operates Paula Deen's Creek House and The Lady & Sons restaurant with her sons, Bobby and Jamie Deen. Over the years, Deen has published fifteen books. During her younger years, she tried various enterprises to financially support herself, her children, and her brother. She eventually started a catering service that she called The Bag Lady, in which she made lunches for office workers.
Following the success of her home-based food business, Deen took over a restaurant in 1991 in the Best Western, Abercorn Street, Savannah—she called it The Lady. After five years of running the restaurant, together with her two sons, she opened her own restaurant, The Lady & Sons. Since then, she has achieved a great degree of success both professionally and financially. She went on to open more restaurants, released books and magazines, and starred in various television shows. As her wealth grew, Deen bought a home in 2009 for $294,000 in Tybee Island. The cottage is playfully called "Y'all Come Inn," with two bedrooms and bathrooms. It's currently available for vacation rental at $2,500 per week.
Danny Bonaduce | $435k | Philadelphia, Pennsylvania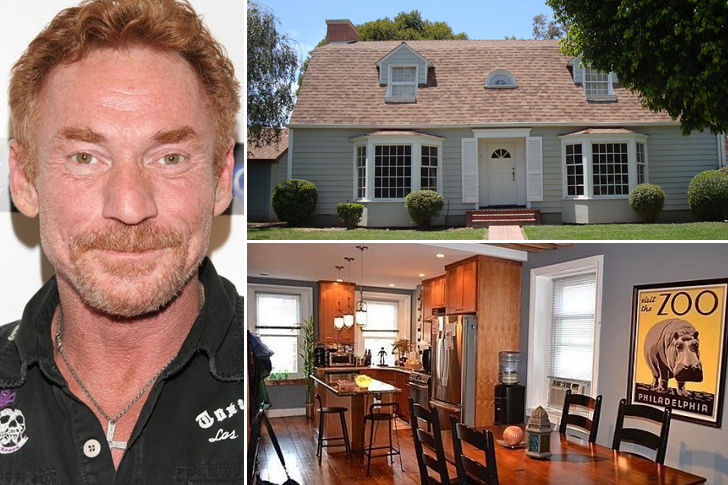 Danny Bonaduce became famous back in the '70s as a child star on the television sitcom The Patridge Family, where he played the character of Danny Patridge, the redheaded, wisecracking middle son of the singing family band. From then onward, Bonaduce starred in several other television series, including the reality show Breaking Bonaduce on the VH1 network in 2005 and radio shows in Philadelphia and Los Angeles. Since November 2011, he's been hosting a morning talk and music show on the KZOK-FM radio station in Seattle.
During and after the run of The Patridge Family, Bonaduce made several credit films, including the 1978 movie starring Mark Hamill, Corvette Summer, and Space Ghost Coast to Coasts. He also guest-starred on CSI: Crime Scene Investigation in the seventh season's first two episodes. As he gained success in his radio career, Bonaduce listed his Philadelphia home in the market for $475,000 but eventually sold for $435,000.
Michael Symon | $549k | Cleveland Heights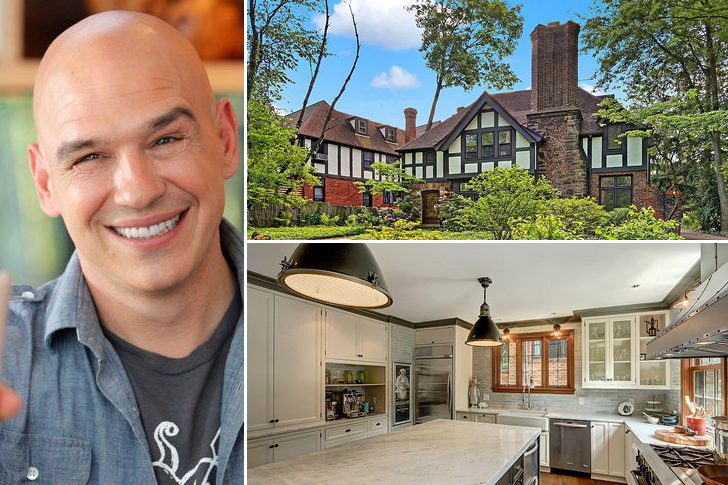 Michael Symon is an American chef and television personality who is frequently seen on television food shows such as The Best Thing, Food Feuds, Burgers, Brew and Que, and Iron Chef America on Food Network, as well as The Chew on ABC network and Cook Like an Iron Chef on the Cooking Channel. Also, Symon has made multiple contributions to periodicals, including Esquire, Bon Apetit, Gourmet, Food Arts, O, The Oprah Magazine, and Saveur.
Aside from his television career, Symon is the owner and chef of several restaurants in the Greater Cleveland area, including his flagship Mabel's BBQ, Lola, and burger franchise BSpot. Credited for helping save the restaurant scene in Downtown Cleveland, the chef owns Michael Symon's Roast, also known as Roast, in Detroit, Michigan. On the other hand, chef Symon listed his Cleveland Heights home for a relatively low price of $549,000, which he purchased in 2013. The 2,826-square-foot Tudor has five bedrooms, four bathrooms, a footbridge, and of course, a true chef's kitchen.
Mama June | $100k | Hampton, Georgia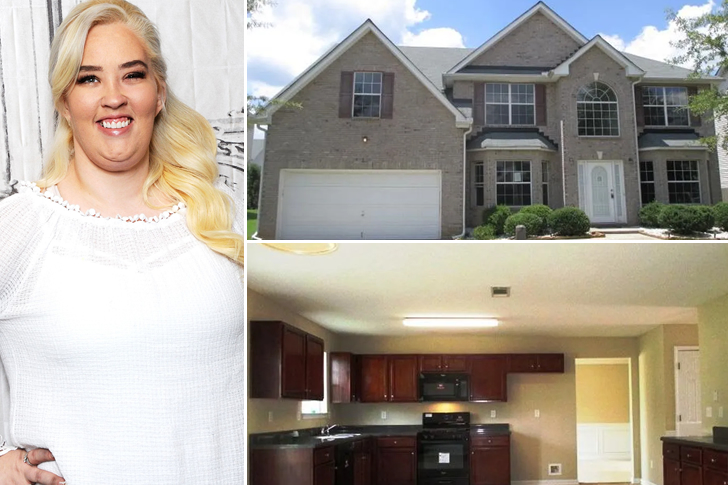 Mama June is the mother of the frequent beauty pageant contestant and television personality Alana Thompson. She's also known in the movies Dumb and Dumber and Mama June: From Not to Hot. Along with her daughter, Shannon gained prominence on the reality television series Here Comes Honey Boo Boo on the TLC network. Before she gained fame on her own reality spin-off, she appeared TLC show Toddlers & Tiaras, where her daughter was first credited with recognition.
With Alana's victories in children's beauty pageants and Shannon's outgoing personality, both regularly appeared in television shows, which eventually led to their own reality series, which featured Alana's siblings, Lauryn and Jessica, as well as other extended family members. Though Shannon gained success in television, she was compelled to sell her house for $100,000, which was appraised in 2018 for $156,000. The house features five bedrooms, three bathrooms, and less than an hour south of Atlanta.
Simon Helberg | $849k | Los Angeles, California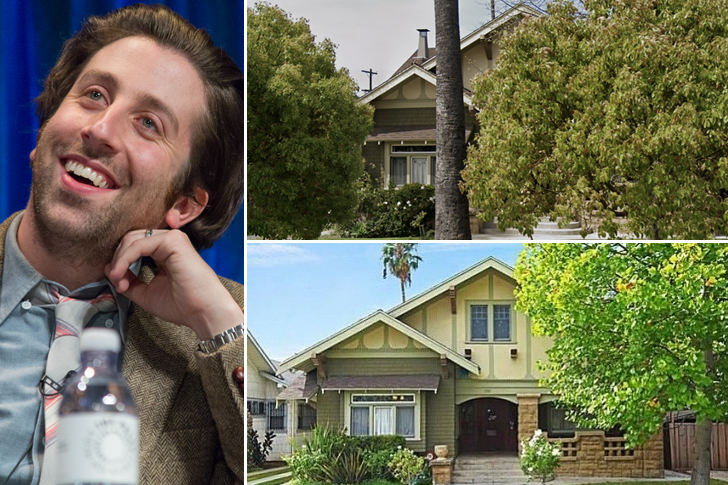 Simon Helberg is best known in the sitcom The Big Bang Theory on the CBS network, where he portrayed Howard Wolowitz from 2007 to 2019. Helberg was credited with Best Actor in a Comedy Series award by Critic's Choice Television Award. The actor also appeared in Florence Foster Jenkins as Cosme McMoon, in 2016 and the sketch comedy series MADtv. Other films in which Helberg starred were Good Night, Good Luck, Old School, Annette, A Serious Man, and Walk Hard: The Dewey Cox Story.
As with other celebrities, Helberg listed his Los Angeles home in 2011 for $849,000. Originally built in 1910, the restored two-story Craftsman is entered through the front porch with a swing. It features built-in cabinetry, leaded windows, and wood floors and trims. It has five bedrooms, two bathrooms, a fireplace, and a den—definitely with home security systems.
Shaquille O'Neal | $235k | Mount Dora, Florida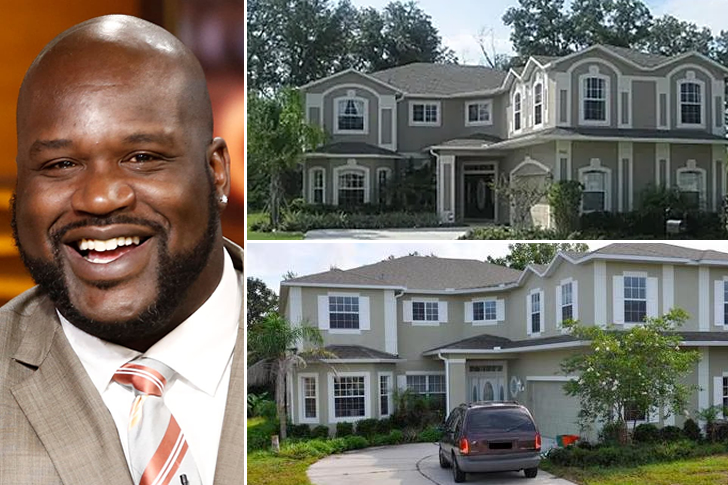 Regarded as one of the greatest centers and basket ballplayers of all time, Shaquille O'Neal is a four-time NBA champion who played in the National Basketball Association for 19 years. At the 1992 NBA Draft, after playing college basketball for the LSU Tigers, O'Neal was picked by the Orlando Magic as the first overall pick. Soon after, he became one of the best centers in the league and won the Rookie of the Year Award in the 1992-1993 Season. O'Neal then led his team to the 1995 NBA Finals.
After playing for four years with the Magic, the center player signed with Los Angeles Lakers as a free agent. Since then, O'Neal achieved a great degree of success throughout the years of his career. Though his net worth is worth hundreds of millions, the four-time NBA champion purchased a home for a price tag of $235,000 in Florida. The house has five bedrooms, four bathrooms, a wet bar, granite counters, and cherry cabinets.
Chris Daughtry | $699k | Oak Ridge, North Carolina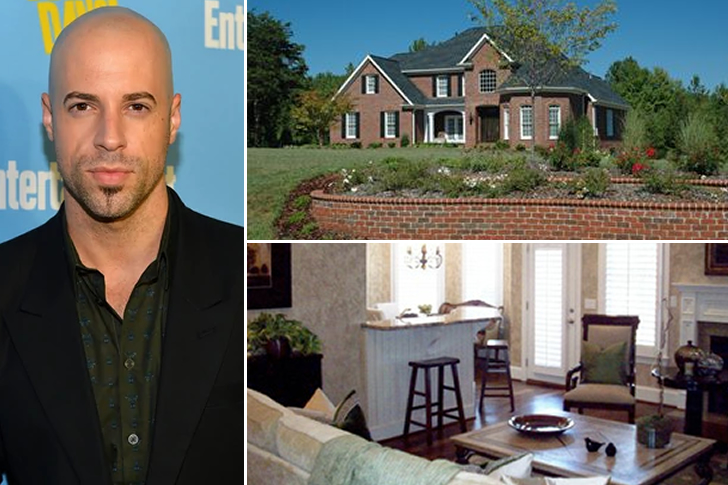 Chris Daughtry is the lead vocalist and rhythm guitarist of the band Daughtry, which he formed after the conclusion of the television singing competition American Idol, where he placed fourth on the fifth season of the show. When Daughtry's self-titled album was released by RCA Records, it became the fastest-selling debut rock album in Nielsen SoundScan history, selling more than one million copies within five weeks of release. In its ninth week of release, Daughtry's album reached the top spot on the Billboard chart.
Since then, Daughtry has released multiple albums and achieved a great degree of success throughout his career in the music industry. Around the time when he's competing in the American Idol, Daughtry and his wife bought a home in North Carolina for $690,000 in June 2006, but in 2011, the couple listed the property in the market for $699,000. The house has 3,670 square feet of living space, four bedrooms, and three bathrooms.
Reince Priebus | $300k | Kenosha, Wisconsin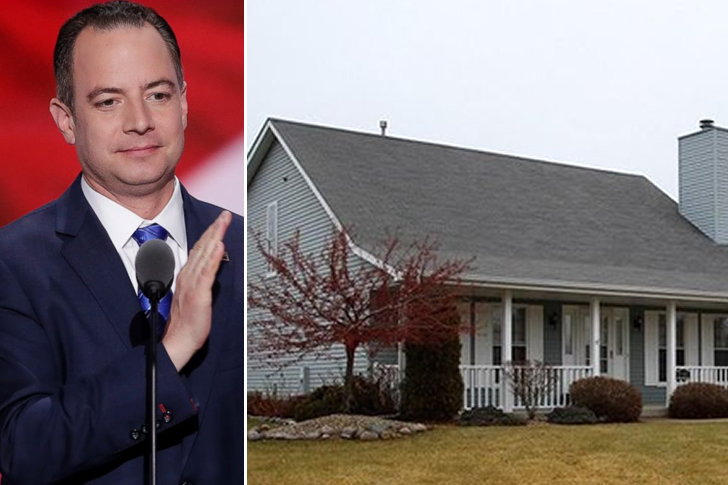 Served as White House Chief of Staff for the administration of the former U.S. President Donald Trump, American politician and lawyer Reince Priebus served as the chairman of the Republican National Committee from 2011 to 2017. After graduating in 1998 from the University of Miami School of Law, Priebus worked at a law firm called Michael Best & Friedrich LLP. Years later, Priebus was elected as the chairman of the Wisconsin Republican Party in 2007 and subsequently became the general counsel for the Republican National Committee in 2009. Priebus won the Republican National Committee chairmanship election in 2011 and the public face of the party.
At the time of becoming the Chief of Staff, Priebus and his wife, Sally, sold their home in Wisconsin for $300,000. The 2,900-square-foot Cape Cod-style home is just 30 minutes south of Milwaukee, which has three bedrooms and bathrooms, and a master suite with loft. Also, there's a kitchen with granite counters and finished basements.
Kurt Cobain | $998k | Los Angeles, California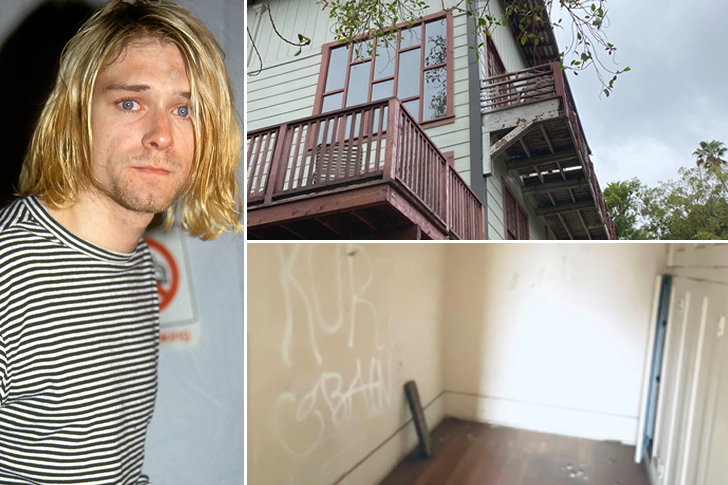 Kurt Cobain was well known as the lead vocalist, guitarist, and primary songwriter of the rock band Nirvana. The frontman was considered one of the most influential musicians in alternative rock history. Cobain formed the band back in 1987 with Aaron Burckhard and Krist Novoselic, which established it as part of the Seattle music scene, which was later known as grunge. Nirvana found global success with its song Smells Like Teen Spirit in 1991 with its critically acclaimed second album Nevermind.
In 2014, along with his bandmates Dave Gohl and Krist Novoselic, the Nirvana frontman was posthumously elected into the Rock and Roll Hall of Fame. Cobain was included in Rollin Stone's 100 Greatest Songwriters of All Time, 100 Greatest Singers of All Time, and 100 Greatest Guitarists—credit to his skill and talent. On the other hand, as many years had passed, his Los Angeles home is listed on the market with an asking price of $998,000. The 230-square-foot house has two dramatic living rooms with a regal open staircase and four oversized French doors.
Denzel Washington | $490k | Malibu, California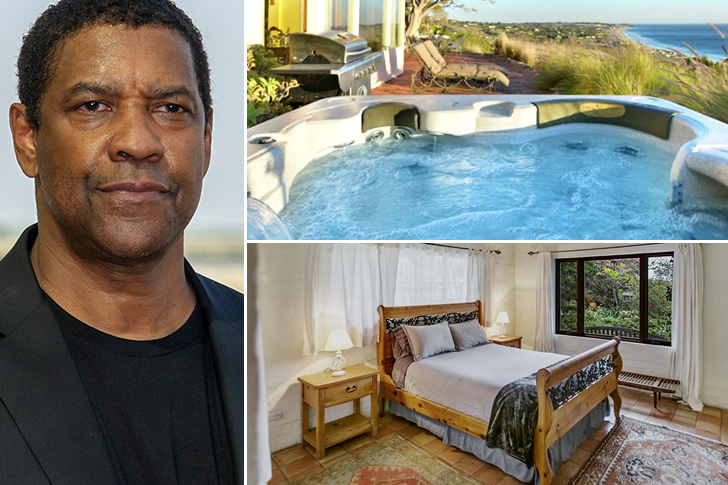 Described as an actor who redesigned the concept of classic movie stardom, Denzel Washington won two Academy Awards, a Tony Award, three Golden Globe Awards, and seventeen NAACP Image Awards. The multi-award-winning actor also won Best Supporting Actor in the historical drama Glory in 1989, where he played the character of Private Trip. In the 1980s, Denzel received critical acclaim for his portrayals of real-life figures such as South African activist and anti-apartheid Steve Biko in Cry Freedom in 1987, Muslim minister and civil rights activist Malcolm X in 1992, Malcolm X, football coach Herman Boone in Remember the Titans in 2000, and boxer Rubin "Hurricane" Carter in The Hurricane in 1999.
Over the years, he achieved a great degree of success throughout his career. Along with it, his net worth has grown tremendously, which he utilized by purchasing real estate properties. Luckily for non-celebrity people like us, we can rent one of Denzel's houses, in Malibu, California, for $490 a night. The house has three bedrooms, two bathrooms, open-beamed ceilings, and celebrity-grade amenities.
Kate Winslet | $30k | West Chelsea, New York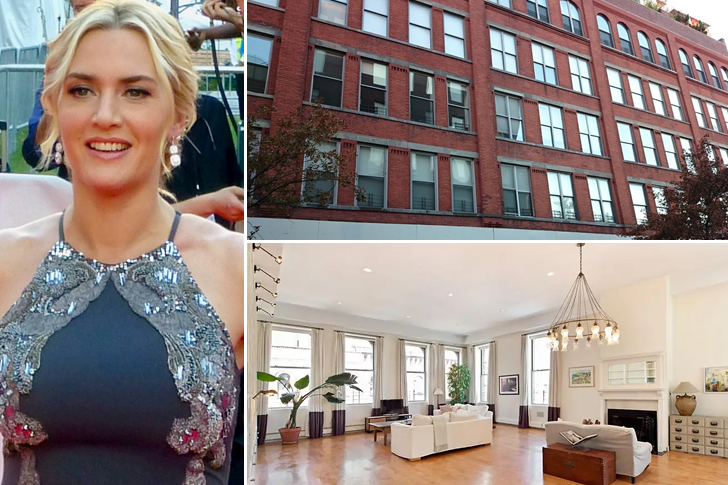 Famously known for playing the character of Rose DeWitt Bukater in the epic romance Titanic in 1997, Kate Winslet is an English actress who's also prominent in independent films, particularly with period dramas that often portray angst-ridden women. Winslet was credited with various awards and recognitions, including four Golden Globe Awards, three British Academy Film Awards, and Emmy, Academy, and Grammy Awards. She first appeared in British television series at age 15 in Dark Season in 1991.
As Winslet's career took off, her net worth also grew to a considerable degree, and she eventually bought several properties to her name. One of which is her West Chelsea apartment in New York, which is rentable to the general public for $30,000 per month. The luxury property features a double-corner living room with 13-foot ceilings, a wall of bookshelves, a wood-burning fireplace, a luxurious master bedroom, and many more.
Bing Crosby | $1k | Palm Springs, California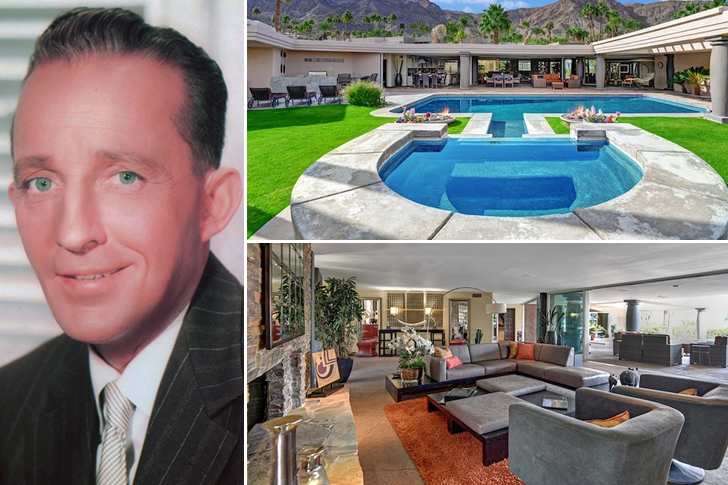 American singer, actor, and multimedia star Bing Crosby was one of the most influential and popular music artists of the 20th century. From 1930 to 1954, Crosby was the leading artist in records sales, radio ratings, and motion picture grosses. He was credited by the Yank magazine for contributing greatly to the morale of overseas servicemen during World War II. In the 1948 American polls, Crosby was declared as "the most admired man alive."
With the many successes he has found in his career, Crosby won an Academy Award for Best Actor in 1944 for his performance in Going My Way. Moreover, he's also the first recipient of the Grammy Global Achievement Award. Throughout his career, Crosby achieved tremendous success. As his net worth grew considerably, the actor bought properties, and one of them is his Rancho Mirage. The house is also referred to as Thunderbird Heights house, with a Jacuzzi, lavish patio seating, and outdoor entertainment. It's also open for rental with a price tag of $1,100 per night.
William H. Macy and Felicity Huffman | $16.5k | Los Angeles, California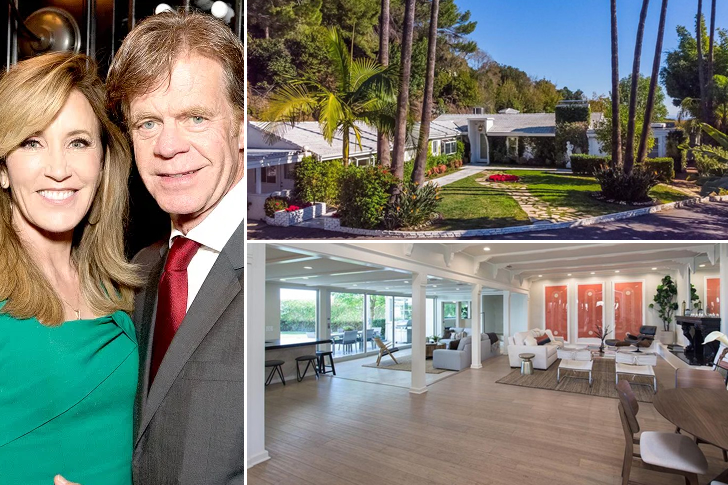 William H. Macy built his film career on appearances in small and independent films, winning four Screen Actors Guild Awards, two Emmy Awards, and Best Supporting Actor in the Academy Awards nomination for his performance in the movie Fargo. Macy has played the role of Frank Gallagher, the main character in the Showtime network adaptation of the British television series Shameless. Since 1997, he's been married to fellow Hollywood celebrity Felicity Huffman.
The couple bought several properties, including their Los Angeles home, which the public can rent for $16.5K a month, and you get to enjoy the house that features five bedrooms, six bathrooms, a spa, and a sauna. The fully furnished home boasts some pretty wonderful views, as well. The single-level abode is the epitome of California casual living, with 4,566 square feet of space. It's surrounded by various trees and foliages, with a pool in an open-spaced backyard—certainly, there's a home security system installed.
Pamela Anderson | $50k | Malibu, California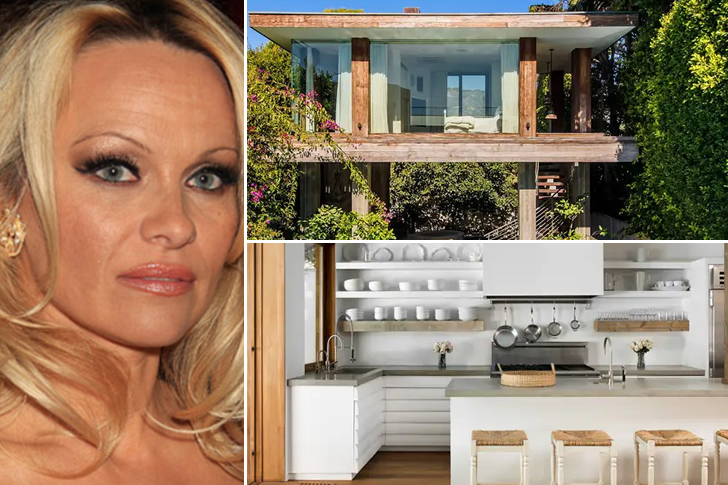 Known for her appearance in Baywatch, Pamela Andreson gained a wider recognition early on in her career after playing the role of Lisa in the award-winning comedy series Home Improvement on ABC network in 1991. A year later, she received international prominence for her starring role as C. J. Parker in Baywatch. Additionally, Anderson played the character of Vallery Irons in the comedy series V.I.P. from 1998 to 2002.
Some other films that Anderson starred in were Borat, Raw Justice, Blonde and Blonder, and Barb Wire, among others, and she was eventually inducted into Canada's Walk of Fame in 2016. Throughout her career, Anderson achieved a substantial degree of success. With her growing net worth, she purchased properties, including her Malibu house that can be rented to the general public for up to $50,000 per month. The luxurious residence has three bedrooms, three bathrooms, a pool, a sauna, and a Picasso bathtub.
Jim Morrison | $3k | West Hollywood, California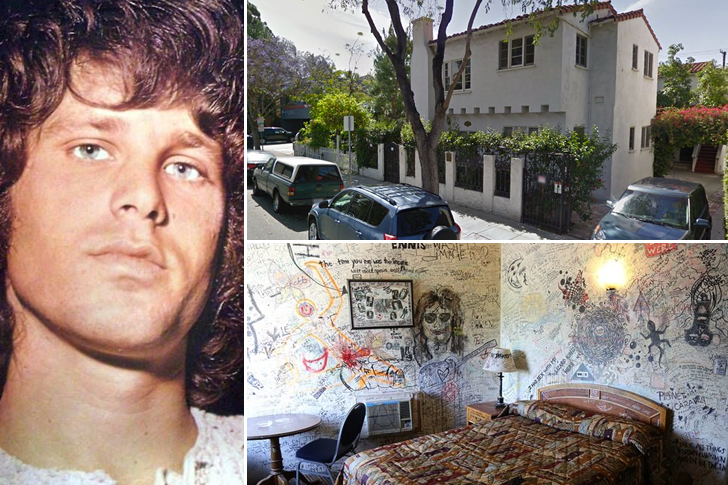 Jim Morrison was an American songwriter, singer, and poet who was the lead vocalist of the rock band the Doors. He was regarded as one of the most influential and iconic frontmen in rock history, being the founder of the band in 1965 in Venice, California. The band then elevated to prominence with their number-one single in the U.S., Light My Fire. The frontman recorded a total of six studio albums with the Doors, which received critical acclaim and sold well. He was also known for improvising spoken word poetry passages, while playing live with the band. In 1993, he was elected into the Rock and Roll Hall of Fame as a member of the Doors—credit to his talent and skill.
Throughout Morrison's career, he achieved tremendous success. With his considerable net worth, he bought several properties, and one of them is his West Hollywood home. The house is decked up out with the band's memorabilia, vintage furniture, and a 1960s retro style. There's a trippy floral shower curtain and colorfully painted walls, as well. The two-bedroom residence is just a walk away from the Sunset Strip and the general public can rent the house for $3,180 per night, with a minimum of thirty nights.
Pierce Brosnan | $100m | Malibu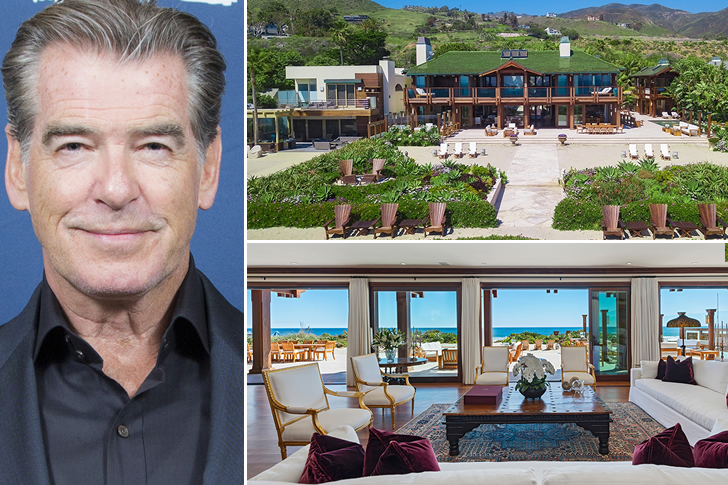 Pierce Brosnan is living the James Bond kind of life when he still owned his elegant Malibu property, featuring a Thai-inspired compound, which is now on the market for a whopping $100 million. It is located on a 117-feet oceanfront, giving its new owners beautiful views of the ocean and the beach.
Pierce and his wife, Kelly Shaye Smith, made a major investment when they bought this property for an undisclosed amount in 2000. Its designs and features are a product of their exotic travels, featuring an elevated art form of indoor and outdoor architecture. The 13,000-square-foot-compound, called Orchid House, has five beds, 14 baths, dining with fireplace, a gourmet kitchen with fireplace, a butler's pantry, and custom wine storage. It's complete with its own home theater with a bar and tiered seating. Pierce probably maintained his fit body by using the home's huge mirrored gym, sauna, steam room, and a Japanese soaking tub and cold plunge.
Danny Glover | $4m | Los Angeles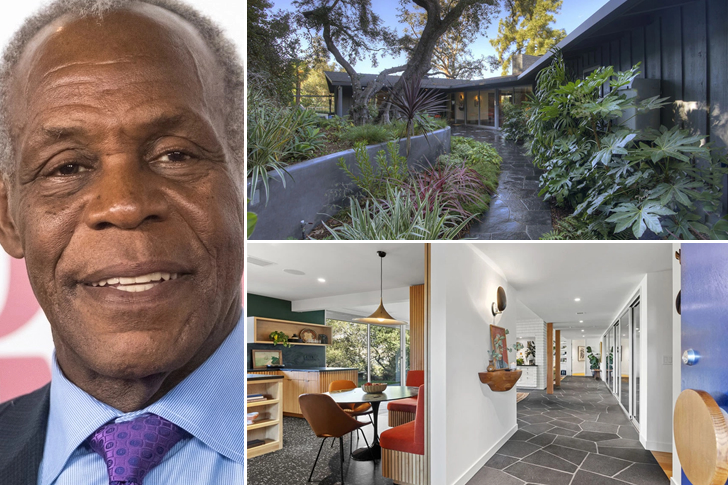 Danny Glover said goodbye to his Los Angeles mansion after YouTuber Mark Fischbach, famously known as Markiplier, bought it for exactly $4 million. With the latter's $35 million net worth, it might only take him careful investment planning to buy this home. Located on the twisty mountain road, the well-hidden house would give Mark the privacy he wants and needs.
Pasadena architect Keith P. Marston built the home back in 1953, but Danny had it renovated with the help of the famed LA designer Barbara Bestor. It features 3,300 square feet of living space, boasting a modern kitchen, which manages to retain its midcentury hallmarks with its banquette seating and unique-looking cabinets. The house is lighted up by natural lights, thanks to its floor-to-ceiling glass slider. In addition, the family and dining rooms are accentuated by a white brick fireplace in the middle of two sets of glass sliders, giving Mark the perfect views of nature.
Sandra Bullock | $6.5m | Georgia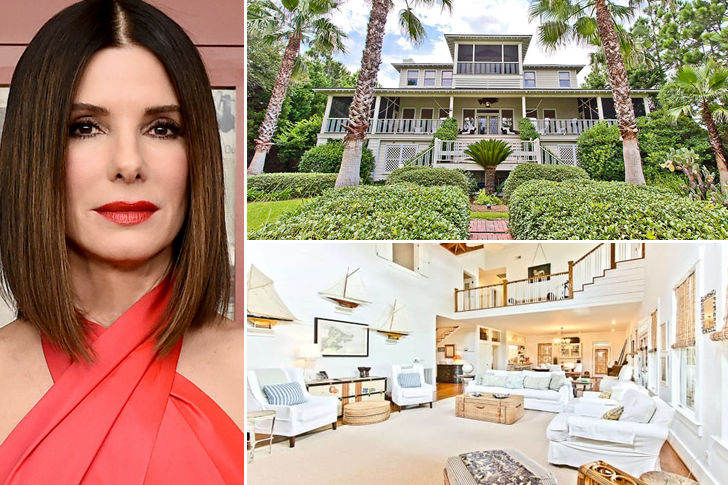 Sandra Bullock puts her stunning Georgia home on the market for $6.5 million after lacking time to visit this vacation house. The property has main and guest houses, built on a three-acre land. It has a total of nine parcels, but it has private access to a white-sand beach. The new owner will no longer need to use their credit cards to spend for a lavish vacation as this home can already hold 12 people and enjoy the gigantic swimming pool, game room, gym, and basketball court.
The 3,360-square-foot main house has a double-height living room, while the 2,848-square-foot guest house features a living room fireplace and an outdoor grill. This place is indeed the best place to spend a weekend getaway or a quick vacation with its amenities and features. It also comes with a beachy vibe that everyone will surely enjoy.
Harry Houdini | $15m | Los Angeles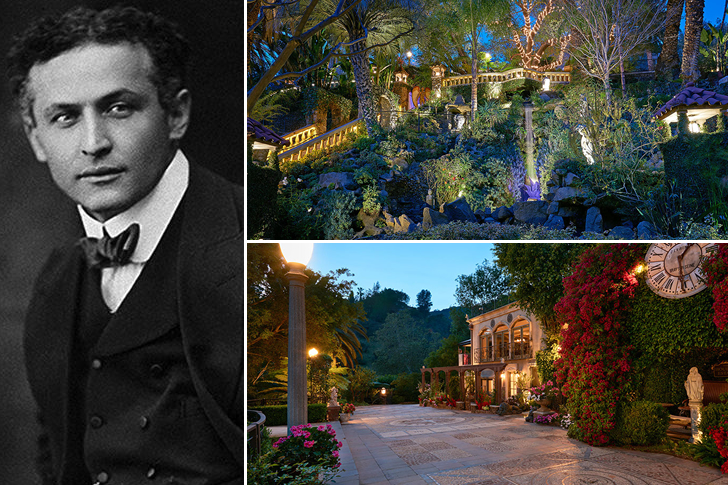 Harry Houdini might have been long gone, but who could ever forget the lavish Houdini estate? The five-acre property costs $15 million and is located in Hollywood Hills in Los Angeles. Built in the Edwardian era, this place still features the caves, hidden tunnels, terraced gardens, and a deep-water tank, where the late Houdini, reportedly practiced his stunt performances. Despite his untimely demise, his wife, Bess Houdini, stayed here, where the magic and mystery surrounding The Handcuff King remained.
After Several years have passed, a chunk of investment money may have been used to restore the Houdini Estate to make it more modern. Though it still manages to maintain Houdini's grand mystique and marvel, it now has up-to-date features and amenities. It's also now used as an event's venue, from wedding to baby show to renewal vows and more, with its beautiful garden and massive size.
Jennifer Lawrence | $9.9 m | New York City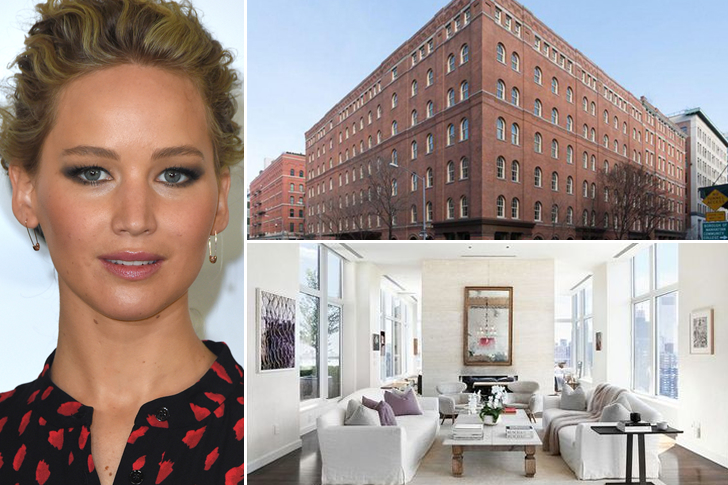 Jennifer Lawrence has officially put off her New York City apartment for only $9.9 million after buying it for $15.45 million in 2016. She first listed it with an asking price of the same amount she paid for it before, but she had to drop the price just to get rid of it due to the real estate market problem.
The house in question reflects Jennifer's self-made success. It's uniquely symmetrical, credits to the windows on each side that give it the New York City views. Thanks to its floor-to-ceiling windows surrounding the whole dining and living room areas, the house is naturally lit. As it comes with an open, flexible space, the new owner can change its settings the way they please to put their personal touch in it. The home has a chef's kitchen with a wine fridge and commercial-grade appliances to complete its wonderful features.
Leonardo DiCaprio | $7.1m | Los Feliz
Leonardo DiCaprio will give it all for his mom, Irmelim Indenbirken, even if it means he has to shell out $7.1 million to buy her her own house. The 46-year-old star purchased the home from the Modern Family actor Jesse Tyler Ferguson and his husband, Justin Mikita. Jesse purchased the property for only $4.5 million back in 2013, earning him a huge profit. The property in question was originally built in 1928, has 5,000 square feet of living space, four beds, and five baths.
This marks the second Los Feliz property Leonardo bought after buying his dad, George DiCaprio, his stepmom, Peggy Ann Farra, and niece, Normandie, a 1920s era home in 2018 for $4.9 million. The two houses are just six minutes' drive apart, so his parents can easily see each other. It looks like Leonardo has been making real estate property investments that may yield him a good profit someday.