Check Out the Luxurious Homes of Hollywood's Most Iconic Couples
When it comes to relationship goals, our favorite Hollywood couples come to mind most of the time. Well, what's not to love about them? It's incredible to see the famous ones find success in both their personal and professional lives. Since having a sneak peek at their daily lives from our social media feeds, we've drawn inspiration from them in achieving every milestone.
While we might know these loved-up duos' anniversaries, adorable kids, and red-carpet moments, where they live sometimes remains a mystery. Don't worry, though! We're giving you an intimate look at their houses and other real estate investments. As you scroll through this list, you'll discover how these A-List twosomes can afford to live in ridiculously opulent multi-million-dollar homes! You'll also have a glimpse at their combined net worth, the exceptional amenities in their enviable houses, and many more!
America Ferrera & Ryan Piers Williams | $1.395 Million | Hollywood Hills, California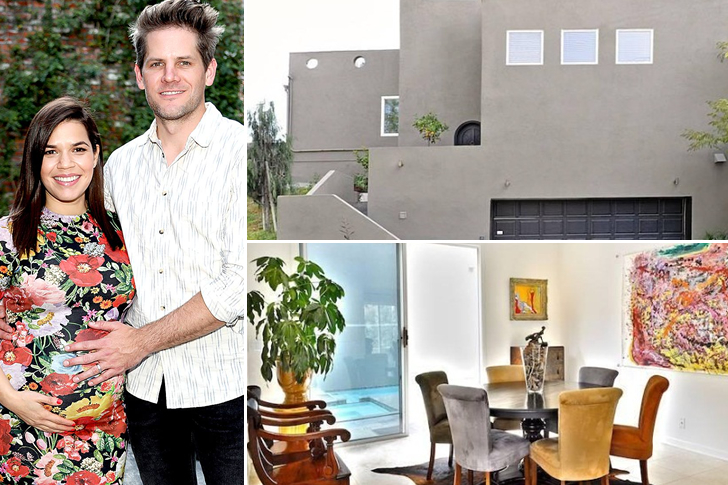 The longtime lovers, America Ferrera and Ryan Piers Williams, met each other while earning their college degrees at the University of Southern California. Williams cast the Ugly Betty star in a student film production while he was studying film. From there, they tied the knot back in 2011 and now have two kids together: son Sebastian and daughter Lucia Marisol.
Today, the two famous personalities are still active in the show business and have a combined net worth of $18 million. The couple likes to keep their family life under wraps, so not much is known about their current residence. As far as we know, the actress once listed her Hollywood Hills home in 2011 for $1.395 million. The property features both hill and city views, and inside, the master suite has a luxe master bath, a study with built-in cabinets, and double master closets.
Hailey & Justin Bieber | $25.8 Million | California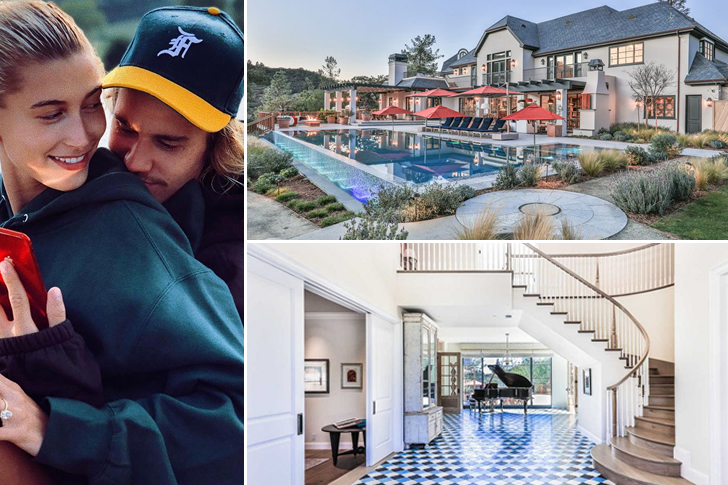 Justin and Hailey Bieber may have only been married for about three years, but they have already been into many homes. After paying the mortgage of their rental home before, the couple now opts to buy their own house.
Hailey and Justine did not mind spending a whopping $25.8 million, which is the biggest splurge they have ever made so far, to buy a lavish mansion in Beverly Hills in August 2020. The property was originally listed for $27.5 million, and probably with a little haggle, they managed to make it $1.45 million cheaper. Surely, the house is worth every penny. It has 11,145 square feet of living space and features seven beds and ten baths, sitting on a 2.5-acre land. It also has an infinity pool, a Jacuzzi, a tennis court, a gym, a library, and a movie room.
Taylor Swift & Joe Alwyn | $9.6 million | North London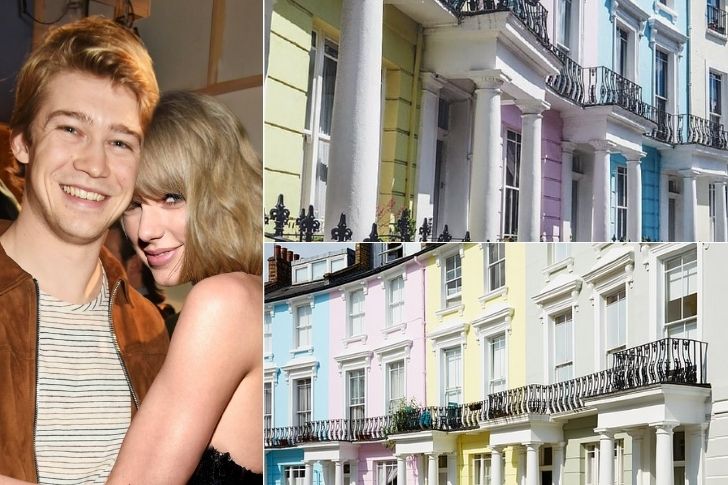 Taylor Swift is one of the most recognizable and successful celebrities of all time. Besides her success as a pop and country star, she's also known for her current romance with actor Joe Alwyn. The two reportedly met back in 2016 and have often been spotted together during the succeeding years. In 2019, it seemed pretty clear that they're dating. They've even revealed that they've talked about getting married.
Engagement rumors between the two have been getting stronger. After all, Swift and Alwyn recently moved into a North London townhouse. The beautiful North London property features six bedrooms, and it has a price tag of $9.6 million. Considering that she's one of the most successful celebrities today, we're confident that Swift and Alwyn won't be having any troubles paying the bill on this property along with its maintenance and insurance costs.
Prince Harry & Meghan Markle | $15.2 million | Montecito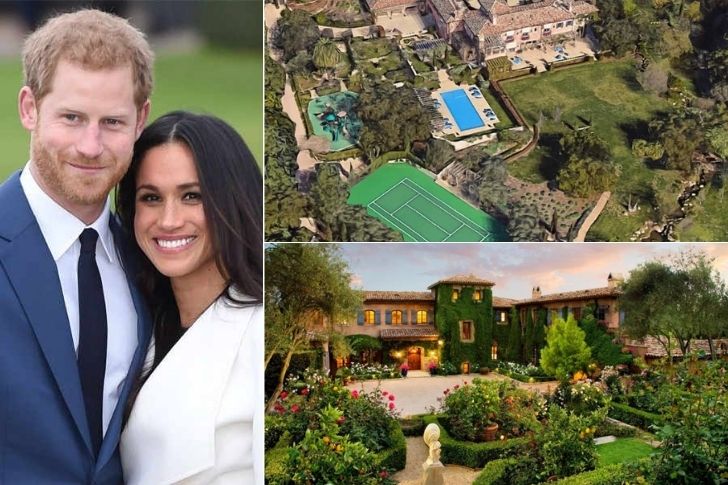 Meghan Markle and Prince Harry's relationship has been on everyone's radar ever since 2016, when news broke out that they were dating. A year later, they announced their engagement, and formally tied the knot in May of 2018 at St George's Chapel in Windsor, England. Subsequently, they received the title of the Duke and Duchess of Sussex. Today, they're about to enter their third year of their marriage. The couple is also parents to two adorable kids.
In 2020, Prince Harry and Markle decided to move to the US and acquired a beautiful real estate investment in Montecito, California. They reportedly paid a cool $15.2 million for the nine-bedroom, 16-bathroom mansion. It also comes with lavish amenities, including a library, a spa, a gym, an arcade, a movie theatre, a wine cellar, and a games room. It also has a desirable large outdoor pool, a tennis court, a tea house, and a children's cottage for their two kids.
Benji Madden & Cameron Diaz | $14.7 Million | Beverly Hills, California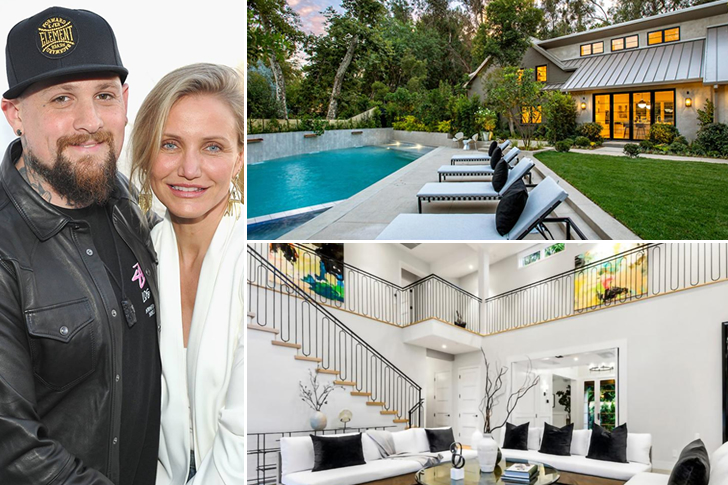 After welcoming their first child in late December 2019, celebrity couple Cameron Diaz and Benji Madden bought a massive mansion in Beverly Hills. Splashing out $14.7 million for the seven-bedroom, ten-bathroom property, it has undoubtedly provided the doting parents' plenty of space to raise their child. More importantly, the house is a comfortable escape that the celebrity couple can come home to after a tiring day at work.
After spending a decade in the Coldwater Canyon estate that once belonged to actress Candace Bergen, the twosome opted to stay in the area and move to a new home. Other notable residents of their neighborhood include John Mayer, Kate Upton, Vin Diesel, and Gene Simmons. Diaz and Madden reportedly paid the total asking price for their new estate, and it's not surprising that they have the cash to spare since they have a staggering combined net worth of $180 million. The compound, which spans 1.7 acres, offers privacy in a home security system and gates.
 Amy Schumer & Chris Fischer | $12.15 Million | New York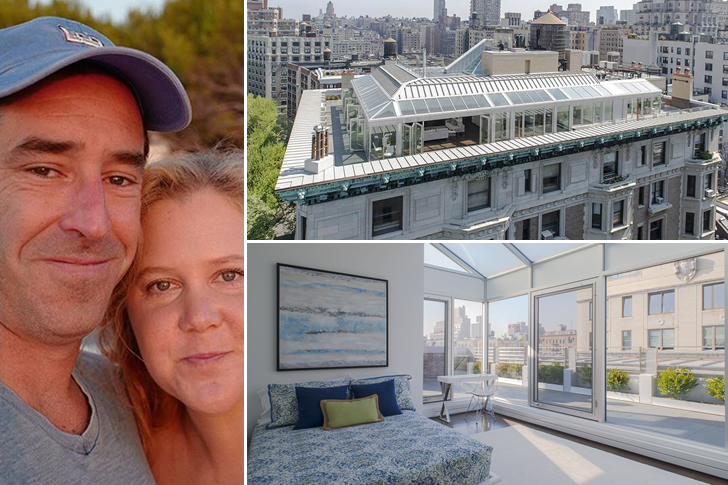 Amy Schumer has won us all with her bitingly honest brand of humor. The comedian and star of Inside Amy Schumer forked out $12.15 million in 2015 for a penthouse atop an 11-story building located in New York's Upper West Side. The opulent glass-walled residence features Hudson River views and spreads over 400 square meters to include large living areas, five bedrooms, five bathrooms, and a to-die-for marble kitchen.
She and her chef husband Chris Fischer tied the knot in secret back in 2018 while out in Malibu on Valentine's Day. During their marriage, the twosome has been through a lot together and has started a beautiful family! They have even made investments in TV shows together. They starred in Food Network's Amy Schumer Learns to Cook, which features Fischer teaching his wife everything he knows about cooking. The lovely pair has also amassed a combined net worth of $27 million.
Anne Hathaway & Adam Shulman | Undisclosed Amount | California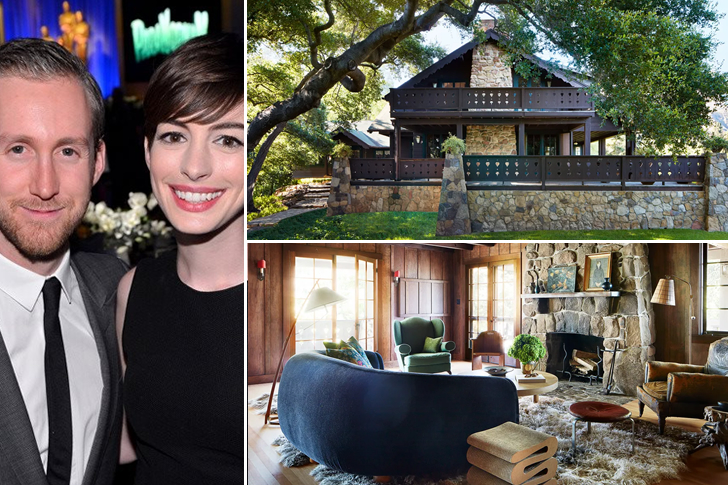 From her breakout role in 2001's The Princess Diaries to her award-winning performance in 2012's Les Misérables, A-lister Anne Hathaway has become a household name in Tinseltown for decades. Still, she has made a point to keep her personal life away from the spotlight, including her nearly ten years of marriage to actor Adam Shulman. The pair exchanged vows in a private Big Sur, California, wedding ceremony back in September 2012.
Since tying the knot, the couple made a real estate investment in a California country home that boasts enchanting 1906 Swiss chalet-style details. Did you know prominent figures once owned this gorgeous property? Yes, Yves Saint Laurent previously lived in this house before director Wes Anderson moved in. Now we know why Hathaway and Shulman never had doubts about purchasing this masterpiece residence for their family, including their kids Jonathan and Jack.
Ariana Grande & Dalton Gomez | $6.75 Million | Montecito, California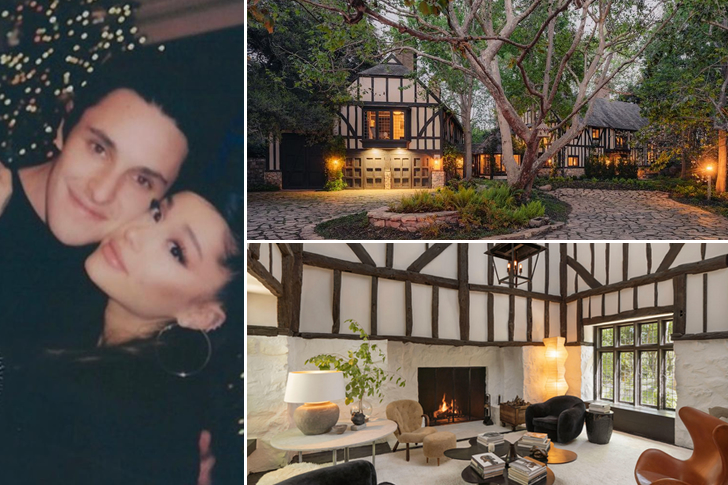 Pop icon Ariana Grande got hitched to real estate agent Dalton Gomez in 2021. They exchanged "I do's" in a small wedding, where only less than 20 people attended. It's unclear when the union took place precisely, but the venue was their $6.75 million love nest in Montecito, California.
Apparently, the 1.3-acre Tudor-style property was formerly under the ownership of TV host Ellen DeGeneres, which went to the Thank U, Next hitmaker in August 2020. Dubbed as the Porter House, the space evokes a history of taste and beauty. The 5,500-square-foot home comprises two separate barns, which saw construction in Surrey, England, in the 1700s. Amid a quaint setting, it features modern amenities with details like wood-framed ceilings, white walls, antique casement windows, and wooden flooring. It's also comfortably spacious with two bedrooms and two bathrooms. Indeed, the house may be quaint, but its rich history precedes its value by a lot.
Ashley Tisdale & Christopher French | $4.75 Million | Hollywood Hills, California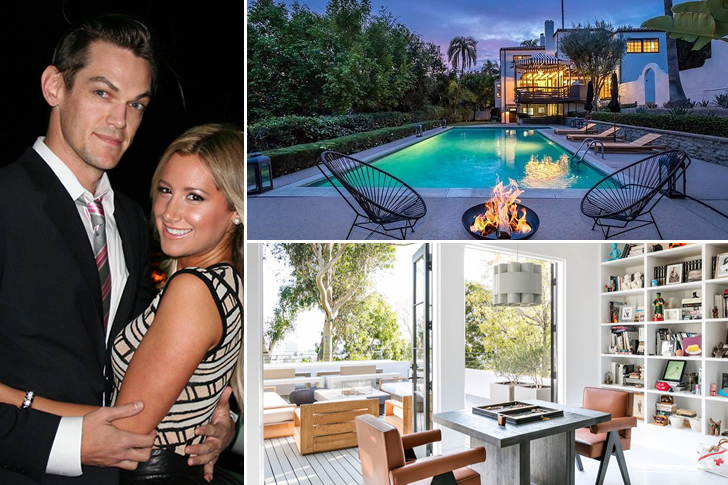 Ashley Tisdale and her husband Christopher French, whom she married in September of 2014, gave birth to their first child. In preparation for welcoming their daughter, Jupiter Iris French, they shelled out a $4.75 million Mediterranean-style house in Hollywood Hills, complete with three bedrooms and three-and-a-half bathrooms. The former Disney Channel star opted to purchase the California property while getting into nesting mode, and it's not a problem to spend that amount of money because she and her husband have a combined net worth of $18 million.
The couple's new 3,447-square-foot hideaway sprawls on a private compound just above the Hollywood Dell. In 1923, the property was previously under the name of film executive Roeg Sutherland, who purchased the estate for $4.22 million. He had the classic house transformed into a chic contemporary abode by interior designer Mandy Graham. The interior boasts concrete/epoxy composite flooring, modern amenities, and ample space for entertainment.
 Beyonce & Jay-Z | $88 Million | Bel Air, California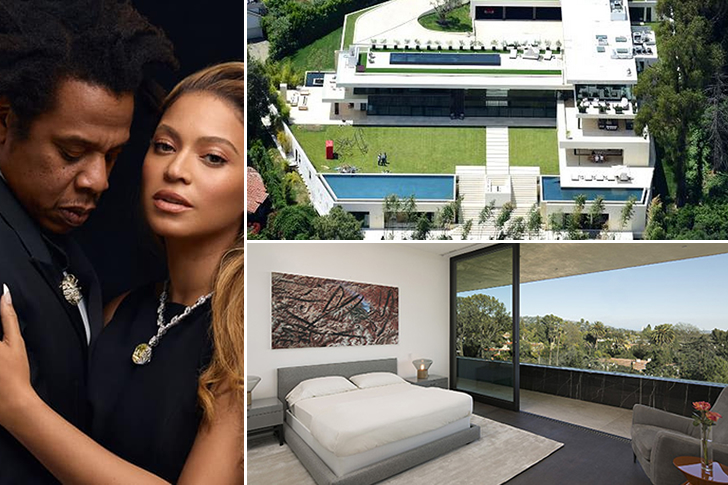 In August 2017, Beyonce and Jay-Z found their home: a contemporary-style Bel Air mansion. With an asking price of $120 million, the A-list couple was able to shell out only a mere $88 million, which makes it the LA's highest-selling transaction in 2017. They decided to put down over $30 million in cash to get a mortgage of nearly $52.8 million.
The 1.88-acre property included more than 9,000 sq. ft. mansion when it previously saw a sale in 2013. The buyer then had the historic estate torn down and replaced with an open and airy villa. Today, the ultra-modern, hillside mansion features eight bedrooms, eleven bathrooms, a 15-car garage, staff quarters, bulletproof windows, a basketball court, and four pools, among other things. Furthermore, it is considered an intelligent home packed with the latest technological features to ensure convenience and safety. Did we already mention the power couple has a combined net worth of $1.8 billion?
Billy Porter & Adam Smith | Undisclosed Amount | Harlem, New York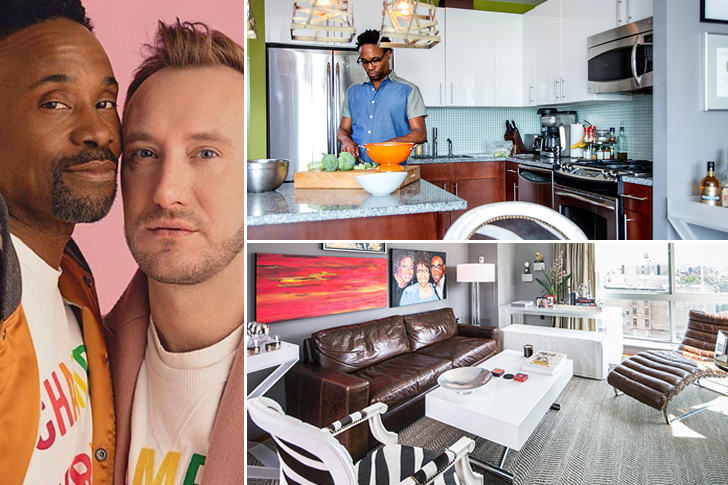 You may have seen singer Billy Porter in Amazon Prime's remake of Cinderella. Looking at his real-life romance, Cinderella is not the only one living a happily-ever-after. Porter's husband, Adam Smith, has popped up many times on the stage actor's social media feed and red carpet events. Although their relationship began years ago, the two always maintained their romance out of the public eye. Of course, the media can't find any more information about the couple as they handle their fame relatively well.
If you're wondering, Smith is a businessman who owns an eyewear brand named Native Ken. He acquired a fine arts degree from the California Institute of the Arts and met Porter through mutual friends at a party in 2009. While we assume, the couple lives together, and Porter once revealed his beautiful home in an interview with The New York Times— a two-bedroom rental house in West Harlem, New York, with breathtaking city views.
 Blake Lively & Ryan Reynolds | $2.35 Million | New York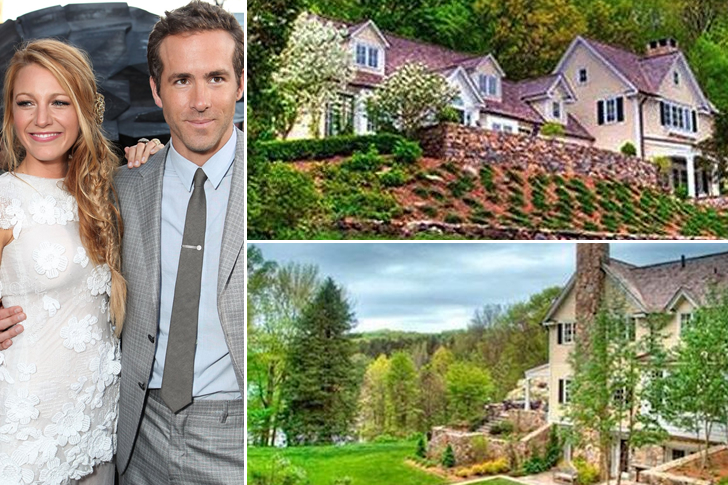 Blake Lively is one of Hollywood's most famous actresses. She started her career many years ago, earning her first film credit when she was just 10 years old when she appeared in the 1998 film Sandman. Meanwhile, Ryan Reynolds is known for his performances in blockbuster movies such as Deadpool and The Proposal. The couple, who walked down the aisle in 2012, bought a beautiful house in New York for $2.35 million.
As stylish as she is, Lively gave attention to their home's interior. She poured her passion into the arts and redesigned the rooms. Their residence has four bedrooms, four bathrooms, a full dining room, an entertainment room, a laundry room, and multiple fireplaces. The couple's estate also spreads out to more than 4,700 square feet. We can only imagine the comfort and coziness these lovebirds get while living in this incredible property!
Chance the Rapper & Kirsten Corley | $4 Million | Chicago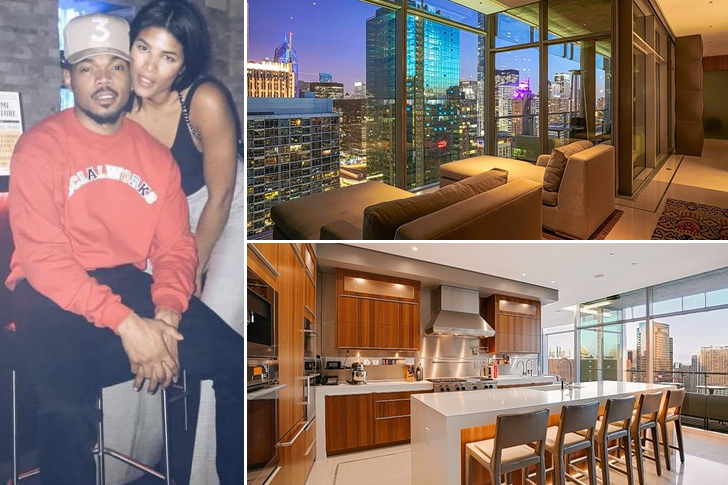 Chance the Rapper is said to have celebrated his 25th birthday in 2018 with a big purchase: a $4 million condo located in Chicago's Streeterville neighborhood. The 4,500-square-foot condo has two bedrooms, three and a half bathrooms, a soundproofed media room, floor-to-ceiling windows, and a gym, among many other amenities. It also offers expansive views of Lake Michigan and the Chicago skyline from three terraces. The contemporary residence was built in 2007 and was listed at $4,025,000. To a degree, the figure is a small amount compared to the rapper's $25 million net worth.
The music artist met his wife, Kirsten Corley, back in 2003 when he was nine years old. Ever since they reconnected, the twosome has been totally smitten with each other. The same year he bought his house, he popped the question to Corley, and they tied the knot the following year. Now, they are enjoying family time there together with their two kids.
Chris Hemsworth & Elsa Pataky | $20 Million | Byron Bay, Australia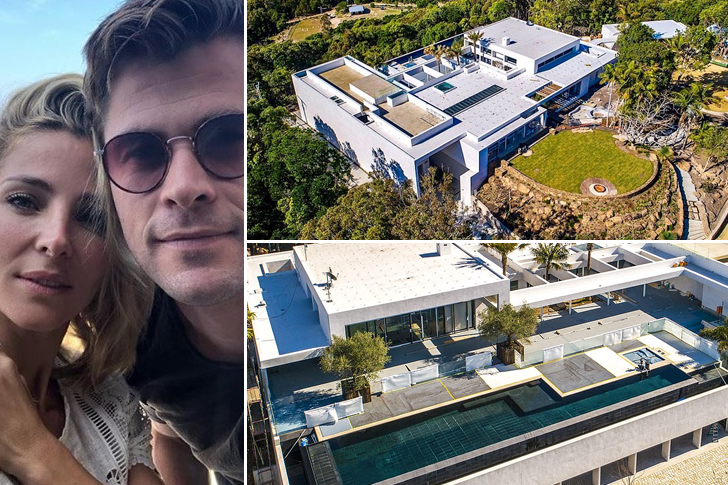 Chris Hemsworth and Elsa Pataky's $20 million mega-mansion in Byron Bay, Australia, sprawls on 4.2 hectares. Since its purchase, it has been transformed into a beautiful beach escape. The property's luxurious outdoor space includes a huge rooftop infinity pool, a built-in fire pit, completed landscaping, and spacious lawns. The elevated walkway also connects two buildings, and the family has access to an impressive 10 bathrooms.
The property also functions as a retreat since it has a steam room, massage room, sauna room, and a gym. For the couple's three kids, they can enjoy a TV room, a game room, and a fire pit that can make for both a cozy and spacious area. Rounding out the features are five bedrooms, seven car spaces, a study, a home security system, and a massive walk-in wardrobe for the actor's wife of more than 10 years.
 Chris O'Donnell & Caroline Fentress | $5.3 Million | Pacific Palisades, California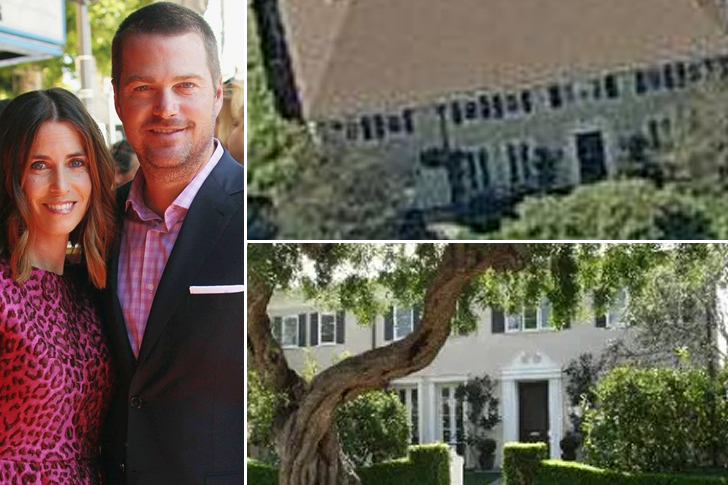 Chris O'Donnell has been a series lead since NCIS: LA started in 2009. While his on-screen partnership with rapper/actor LL Cool J keeps us tuning in, it's his off-screen romantic and family life that makes us adore him even more. He met his lovely wife, Caroline Fentress, in the '90s, and the two got hitched in April 1997. Since then, they have welcomed five kids, which makes us think the actor's days at home may be somewhat chaotic!
Speaking of home, the O'Donnells once owned a house in Pacific Palisades, which they purchased in 2000 for $2,950,000. They subsequently hired a moving company after listing the property on the market with an asking price of $5,395,000. Built in 2000, the traditional-style residence has five bedrooms and six bathrooms, a formal living room, two family rooms, a dining room, a paneled study/library, a swimming pool, and a yard.
Christian Bale & Sibi Blazic | $8.8 million | Brentwood Park, California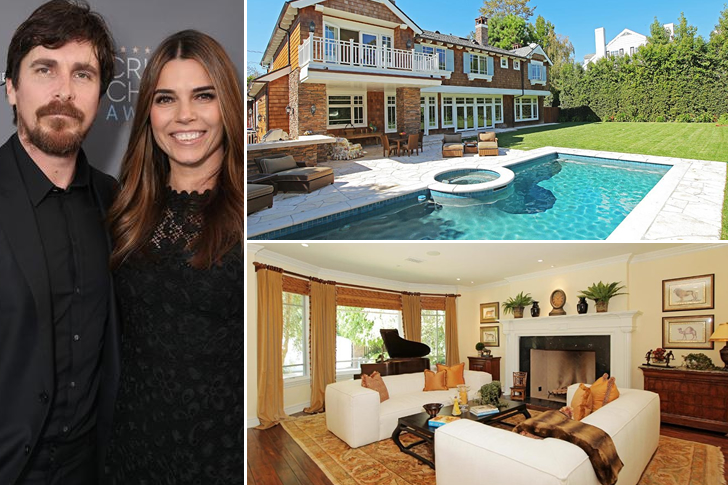 Christian Bale is known for being very private to an extensive degree, when it comes to his personal life. While he is making it big in his acting career, he also hit the jackpot with love! He and Sibi Blažić got married in 2000 and are parents to two kids. Since then, they've been enjoying their family time.
In 2017, the longtime couple discreetly purchased an $8.8 million Brentwood Park mansion, which features a stone pathway leading to an all-white front door of the entrance hallway. Other incredible features include a living room with a gaping fireplace, a formal dining room, a generously scaled family room, a chef's kitchen with granite countertops, a library, a home theater, a ping pong table, a pool, and a spa. By the way, there's a total of six bedrooms and seven and a half bathrooms in the Bale household.
Courteney Cox & Johnny McDaid | Undisclosed Amount | Malibu, California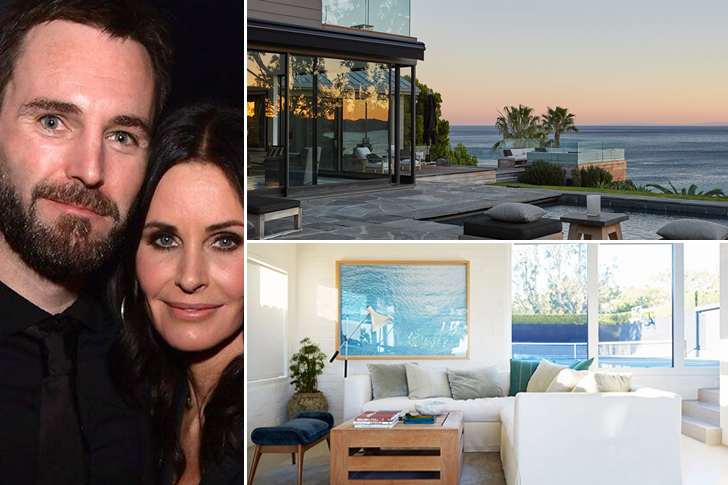 After several months of dating, Courteney Cox and Johnny McDaid made things official in January 2014. Since then, they have appeared at a couple of events, looking very adorable together. The beginning of their love story is credited to singer-songwriter Ed Sheeran, who reportedly introduced them to each other.
As for the cute pair's love nest, it is known that Cox invested in a gorgeous Malibu property in 2007. The palatial residence sits on two acres of land and boasts a number of bedrooms and bathrooms, a living room, a chef-style kitchen, a dining area, and spaces for entertainment. The Friends star's home also features a lavish outdoor living section. In the backyard, there's a patio that gives a stunning view of the Pacific Ocean, as well as a tennis court, a movie theater, and guest cottages. We can also frequently spot the two enjoying their time together at the Malibu property on the actress' Instagram account.
Cynthia Nixon & Christine Marinoni | $4.4 Million | Kips Neighborhood, New York City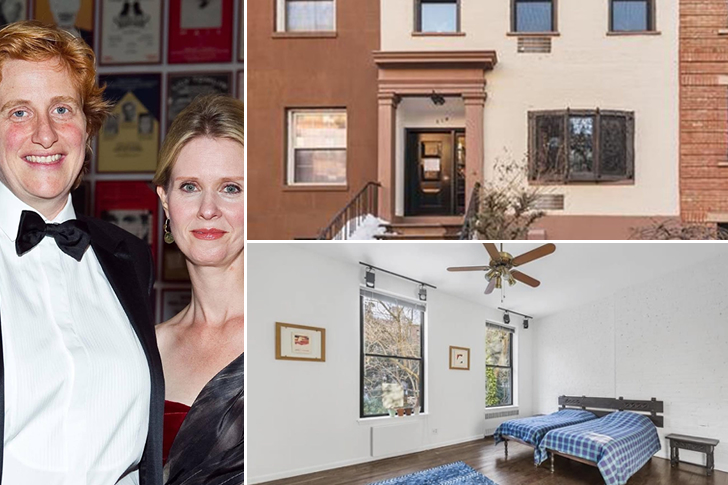 Cynthia Nixon has made another major investment with her spouse, Christine Marinoni, in 2021. The couple bought a stunning home in New York City worth $4.4 million. The property is a townhouse in the Kips Neighborhood in New York City with about 4,000 square feet of living space.
It boasts a lot of great features and amenities, like having five bedrooms and five baths spread across the three stories. According to its listing, the first floor has the main living area with an eat-in kitchen, a formal dining room, and a sunken room with a fireplace and glass sliding doors that lead to the private garden. The second floor, meanwhile, features the dressing area, the bathroom, and two large windows that allow natural light in and brighten up the place. The last two floors both have kitchens, two bathrooms and bedrooms, and fireplaces, making both spaces acceptable as apartments on their own.
Ed Sheeran & Cherry Seaborn | £3.7 Million | Suffolk, England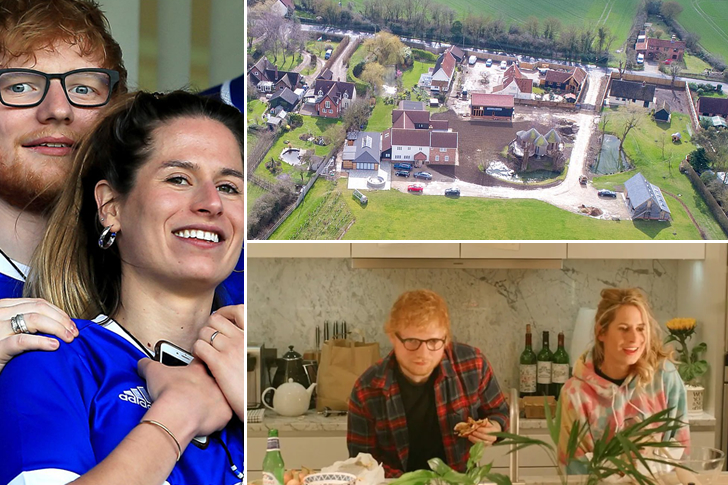 When Ed Sheeran announced his latest album =, he gave everyone a glimpse of his beautiful home in Suffolk. While playing some new songs on Instagram, he sat and relaxed in his rustic living room. The house looked warm with its decorated cream walls, complete with wooden beams on the ceiling. It also has glass-paneled, arched double doors that seemed to lead to the pathway to the entrance hall.
Sheeran and his wife, Cherry Seaborn, might have also used a small part of their investment money when they bought the cream sofa that sits at the center of the living room. The couple also has a mirror of the same color hanging on the wall and a wooden wine glass holder. It looks like the hitmaker has been enjoying his stay at what he calls the "Sheeran-ville," which he reportedly purchased for £3.7 million.
 Emma Stone & Dave McCary | $2.3 Million | Westwood, Los Angeles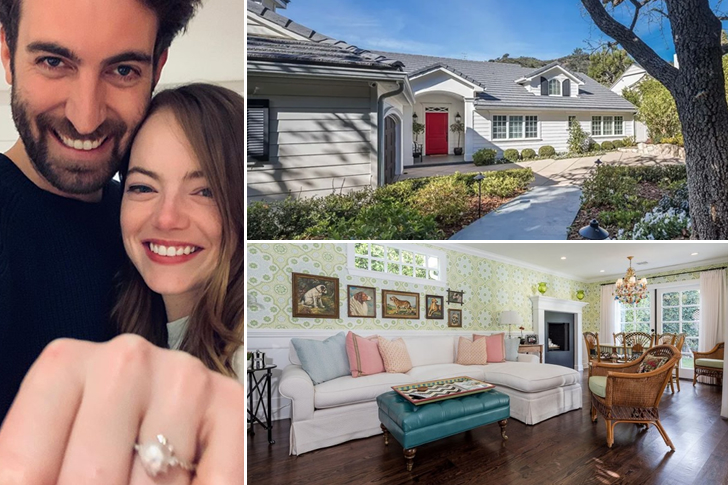 Emma Stone and Dave McCary have a couple of properties to their names, and one of them is a lavish home in Westwood, Los Angeles. Although the actress is known for being extremely private about her home, a few things are known about it. For one, the price of her Westwood property is reportedly $2.3 million, and it is located near Beverly Hills.
It has a stunning 1920s Spanish style, complete with hardwood flooring, arched doorways, and wood-beamed ceilings. The cottage also has a wide space of 2,300 square feet and comes with three bedrooms spread across the two-story house. The first room is on the ground floor, while the second and third are on the second floor. Compared to the usual celebrity homes, Stone makes it more humble with no master suite. Nonetheless, there are several things that it can boast of, like its very own swimming pool, a separate hot tub, and an ivy-covered garage.
Elizabeth Banks & Max Handelman | $6.85 Million | Sherman Oaks, Los Angeles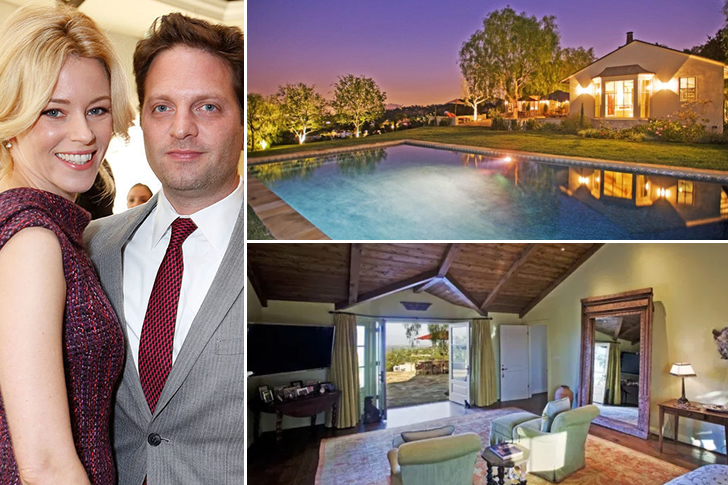 Elizabeth Banks and Max Handelman made very careful investment planning when they bought their Sherman Oaks mansion for $6.85 million. Well, spending a little less than $7 million is a big move. According to reports, the property had been on-and-off the market in 2010 before it finally had a contract. However, it still had a pending offer in March 2016.
Later on, it was finally purchased by the power couple. The two did not reveal the reason for the delay, but what was important was they had finalized the deal. Surely, Banks and Handelman have no regrets about this major splurge. The house is a gated, custom-built property with a total of 1.18 acres of land. It has five bedrooms and four and a half baths, sprawling across its 6,218 square feet of living space. It is evidently much more extensive than Banks and Handelman's former 3,200-square-foot Studio City abode.
Ellen Pompeo & Chris Ivery | Undisclosed Amount |Loz Feliz, Los Angeles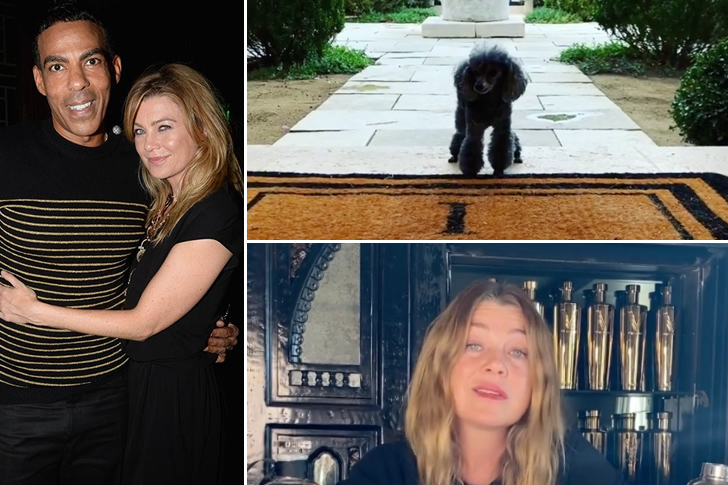 Ellen Pompeo may be used to deal with medical insurance for her role as Meredith Grey in Grey's Anatomy, but she is the perfect homemaker in real life. The 51-year-old star loves making memories in her lavish Los Feliz home with her husband, Chris Ivery, and their three kids, namely Sienna May, Stella Luna, and Eli Christopher Pompeo Ivery.
Though the couple did not disclose the price of their Mediterranean-style villa, it is surely worth millions of dollars with its luxurious features. It has 16,000 square feet of living space with five beds and seven and a half baths. Despite its perfect look, the couple still had it renovated when they moved here in 2009. With the help of famed LA decorator Martyn Lawrence Bullard, Pompeo and Ivery put a piece of them in their house's design and made it their own.
Eva Longoria & Jose Antonio Baston | £11 Million | Beverly Hills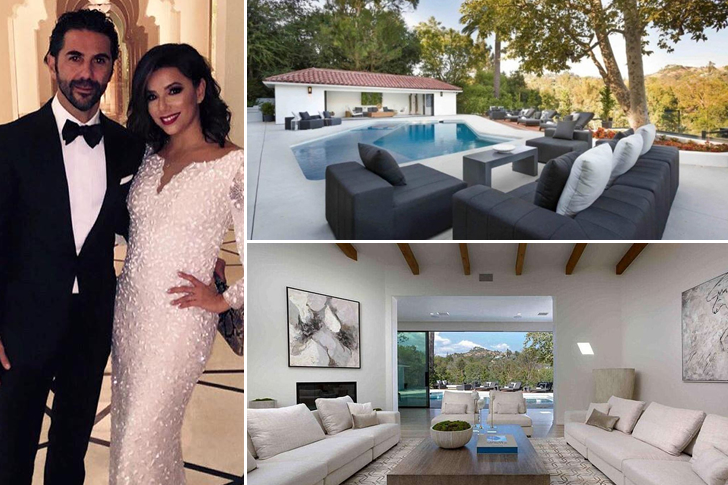 Eva Longoria loves to make her luxurious home in Beverly Hills bright and beautiful, not minding how much electricity she consumes. Ever since she has moved here back in 2017, along with her husband, Jose Antonio Baston, and son, Santago, she always makes sure that the £11-million house is full of colors.
According to its original listing, the home used to have a very monochrome décor, but the actress had put a lot of hues on it, injecting a piece of herself into her house. She now makes it her own with large teal sofas paired with a mustard pouf. It also comes with a blue patterned rug that makes the room more vibrant. Not only that, Longoria had her dining space's wall painted with a seascape, bringing more colors to the house, and added with contrasting yellow chairs. These numbers of color combinations make Longoria and Baston's home very lively.
Gabrielle Union & Dwyane Wade | $5.5 million | Sherman Oaks, Los Angeles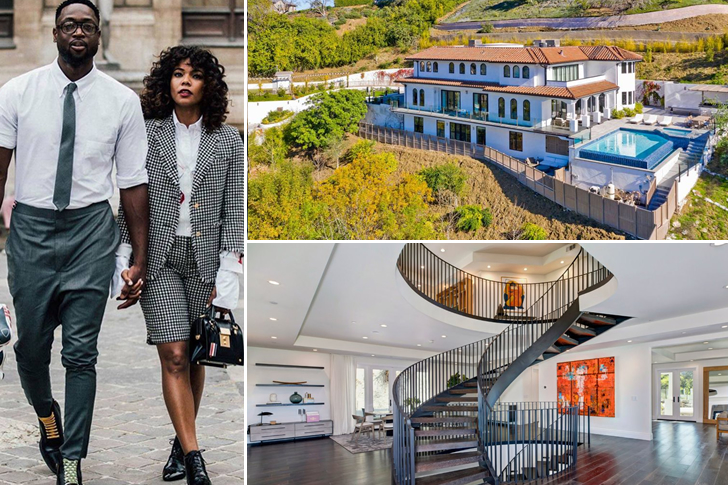 Gabrielle Union and Dwayne Wade said goodbye to their massive Sherman Oaks mansion for $5.5 million. Mind you, the couple did not earn a profit from this—just a sale. According to reports, the sold price was half a million shy of what they paid for this property back in 2018.
By the looks of it, money is not a problem for these two, and there is no reason for them to opt for any money loans. This means the one who bought their Los Angeles property is a lucky one. The house in question has a massive 8,650-square-foot of living space that features stunning views of the San Fernando Valley. It also comes with five beds, eight and a half baths, a marble kitchen, a movie theatre, a wine room, a wet bar, and its very own elevator.
Gal Gadot & Yaron Varsano | $5 Million | Los Angeles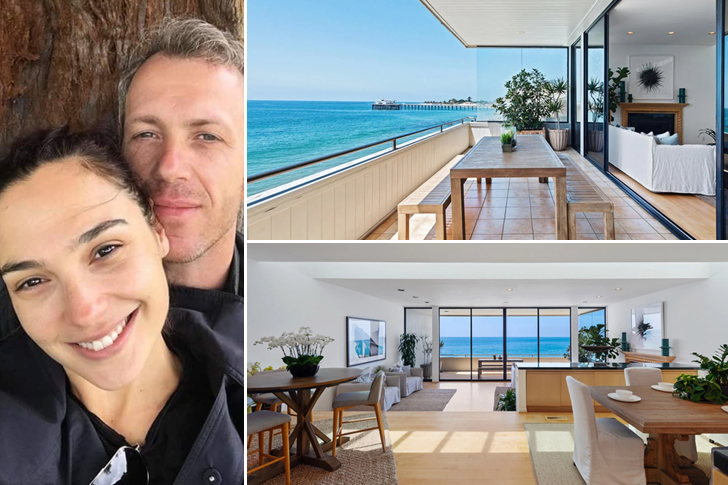 Gal Gadot does not only have a lot of credits to her name, thanks to her role as Wonder Woman. She also knows how to spend her money right, making her own rich real estate portfolio and adding a $5-million seaside condo in Los Angeles on her growing list.
Suppose you find this figure too pricey, do not be surprised. It is not an ordinary condo, but it is a penthouse located at the gated complex in one of the best places in Malibu. The property also has two deeded off-street parking spots. The unit, on the other hand, has 2,000 square feet of living space and is far from the view of the public. It has hardwood floors, white walls, and a dramatic skylight, warmth by the natural light interiors. Aside from this, Gadot and her husband, Yaron Varsano, also have houses in Israel and the Hollywood Hills.
 George Clooney & Amal Alamuddin | $13 Million |River Thames, London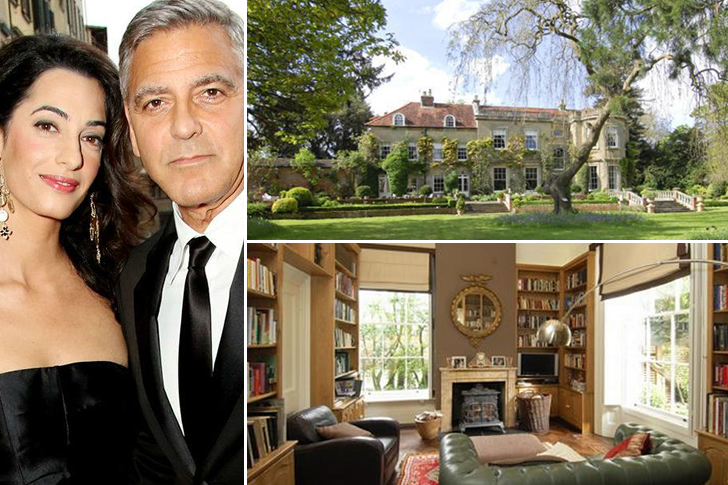 Everybody knows the cute love story of the Hollywood A-list star George Clooney and the famed international lawyer Amal Alamuddin. Just when everybody thought the actor would not marry at all, he married the barrister back in 2014. Now, the two have twins and are building the lives they want together in their $13-million English mansion.
The couple's home is not just an ordinary mansion. It is a 17th-century villa that sits on a whopping four-acre land. It is located in the middle of the River Thames in London that makes it more dramatic. Clooney and Alamuddin had the house renovated after they bought it and added their own cinema, a grand terrace, and a new pool house, where they often held their parties. To make it more English, it is complete with hardwood floors and a wood-burning fireplace. It also comes with a glass-covered garden room filled with citrus trees and is complete with a rustic cottage.
George Lucas & Mellody Hobson | $28 Million | Carpinteria, California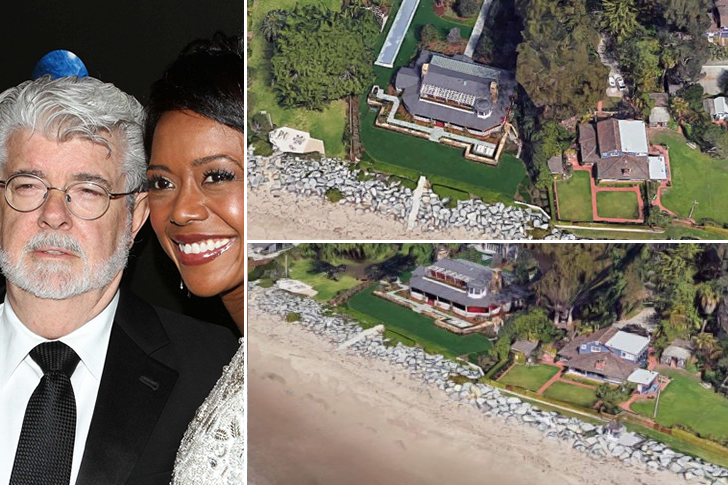 We all know how rich George Lucas is, being the genius mind behind the successful franchise Star Wars. For this reason, it was not surprising at all when we heard that he made another major investment to expand his beachfront property in Carpinteria, California. The director did not mind spending $28 million to buy the house next to the one he bought for $19.5 million back in 2010. According to reports, Lucas bought it in an off-market deal.
As the house was not publicly listed, there was only limited information about it. It reportedly has a Cape-Cod style, sitting on the two acres of oceanfront land. Some of its great features are a barn, a guesthouse, and a treehouse of its own. This is just one of Lucas and his wife Mellody Hobson's massive real estate portfolio, which includes an enormous compound in California, a penthouse in Chicago, a house in Bel Air, and an infamous ranch.
Gigi Hadid & Zayn Malik | Undisclosed Price | Pennsylvania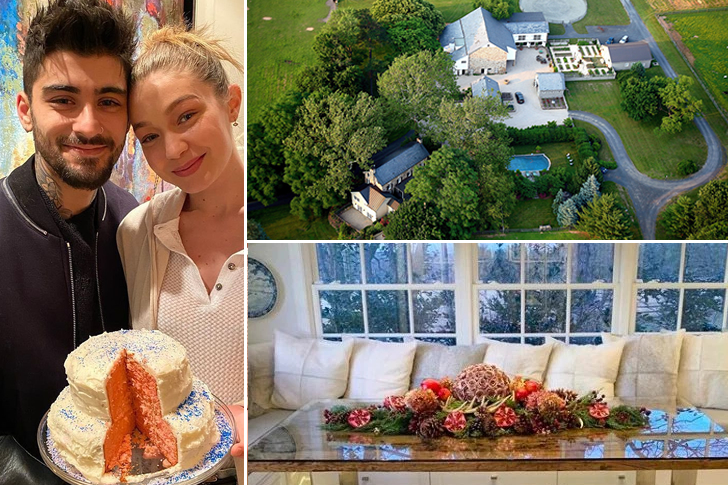 Ever since Gigi Hadid and Zayn Malik welcomed their first child, they had been spending their time as a small family between New York and Pennsylvania. The couple does not mind spending extra on gas if it means they can bond and spend time together.
The two mostly spend their time on the farm of Hadid's mom in Pennsylvania after Malik had his very own home built here. The former One Direction member bought a property in the said place back in 2018, and since then, he had been spending time here with his partner and kid. Their house is similar to Yolanda Hadid's farmhouse with a cozy aesthetic, a comfortable porch, and Georgian-style windows. By the looks of it, Hadid and Malik are now enjoying their farm life, and the latter even revealed they now have their own horse, named Cool.
Gisele Bündchen & Tom Brady | $32.5 Million | Brookline, Massachusetts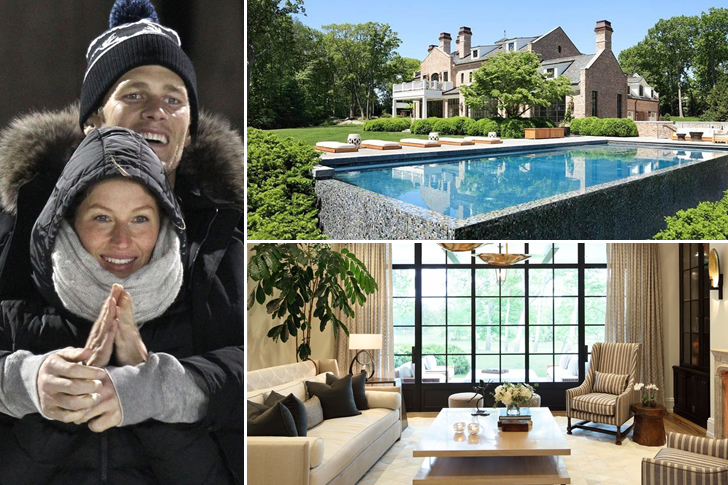 Gisele Bündchen and Tom Brady offloaded their Massachusetts mansion with a staggering price of $32.5 million. The luxe Brookline estate is said to have been sold in an off-market deal, and the new owner will surely enjoy the custom-built house filled with a lot of luxurious amenities and features.
The 12,000-square-foot home was first listed for $39.5 million back in 2019, and the price quickly dropped to $33.9 million. It then went off the market in May 2020, but a buyer emerged at the end of the said year. Brady first bought a four-acre land worth $4.5 million in 2013 to build a lavish home two years later in 2015. With the help of famed architects and designers, the couple's Brookline abode was built. It took huge investment money to create their dream house, but it was all worth it. Now, it is time for Bündchen and Brady to say goodbye to this expansive property.
Gwyneth Paltrow & Brad Falchuk | $5 Million | Montecito, California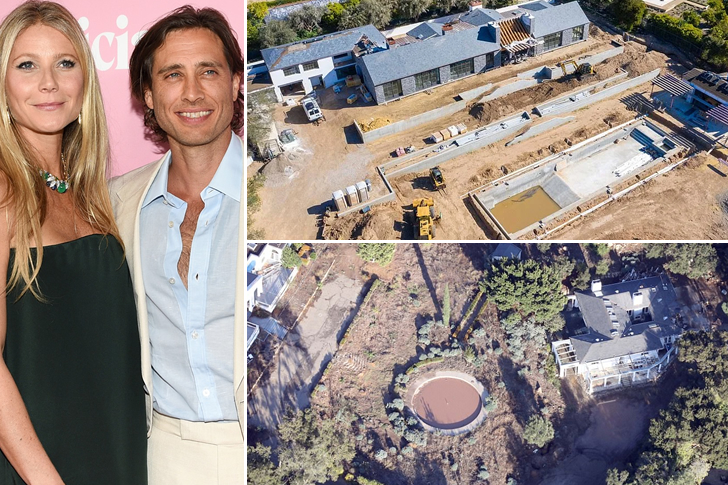 Gwyneth Paltrow and Brad Falchuk might have gotten the help of insurance companies when they decided to overhaul their massive Montecito property in California. When the couple bought the estate for $5 million in 2016, there were reports they needed to extensively renovate it.
The house in question has four beds and baths and a huge pool over two acres of land. However, it remains to be seen what will be the final features of their house as the construction is still ongoing. However, by the looks of it, it surely will be a posh home. It may also have an open-plan farmhouse, making the property more stunning. Montecito has now become the go-to neighborhood of the A-list celebrities and known and influential personalities like Prince Harry, Meghan Markle, and more. For that, Paltrow and Falchuk's home will be like no other.
 Jeff Bridges & Susan Geston | $6.85 Million | Montecito California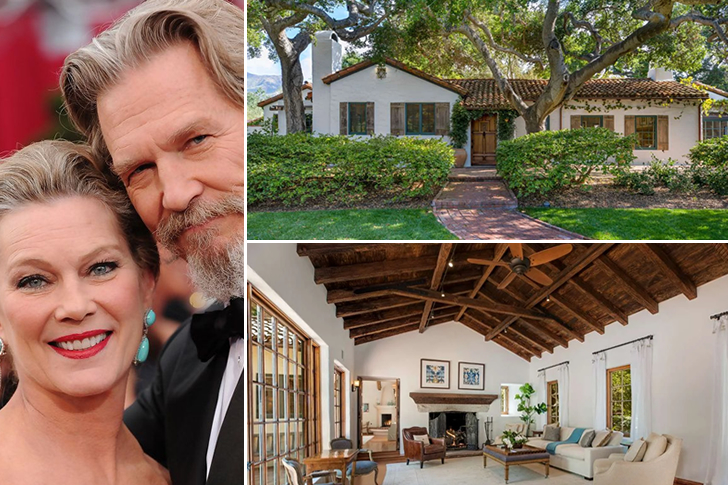 Jeff Bridges and Susan Geston had their Montecito home sold for $6.85 million to the Queen of All Media, Oprah Winfrey. With an estimated $2.6 billion net worth, this is only a meager of the famed host's money. According to reports, the iconic actor originally listed the property for $7.495 million, but the price eventually dropped to $6.85 million, which was the same price that the couple paid for when they bought the property back in 2014.
The said estate boasts 3,517 square feet of living space and has two beds and three baths, sitting on four acres of garden. It also takes pride in being built in the Spanish Revival style in 1919. Though a serious investment has been made to renovate the abode a number of times, it maintains to have its original windows, doors, hardwood floors, and fireplaces. Its kitchen and bathrooms have also been upgraded to match the modern standard of today.
Jesse Tyler Ferguson & Justin Mikita | $7 Million | Los Feliz, Los Angeles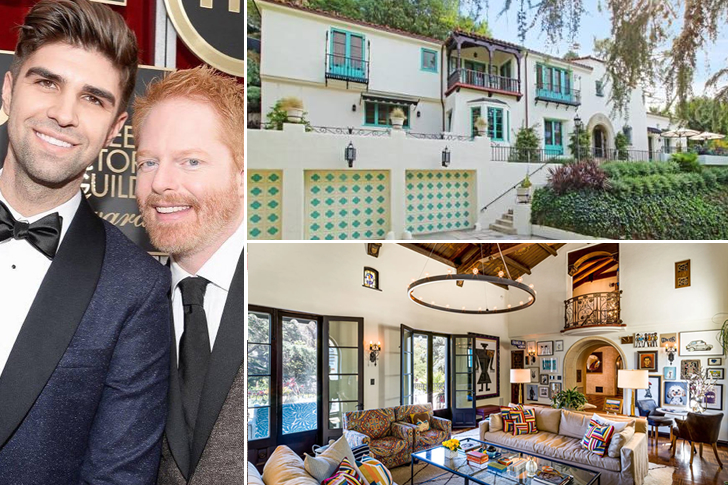 At just eight years old, Jesse Tyler Ferguson already decided to become an actor. He began his journey on the stage, performing in productions such as Li'l Abner and Bye Bye Birdie. After a couple more stage plays here and there, Ferguson eventually landed more on-screen roles. With one of his earlier roles being for The Class, the actor has since become most known for his stint in Modern Family, which earned him five consecutive Emmy Award nominations.
Outside the spotlight, the Modern Family actor is happily married to lawyer Justin Mikita, and the two recently welcomed their first child, son Beckett Mercer. Perhaps looking for another home, the couple placed their Los Feliz property on the market for a selling price of $7 million. Along with its impressive architecture, the house has amenities such as a library, a family room that also functions as a media room, and a pool area.
Jennifer Lawrence & Cooke Maroney | $21.9 Million | West Village, New York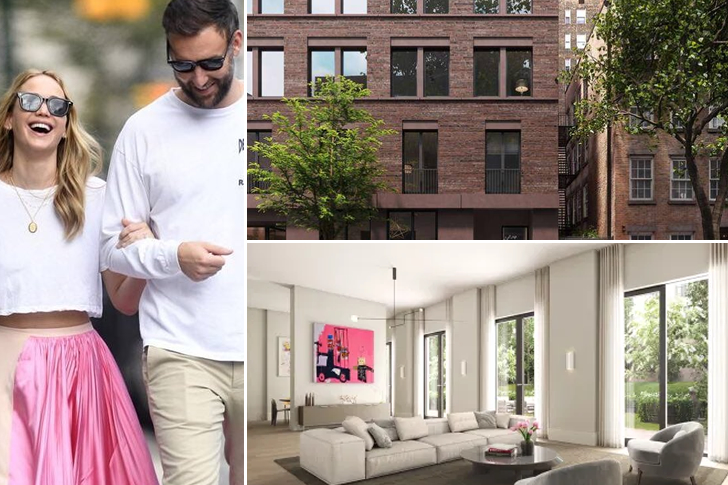 Another star who found her passion for acting at quite a young age, Jennifer Lawrence landed her first performing gig at nine years old – it was for a church play. Suffice to say, that experience was just the first step towards her journey to stardom. Now an established actress in the entertainment industry, Jennifer has become most known for her acting credit in films such as The Hunger Games movies, the X-Men franchise, Joy, and Passengers.
In 2019, the actress made another achievement, getting married to her then-boyfriend-now-husband, art director Cooke Maroney. With the couple expecting their first child, it's no surprise they eventually went searching for a house well-suited for a family. Around late-2020, the two purchased a West Village townhouse for $21.9 million. Along with its 3.5 bathrooms and four bedrooms, the property provides its residents with plenty of comfortable living space. Plus, the landscaped garden is undoubtedly pleasing to look at.
John Legend & Chrissy Teigen | $16.8 Million | Beverly Hills, California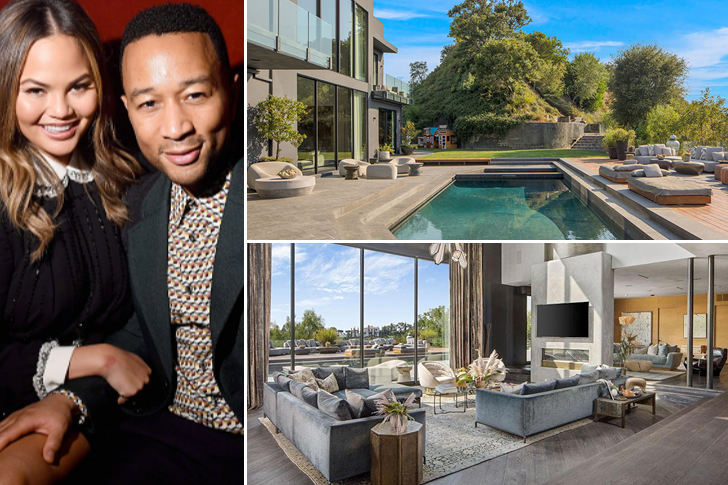 Music undoubtedly plays a big part in John Legend's life. During college, while studying for his bachelor's degree in English, he was the musical director and president of the school's a cappella group. Plus, before graduating as magna cum laude, Legend had the chance to collaborate with singer Lauryn Hill, wherein he played the piano on her song Everything is Everything.
Since then, Legend has become most known for releasing several hit records, one of which is All of Me, a song he dedicated to his wife, Chrissy Teigen. Beginning her career as a model, she has since achieved even greater success in showbiz, hosting shows such as Bring the Funny and Lip Sync Battle. Meanwhile, on the real estate side of things, the couple has decided to move on to a bigger house and recently sold their Beverly Hills home for $16.8 million. With that said, their former home's new residents will undoubtedly enjoy its all-around cozy atmosphere.
Joe Jonas & Sophie Turner | $16.75 Million | Encino, Los Angeles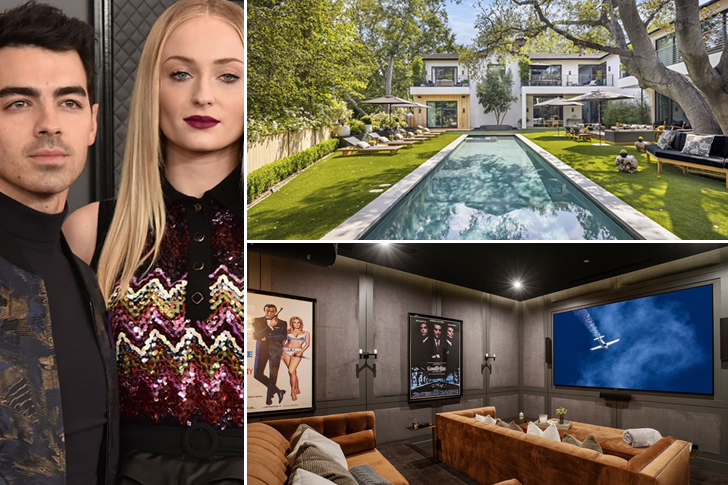 Most of us who enjoyed watching the Disney channel during our childhood would undoubtedly recognize the Jonas Brothers. After releasing their eponymous album, the sibling trio garnered even more fame for their role in Disney's Camp Rock films. With that said, they have also dabbled in a couple of solo endeavors along the way. For one, Joe Jonas has found fame for releasing the catchy tune, Cake by the Ocean.
Meanwhile, his wife, Sophie Turner, is an actress now often associated with her role as Sansa Stark in the Game of Thrones series. Other projects she has an acting credit for include the X-Men franchise and an upcoming miniseries entitled The Staircase. The couple recently placed their Encino home on the market for $16.75 million. For its price, this haven has just about everything to keep residents entertained, including a gym, a home theater, and even a putting green if anyone's in the mood to play golf.
John Stamos & Caitlin McHugh | $5.75 Million | Hidden Hills, California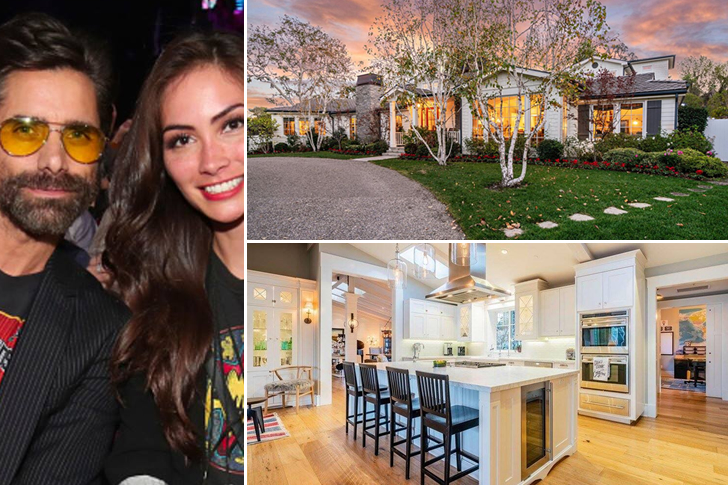 Debuting with a role in General Hospital, John Stamos continued his career appearing in shows such as You Again and Dreams. Along with his stint in Full House garnering him plenty of praise, the actor met Caitlin McHugh on the set of Law & Order: Special Victims Unit back in 2011. Little did he know they would start dating a few years later. Not long after, the couple finally made it official and got married in 2018.
One year after their marriage, the Full House actor and The Vampire Diaries actress spent some investment money purchasing this house in Hidden Hills. Bought for $5.75 million, the property is undoubtedly suitable for the couple and their son. Outdoors, this abode has a garden, a barbecue area, and a sitting area surrounding a fireplace. Plus, it also has a recording studio, perfect for music lovers like Stamos.
Jessica Alba & Cash Warren | $10 Million | Beverly Hills, California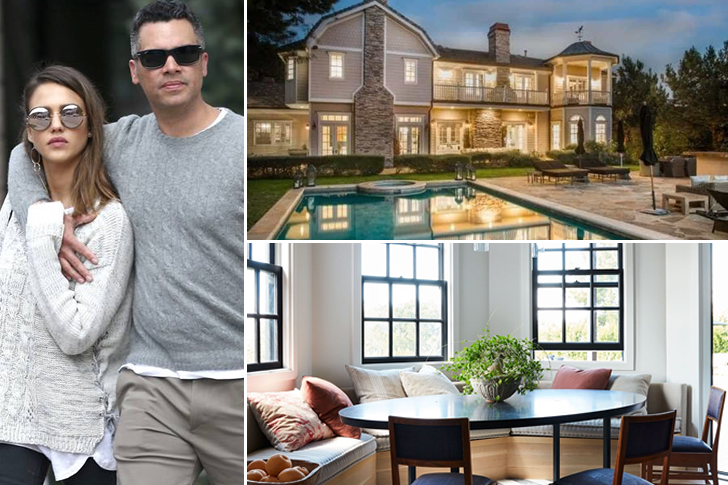 A journey has to start somewhere. For Jessica Alba, her love for acting led her to participate in an acting competition when she was just 11 years old. Upon winning, she landed the chance to take acting classes for free. Not long after, she got her first acting credit, which was for a small role in Camp Nowhere. Since then, she has become most known for her work in films such as Honey, Mechanic: Resurrection, Machete, and the Fantastic Four movies.
When she isn't busy working on a new project, the actress/businesswoman would surely be spending some quality time with her family. Married to Cash Warren, they are now also loving parents of three kids, two daughters and a son. For their home, the family lives in this gorgeous Beverly Hills abode, bought for $10 million. Along with some upgrades, the house's amenities include a swimming pool, a Jacuzzi, and of course, plenty of cozy living space.
Jennifer Lopez & Ben Affleck | $28 Million | Bel Air, Los Angeles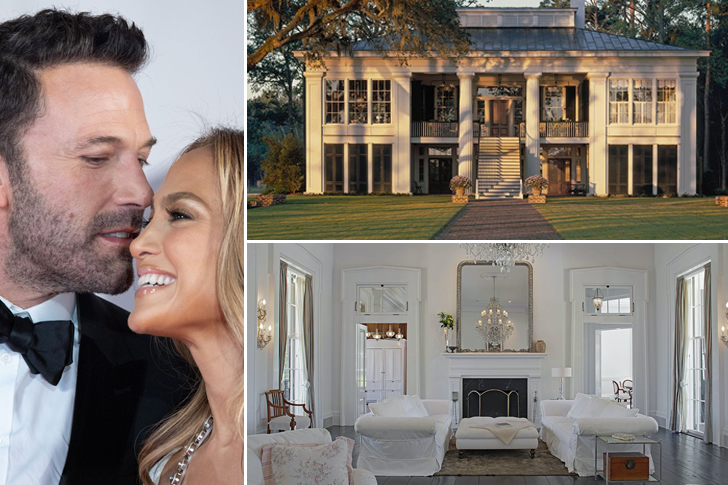 After her stint in the show In Living Color, Jennifer Lopez began her acting career. She got her first big shot to fame portraying the titular character in 1997's Selena. Along with landing other on-screen gigs, Lopez has also gained popularity as a singer. Meanwhile, actor Ben Affleck started his career as a child actor. Since then, among his many roles, comic book fans would undoubtedly know him as the lawyer-vigilante Matt Murdock in 2003's Daredevil and as Batman in Zack Snyder's Justice League.
Besides their professional endeavors, the two have recently been found roaming around town looking for a house. While this next property may be the first place they'll purchase as a couple, it isn't their first venture in real estate. Along with Affleck's lovely Georgia home, Lopez has this gorgeous Bel Air abode. Bought for an astounding $28 million, this haven has plenty of cozy living space both indoors and outdoors – not to mention a relaxing atmosphere, thanks to natural surroundings.
Jon & Tracey Stewart | Price Unknown | Colts Neck, New Jersey

Before making his way into the entertainment industry, Jon Stewart worked a variety of jobs, such as a soccer coach, a contingency planner, and a puppeteer. After a while, he decided to try his hand at comedy. Suffice to say, this decision ultimately became one of the greatest investments he's made. Since then, Jon has become most known for his work as a comedian/host for shows such as You Wrote It, You Watch It, and most notably, The Jon Stewart Show.
Along the way, Jon got himself a blind date with Tracey McShane. After four years of dating, the two finally married back in 2000. Besides being parents of two kids, the couple is also big animal lovers. With that in mind, it's no surprise they eventually built a farm in Colts Neck, New Jersey. Not only is it their family home, but it is also a shelter for rescued farm animals.
Jimmy Fallon & Nancy Juvonen | $15 Million | Manhattan, New York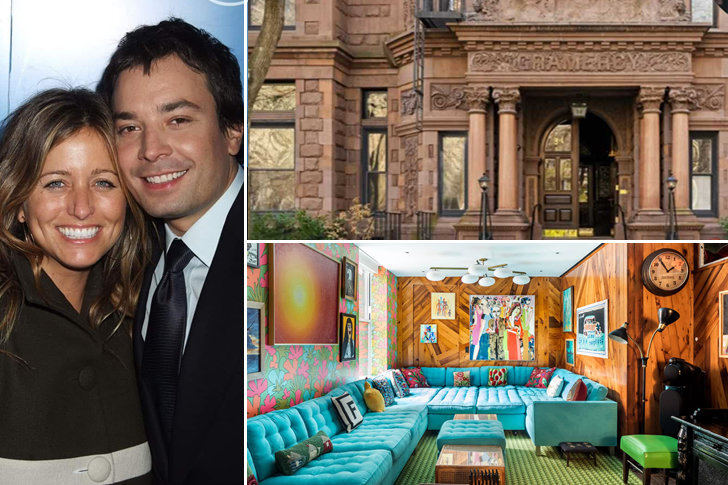 Speaking of talk show hosts, another star in this business who has garnered a high degree of popularity through the years would be Jimmy Fallon. He began his career in the comedy scene. While he did appear in a couple of shows, his most notable gig during that period would be as a cast member of Saturday Night Live. Since then, while sticking to his comedic roots, he has become most known in recent years for his work on The Tonight Show.
Since 2007, Fallon has been happily married to producer Nancy Juvonen. Together, the couple has two kids. For some time, the family called this Manhattan penthouse their home. Like the comedian/host's upbeat persona, the house is vibrant and colorful. Plus, if its gorgeous aesthetic isn't enough, this property also has a couple of notable amenities, such as a hidden playroom and a sound-proof pantry – the latter was originally a sound studio.
Jerry & Jessica Seinfeld | $14.95 Million | Telluride, Colorado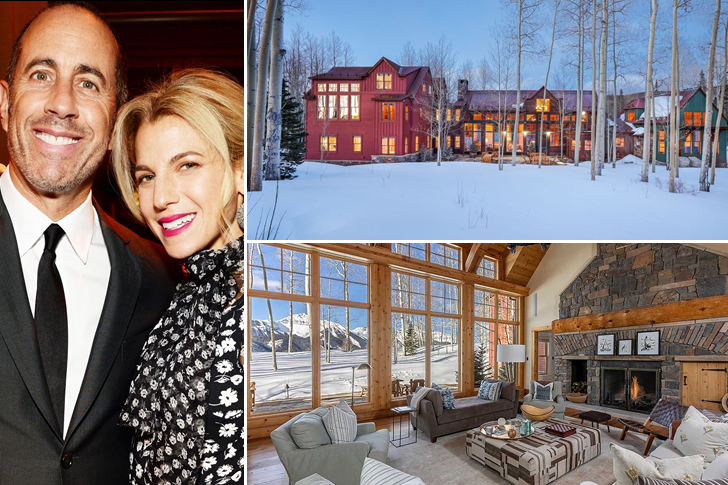 Another well-known figure in the comedy community would be Jerry Seinfeld. Beginning his career as a stand-up comedian, he is now often regarded for his work in the widely beloved TV show Seinfeld. While his career is in front of the camera, his wife opts for more behind-the-scenes investments. A philanthropist and author, Jessica Seinfeld is the founder of a charity organization called the GOOD+ Foundation. Plus, she's also released four family-centric cookbooks.
Just recently, the couple, who is also parents to three kids, placed their Telluride ranch on the market for $14.95 million. The property is surrounded by a vast area of snowy land that's perfect for skiing – a hobby the couple loved doing throughout their residency. Besides that, this winter haven also has other notable amenities, such as a yoga studio and a gym. It also has floor-to-ceiling windows. That way, residents can enjoy the view of the mountains without worrying about catching a cold.
John Cena & Shay Shariatzadeh | $525,000 | Tampa, Florida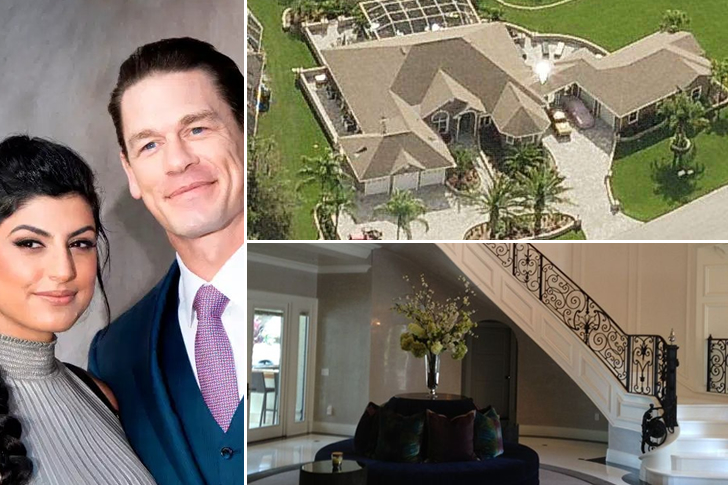 People who grew up watching wrestling shows, such as the WWE's Smackdown and Raw, undoubtedly know John Cena at this point. A former college football player, who graduated with a degree in exercise physiology, Cena eventually made quite a name for himself as a wrestler. In more recent years, though, his popularity soared even higher thanks to his career in the acting business. A few projects he's starred in include F9, Blockers, Bumblebee, and The Suicide Squad.
While filming Playing with Fire, Cena met his now-wife Shay Shariatzadeh. After marrying back in 2020, the F9 actor welcomed her wife into his Tampa home. Bought in 2005 for $525,000, the property went through some upgrades before it finally became Cena and his family's dream home. Suffice to say, its value has increased since then. For amenities, this abode has an elevator, an adjoining guesthouse, and an indoor pool with its own grotto and waterslide.
Jared Padalecki & Genevieve Padalecki | Price Unknown | Austin, Texas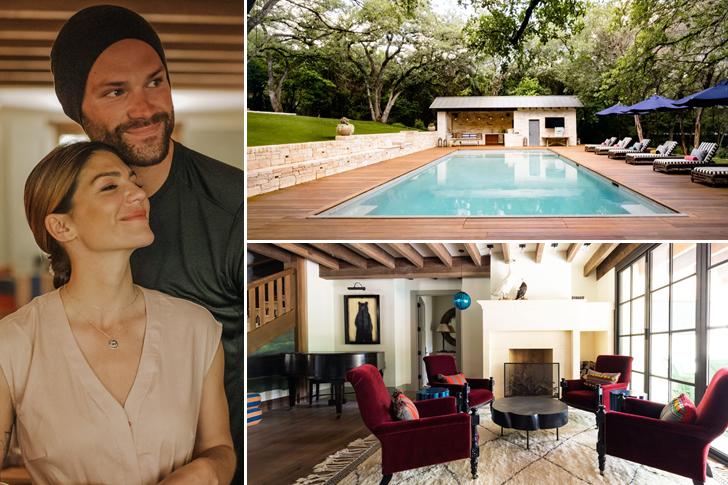 For his start in the acting scene, Jared Padalecki landed a minor role in 1999's A Little Inside. Not long after, he worked on A Ring of Endless Light and Gilmore Girls. Nowadays, though, the actor is most known for his acting credit in the Supernatural series.
While filming the series, Jared met his now-wife Genevieve Cortese, who had a recurring role during the fourth season. The two eventually got married in 2010 and now have three kids. When they aren't busy working on a show or a movie, the couple enjoy spending quality time with their family in their Austin farmhouse. Bought back in 2010, the house went through some renovations before it finally became this family's home. Well, thanks to this upgrade, the property has become even more gorgeous. Along with its eye-catching architecture and interior aesthetic, this haven also has several amenities to keep the family entertained, including vibrant bedrooms and a pool area in the backyard.
Joe Manganiello & Sofia Vergara | $26 Million | Beverly Park, California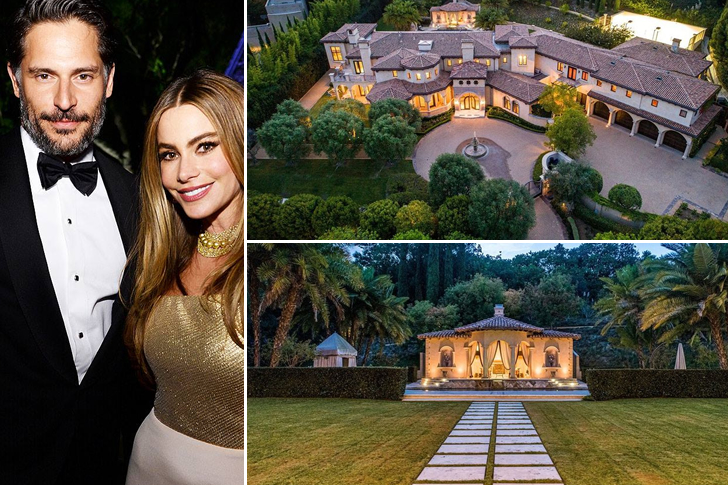 Comic book fans around the world probably recognize Joe Manganiello for his two roles: Flash Thompson in Sam Raimi's Spider-Man and Deathstroke in the DC Extended Universe. Other projects he has worked on along the way include the True Blood series, Sabotage, and Rampage. His wife, Sofia Vergara, is also a well-known figure in the entertainment industry. After her first shot to fame in 2003's Chasing Papi, she has since worked on titles such as Madea Goes to Jail, Hot Pursuit, and Modern Family.
Speaking of families, the couple is now also loving parents. With that said, this family enjoys spending quality time together in their Beverly Park mansion, a $26-million investment. Along with its impressive architecture, the property also has plenty of cozy living space. To top it off, it has a home gym, a theater, a pool, and a cabana.
Will & Jada Pinkett Smith | $42 Million | Calabasas, California

Will Smith is a star who needs no introduction at this point. Starting as a rapper, he got his big break when he landed the titular role in The Fresh Prince of Bel-Air. After his stint on the TV show, he has since garnered a skyrocketing degree of recognition for his work in movies such as Independence Day, the original Men in Black films, and the Bad Boys movies.
Meanwhile, his wife, Jada Pinkett Smith, is known for her roles in Girls Trip, the Matrix movies, Gotham, and The Nutty Professor. Besides their careers under the spotlight, the couple and their kids live in this expansive Calabasas estate – it even has its own zip code! Bought for $42 million, the property now has 25,000 square feet of living space and is loaded with celebrity-grade amenities. This includes a tennis court, a basketball court, and a volleyball court, not to mention a secluded lake – the I am Legend actor calls it his favorite place.
John Krasinski & Emily Blunt | $8 Million | Hollywood Hills, California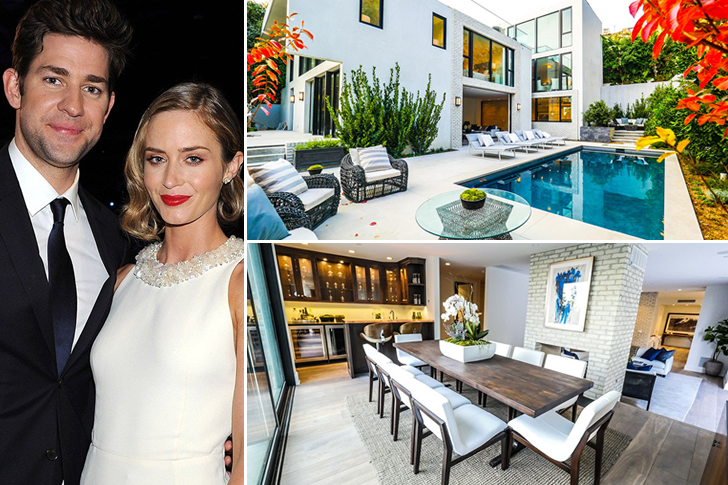 Besides being talented actors, John Krasinski and Emily Blunt often take credit for being one of Hollywood's most recognized power couples. The two made their relationship official and got married back in 2010. Since then, they have also become loving parents of two kids.
Like many of their colleagues, the couple has dabbled several times in the real estate business. Among the many houses they have bought, one such example would be this Hollywood Hills abode. Reportedly worth $8 million, this house satisfies one of the most important things in this family's life: privacy. For one, it is positioned away from the street, thanks to its cleverly long driveway. This means residents can enjoy this haven's several amenities without worrying about any prying eyes. A few features worth noting are its pool area, a wellness room, a rooftop deck, and of course, plenty of living space to keep everyone cozy.
Joseph Gordon-Levitt & Tasha McCauley | $3.25 Million | Los Angeles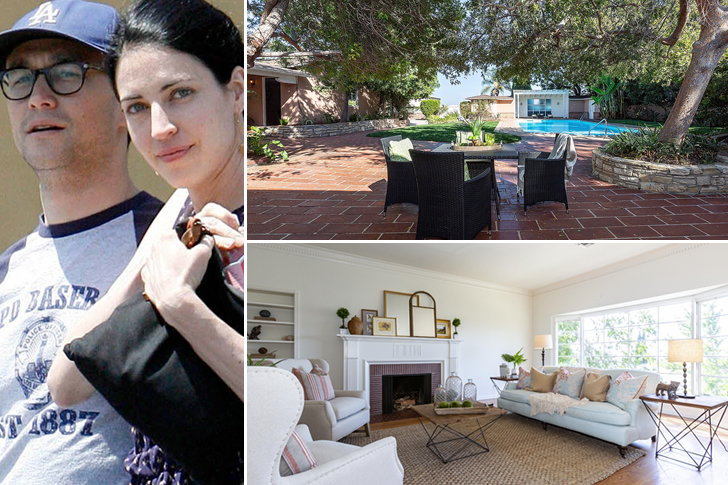 Joseph Gordon-Levitt paid $3.25 million for a 1940 mansion designed by Paul R. Williams. The property at 3847 Franklin Avenue in the exclusive Franklin Hills neighborhood is 3,771 square feet and lies on a third of an acre of land. The house, designed by Arthur Howe back in 1940, is built in the shape of a 'U' around a courtyard with trees and flagstone retaining walls.
The house boasts lofty ceilings and plenty of open space on the inside. It maintains a throwback Hollywood vibe — credits to a wooden floor, wood cupboards, and fireplaces. To complete its elegance, a swimming pool, a red brick patio, and a guesthouse with spare bathrooms and changing rooms are in the back of the house. According to public records, this house was not Gordon Levitt's primary residence; his wife Tasha McCauley and their two sons resided in another home in L.A.'s Silver Lake district.
Julia Roberts & Danny Moder | $8.3 Million | San Francisco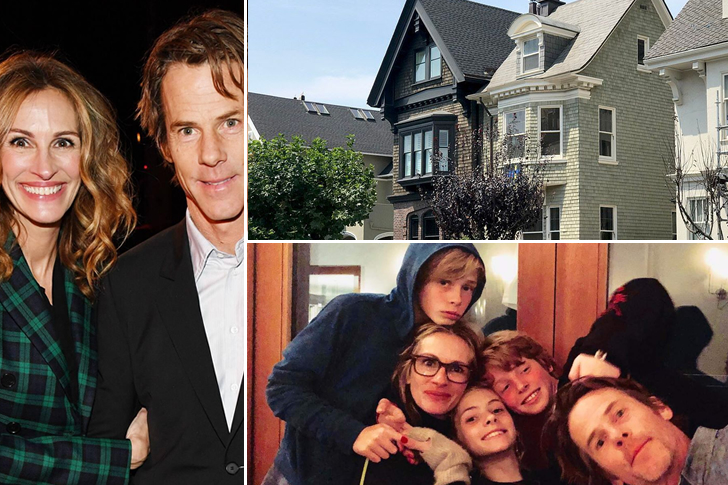 Most celebrities reside in Hollywood to make it easier to commute to work, but Julia Roberts likes to live in San Francisco. Along with Danny Moder and their three children, the Notting Hill actress lives in a gorgeous mansion in the city's posh Presidio Heights area.
The conventional Victorian-style home provides breathtaking views of the Golden Gate Bridge. It boasts 6,245 square feet with five bedrooms and four and a half baths. To top it all, a chef-style kitchen, numerous living spaces, a luxurious dining area, and an extra room on the top floor are among the features of their investment home. The property's location is one of its most appealing features. Not only is the upscale neighborhood recognized for its prestigious educational system, vibrant downtown area, and proximity to nature, but San Francisco is famed for its culture and carts in general.
Julia Stiles & Preston J. Cook | $1.9 Million | Manhattan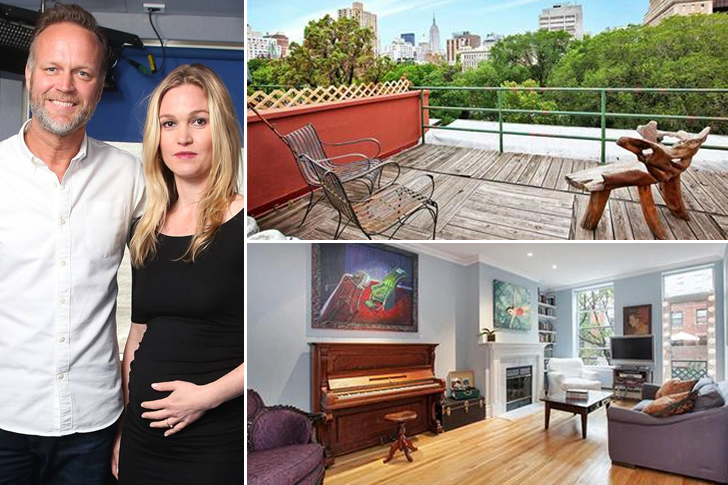 Julia Stiles gained her prominent degree in the '90s films 10 Things I Hate About You and Mona Lisa Smile. She may not be in the news much these days, but the sale of her Gramercy duplex residence made her way into the headlines once again.
The three-bedroom apartment at 310 East 15th Street, right across from historic Stuyvesant Square, was listed for $3.5 million in a six-unit brownstone building. Although they reduced the price just a few months after they posted it, Stiles secured $2.7 million from an unknown buyer. It is a sizable return, considering she only paid $1.995 million for it ten years ago. The 2,081-square-foot apartment includes a key-lock elevator that leads to the apartment's entrance. Some of the benefits of the quarters include a newly renovated kitchen, a light and airy open plan, two wood-burning fireplaces, and a 100+ square foot storage area in the basement. The property makes up for its modest style with a big, full-level roof deck surrounded by treetops and offers panoramic scenes that include the Empire State Building.
Justin Timberlake & Jessica Biel | $28 Million| Tribeca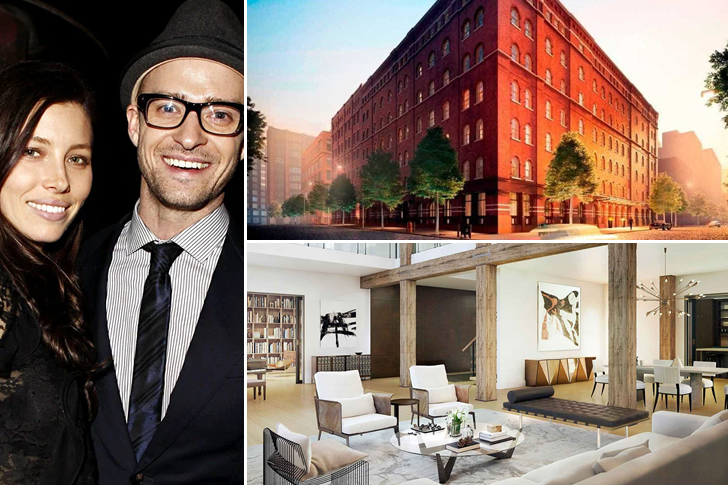 What goes around comes around, and Justin Timberlake lives to that. The Sexy Back singer and Jessica Biel return to their former neighborhood to settle into a stunning $28-million penthouse.
Timberlake has made real estate moves in the city back in 2010, relocating to a penthouse in Soho Mews. However, as his popularity has risen, so have his real estate investments. Timberlakes' specific home stands out because of its expansive private terrace, which is nearly as large as the flat itself. The sprawling apartment (almost 5,000 square feet) features four bedrooms, four bathrooms, plenty of closet space, and an "entertainment area" with access to the terrace. Of course, the celebrity couple's attraction to 443 Greenwich is likely due to its paparazzi-proof promise—assured by luxuries like 24-hour concierge, private indoor parking, and a porte-cochere, among other high-end advantages (and has allegedly drawn Jennifer Lawrence and Blake Lively to the building).
Karlie Kloss & Josh Kushner | $23.5 Million | Miami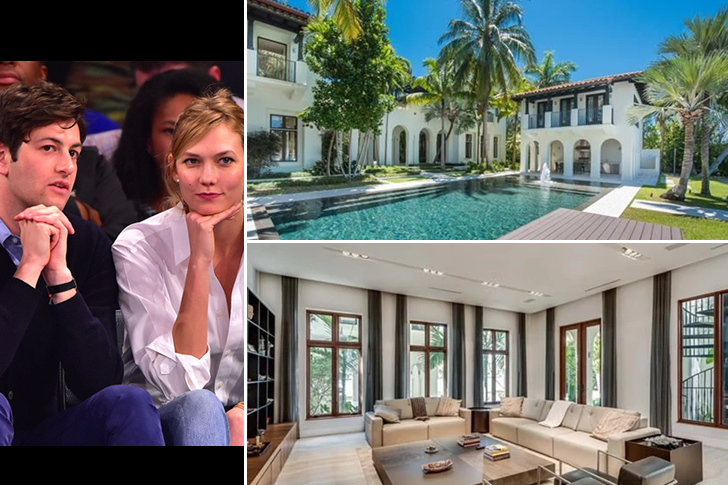 The entire Kushner family appears to be heading south! Karlie Kloss and her millionaire husband, Joshua Kushner, had their first child in the spring of 2021, and they're upgrading to a big Miami house, as is customary. They closed on an eight-bedroom home back in December for a whopping $23.5 million, and it is just stunning.
The two-story estate has a magnificent pool and wine cellar and stands on a 24,860 square-foot lot. The opulent estate features floor-to-ceiling windows that take advantage of the waterfront location, a private dock, a "summer kitchen," and a large outdoor pool. There's plenty of space for outdoor life in addition to the ample internal space, which includes a wine cellar and a private gym. A beautiful indoor/outdoor terrace is one of the attractions of the Miami house. Karlie and Joshua now have a fantastic home for a family of three, securing their baby's future mortgage-free.
Kelly Rowland & Tim Weatherspoon | $3.45 Million | Sherman Oaks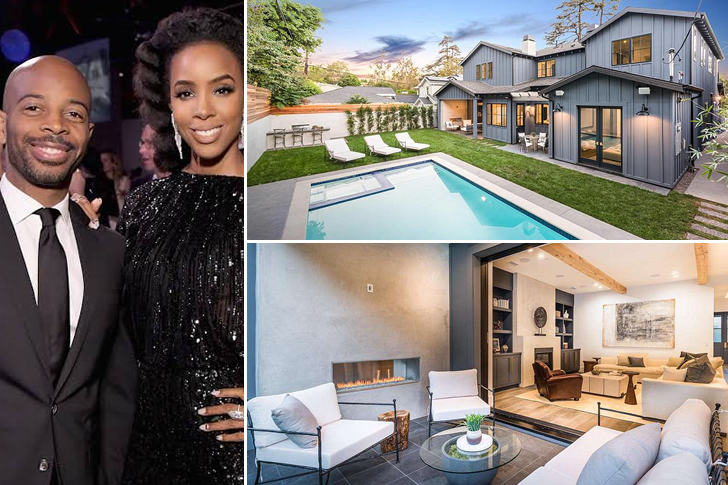 Kelly Rowland, Tim Weatherspoon, and their son Titan have just moved into a new mansion in Los Angeles. They are the proud owners of an opulent new property in Los Angeles' affluent Sherman Oaks area. Given Rowland and Weatherspoon's credits, shelling out $3.45 million is not a big deal for the couple.
Their new home has five bedrooms and seven bathrooms, which is spread out across 4,285 square feet with gates to keep it extremely private. It's a brand-new home with top-of-the-line equipment, a custom fireplace, a fantastic kitchen with a vast quartz stone island, bespoke tile, and a charming breakfast nook. The main bedroom, located upstairs in the expansive house, has a large en-suite bathroom with a soaking bathtub. Moreover, there's no shortage of places for Rowland to have fun. The outside boasts a large swimming pool (which we know Titan would enjoy!), a spa, and a large stone porch to welcome guests while they take in the breathtaking view.
Kelsey Grammer and Kayte Walsh | $13.7 Million | Beverly Glen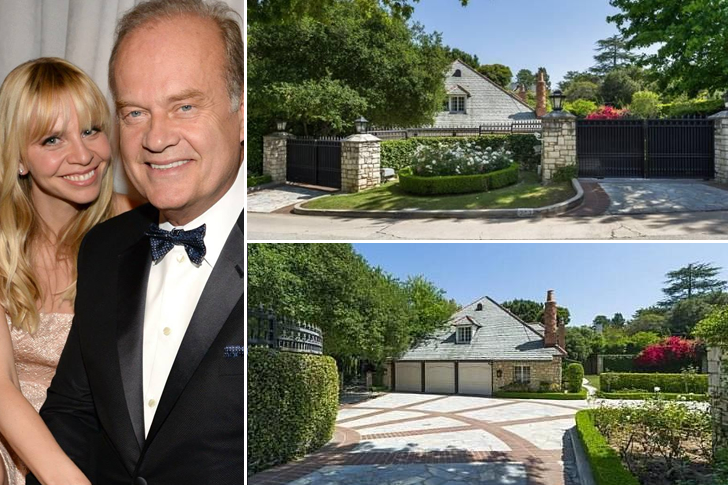 Even though Kelsey and Camille Grammer signed their papers with the help of their lawyers, there are still a few loose ends between them — their two residences. While both properties have been on and off the market, the Grammers' beloved hideaway in Beverly Glen is back on the market for $17.999 million, which is a decrease from its original asking price.
Back in 2007, the couple paid $13.7 million for the 10,567-square-foot home. Grammer has a habit of purchasing and flipping houses, just like a few other celebrities. In 2008, he attempted to sell the house for $19.9 million after totally refurbishing it. The one-acre property has a vast living room, movie room, dining room, gourmet kitchen, gym, automobile court, and large outdoor pool. The Emmy-award-winning producer accumulated a sizable real estate portfolio. They possessed almost $100 million worth of properties in addition to the Colorado and Beverly Hills houses.
Kevin Jonas & Danielle Jonas | $1.2 Million | New Jersey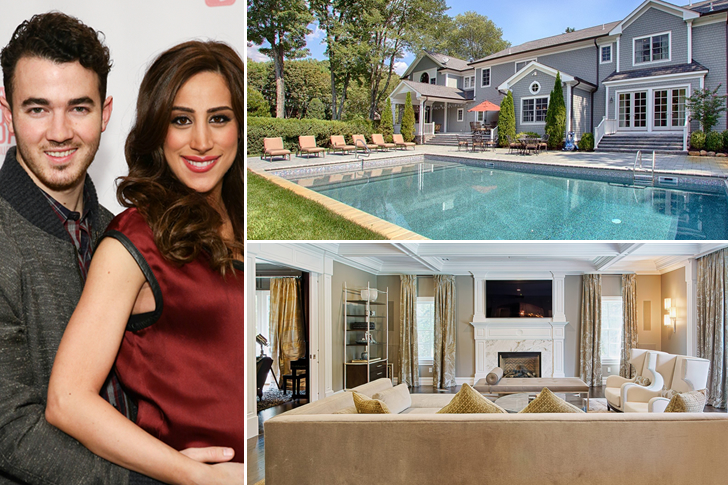 We can refer to them as the "property brothers." Since bursting onto the music industry in 2005, Nick, Joe, and Kevin Jonas have come a long way. Since then, the Jonas Brothers have pursued solo music careers, high-profile romances, and real estate investments, which is maybe less well-known among their fans.
Kevin was the first to purchase his own home, a $1.2 million estate in Denville, New Jersey, which he shared with his wife, Danielle. With a partly stone facade and white marble flooring inside, the mansion included five bedrooms and five and a half bathrooms. The home is at the end of a cul-de-sac in the prestigious Valhalla Estates neighborhood and features a huge saltwater pool and waterfall. A spacious glass-walled wine cellar off the formal dining room, a billiards room, and a gourmet kitchen with high-end appliances are among the home's state-of-the-art facilities. However, the couple is trading in their current home with their second child on the way.
Kevin Hart & Eniko Hart | $1.35 Million | Calabasas
Kevin Hart has undoubtedly amassed an enormous fortune from movie and television credits to comedy tours and product partnerships. You might be wondering where he lives now that he's super-rich.
Kevin and his wife, Eniko Parrish-Hart, live in a beautiful estate in Calabasas, California, with their blended family. The Jumanji star designed and built the Spanish-inspired villa from the ground up for the couple and their four children. He initially purchased a 26-acre tract of land in an elite gated neighborhood near the Santa Monica Mountains for $1.35 million. He then began construction back in April 2017 and spent roughly $4 million more to develop a 9,623-square-foot home. Kevin's spectacular two-story apartment has several bedrooms, numerous bathrooms, a formal dining room, a chef-style kitchen, a playroom for his children, and much more. A private indoor gym and several entertainment rooms are among the luxuries available at the comedian's home.
Kourtney Kardashian & Travis Barker | $10 Million | Palm Springs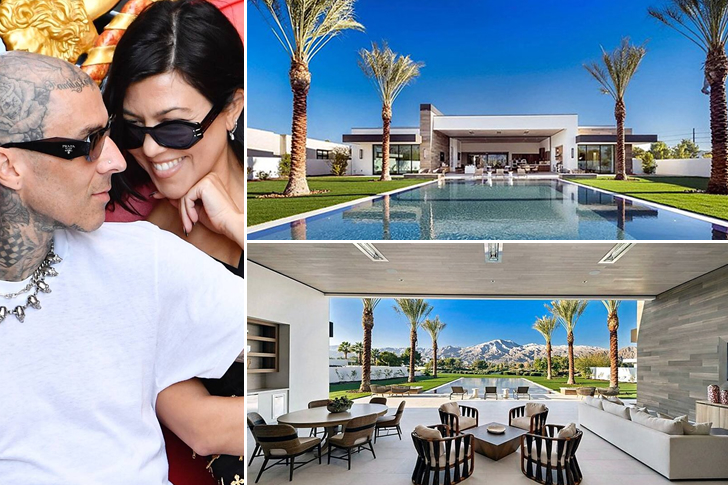 One can never have enough investments, and Kourtney Kardashian is no exception. She just purchased a $10-million vacation house in Palm Springs. She and her boyfriend, Travis Barker, didn't waste any time celebrating in the new home. The A-list couple and their kids had a blast running around the expansive lawn and swimming in the state-of-the-art pool over Memorial Day weekend.
If you follow the Kardashian-Jenner family on social media, you may recognize her Palm Springs home. Kris Jenner, it just so happens, has a property in the same complex. The property is over 9,000 square feet, sits on about an acre, and has an attached guesthouse. The house boasts a peaceful courtyard with a sitting area, custom water features, and a fire show, which leads to the great room with panoramic views of the Santa Rosa Mountains. What about the interior design? Kardashian and the rest of the reality TV crew are no strangers to sprucing up their homes so expect it to be exceptional.
Kristen Bell & Dax Shepard | $4.3 Million | Los Feliz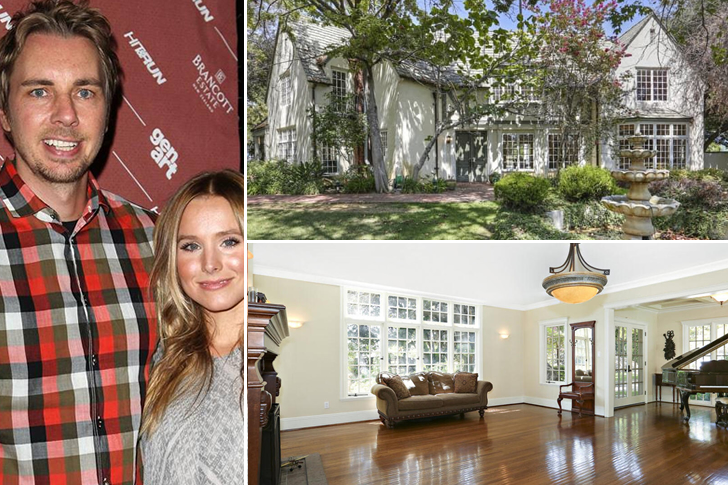 Kristen Bell and Dax Shepard are the ruling love ideals in Hollywood, and now, they may be house goals as well. The couple has moved into a lovely English cottage-style home in Los Feliz. The stars paid $4.3 million for the house, which implies a rapid and probably profitable flip for someone.
The house looks excellent with a concrete façade, a steeply pitched shingle roofing, and a lot of glass. It boasts 4,359 square feet of living space, with five bedrooms and 4.5 bathrooms. It also features a double-door entry that leads to a foyer with a beige and white tiled floor, stenciled walls, and a period chandelier. The room has original narrow-plank oak floors, a stone fireplace with hardwood mantle, and yet another period ceiling fixture. The land is about nine-tenths of an acre in size, which is quite large for the area. The property has solitude and a pleasingly timeless vibe thanks to a pool and sun lounge, lawns, mature trees, stone accent walls, and beautiful landscaping.
Lea Michele & Zandy Reich | $3 Million| Brentwood, Los Angeles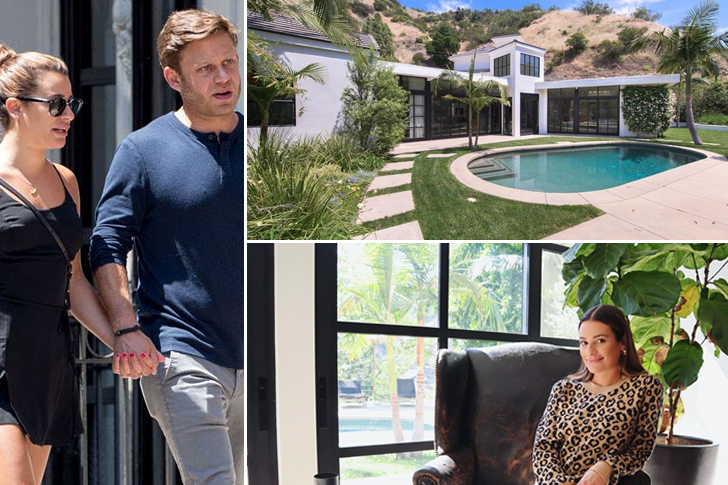 Lea Michele originally purchased her Brentwood home to "recover, breathe, and recharge."
She said that she fell in love with the house the moment she saw it.
The pristine white walls, light and open areas, and industrial-chic design of Michele's home scream good feng shui. It has four bedrooms, four baths, a swimming pool in the backyard, a dance studio, a walk-in closet, an art studio, and a gym—everything you'll need. Last year, she listed the property on the market for a whopping $3.15 million amid reports that she and her husband, Zandy Reich, were looking for a new home after their wedding. The star's gorgeous bathroom of dreams has to be one of the stand-out spaces, making you want to take a bath, light some candles, and lie there until your heart's content. It's all marble from flooring to ceiling with a wooden rack for lotions and potions, bath books, and the occasional bottle of wine, as well as a giant wall mirror. A large window overlooks the lush garden, and attractive plants cover the walls, adding to the homey atmosphere.
Lisa Kudrow & Michel Stern | $1.9 Million | Beverly Hills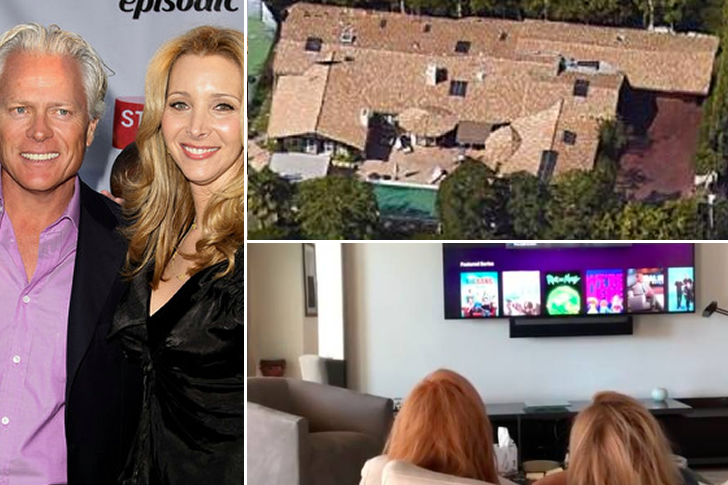 Phoebe Buffay wowed us with her humorous credit on Friends when she wasn't singing Smelly Cat or having a bizarre sibling feud with her twin, Ursula. Lisa Kudrow has had a little more success with her singing career than Phoebe did, and she lives in her $1.9-million Los Angeles home to prove it.
Kudrow has a second home in Palm Springs, but she spends most of her time in Los Angeles, which we can't blame her for since it's lovely! In a recent video, she showed off her beautiful outside area, which features enormous white reclining seats and plenty of greenery as a backdrop. The star's kitchen, which is vast and features state-of-the-art appliances and mahogany cabinets, is also featured in the photos. Kudrow's living room is the ideal setting for catching up on Friends reruns, and she did just that in a photo she shared while watching reruns on her enormous TV.
Margot Robbie & Tom Ackerley | $2.7 Million | Venice Beach, California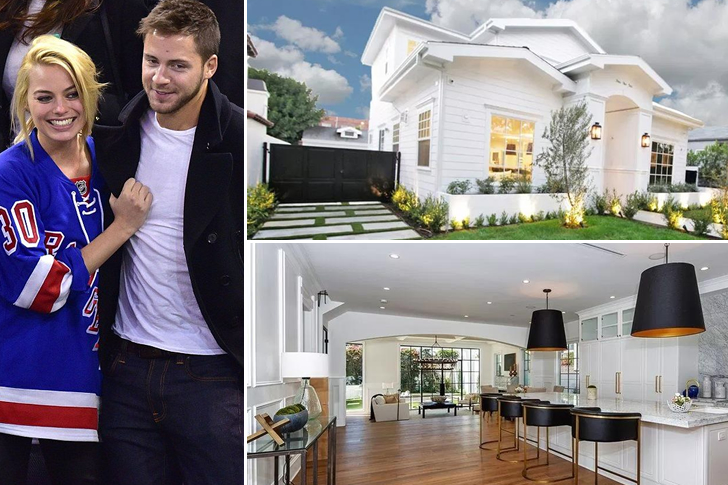 It is no surprise that anything Margot Robbie touches turns to gold, and her home is no exception. Soon after her under-the-radar 2016 wedding to English director Tom Ackerly, the couple relocated to Los Angeles, specifically to this investment home located on Venice Beach.
The two-story, 3364-square-foot (roughly 312.5 square-meter) mansion in Los Angeles' wealthy Hancock Park has four bedrooms and six bathrooms. The home features a massive polished marble fireplace and a charcoal formal dining room and high ceilings, and plenty of natural light. The home also has a main-floor bedroom and two en-suite guest bedrooms on the upper floor, featuring a magnificent, tiled laundry room and a master bedroom with a trendy private balcony. While the backyard is on the petite side, it is undoubtedly serene. They transformed the garage into an open-air cabana complete with a pool, spa, and a small patio with a bar and a pool bath.
Matt Damon & Luciana Barroso | $16.7 Million | Brooklyn, New York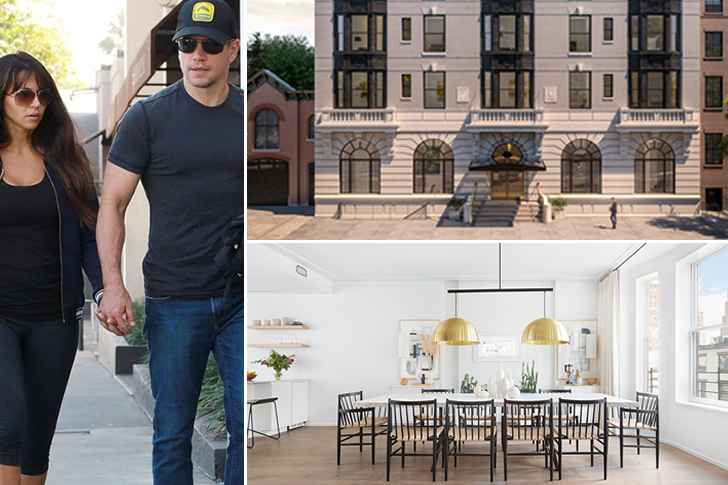 Matt Damon is leaving Los Angeles. However, he's not moving to a quiet suburb like so many others, but the actor and producer plan to make New York City his primary abode, most likely in the $16-million Brooklyn penthouse.
Damon may be from Boston, but he's on his way to breaking a New York City record. He has reportedly agreed to pay $16 million for a penthouse home in Brooklyn Heights. People familiar with the transaction claim that it is the most expensive residential sale in Brooklyn history (the previous record was a Cobble Hill townhouse sold for $15.5 million in 2015). What would you get from the most expensive condo in Brooklyn? It appears to be a mash-up of many units, with six bedrooms, a 3,366-square-foot terrace, and white Austrian oak flooring. There's also a gym, a 24-hour concierge, a kid's playroom, and breathtaking views of Manhattan in this building.
Matthew McConaughey & Camila Alves | $6 million | Austin, Texas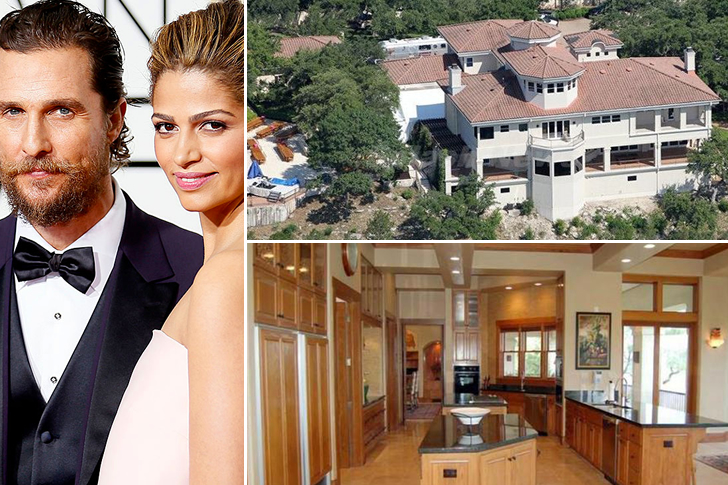 One could make the case that Matthew McConaughey is one of the most prolific actors in the entertainment industry today. Whenever he's not on the set of any film, he's usually spending time with his kids and his wife, Camila Alves. The two met back in 2006 and dated for five years until McConaughey finally decided to make it official by proposing to Alves in 2011. Eventually, in 2012, the two formally tied the knot in a private Catholic wedding ceremony in Austin, Texas.
McConaughey is one of the most successful actors of all time, and it's reasonable to assume that he has enough investment money to acquire a lavish house. In 2012, McConaughey and Alves acquired a beautiful 10,000-square-foot mansion in Austin for $6 million. It features seven bedrooms, eight bedrooms, and fantastic views of Lake Austin. You could say that it's the perfect home for a prominent Hollywood couple!
Meryl Streep & Don Gummer | $3.6 million | Pasadena, California

Meryl Streep and Don Gummer are two of Hollywood's most adorable couples, and interestingly, they've been married for almost four decades! It's no secret that she has enjoyed massive success in the entertainment industry as an actress, racking in numerous awards for her outstanding performances in various films and television productions. Without a doubt, it's incredibly inspiring how Gummer stood by her side throughout those illustrious years.
Besides film and acting, Gummer and Streep have been known to acquire numerous real estate investments throughout the east coast. Recently, the couple decided to start splurging on various west coast properties. One of the couple's newly acquired properties is a beautiful three-bedroom and three-bathroom home located in Pasadena, California worth $3.6 million. It's undoubtedly a desirable property, and you could say that this mid-century modern home is just another trophy that she added to her collection.
Miranda Kerr & Evan Spiegel | $100 million | Holmby Hills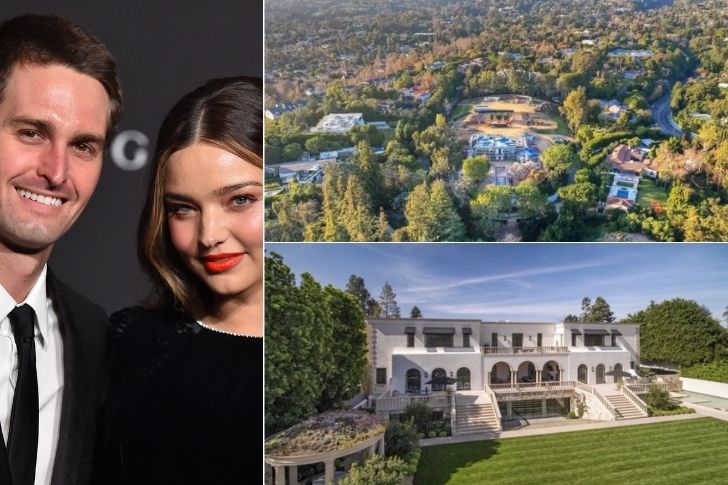 Miranda Kerr and Evan Spiegel are unquestionably two of the most influential couples in Hollywood today. She is known for her successful career as a model, and Spiegel is the founder and CEO of well-known social media giant Snapchat. You could say that both of them were able to cultivate a dominant presence in their respective industries. With this in mind, it certainly wasn't a surprise when the couple balled out and spent $100 million on a beautiful Holmby Hills estate.
Spiegel alone has a net worth of $13.2 billion, while Kerr has a more-than-decent net worth of $60 million. With this fact, we're more than confident that this couple won't need any home loan to help pay the bill on their massive estate. As of writing, Spiegel and Kerr's Holmby Hills property is still unfinished, and the couple made it clear that they'll be moving in pretty soon. They certainly have a ton of work cut out in front of them as the lot stretches up to four acres.
Natalie Portman & Benjie Millepied | $6.5 million | Montecito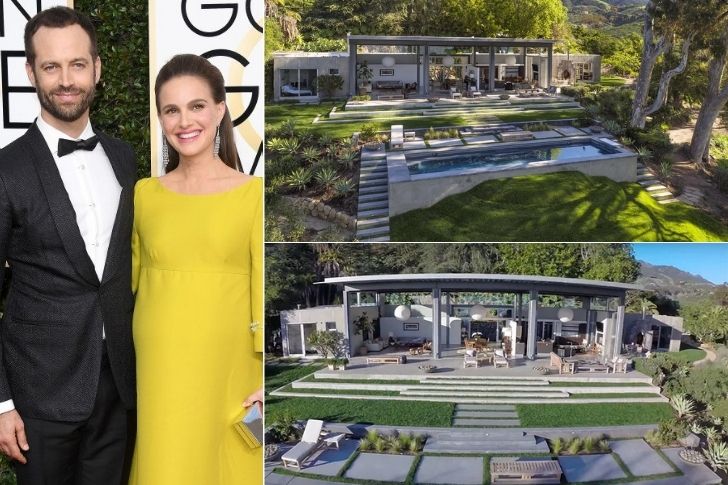 Natalie Portman and Benjamin Millepied undoubtedly belong on the list of adorable couples in Hollywood. She is best known for appearing in several blockbuster films, and interestingly, she met Millepied on the set of her hit 2010 film Black Swan. You could say that Portman and Millepied instantly fell for each other as they immediately started dating. Eventually, in 2011, they welcomed their first child, and the couple married in August of 2012.
The couple is about to enter the 10th year of their marriage, and they've been able to add another baby into their small family. They've also made the transition from Paris to Los Angeles, and in the process, they've acquired an extremely modern estate in Montecito. Portman and Millepied reportedly paid $6.5 million, and it comes with four bedrooms, 4.5 bathrooms. We're highly confident that the couple has enough investment money to acquire this beautiful estate with ease. The property also features celeb-grade amenities as well as multiple fireplaces.
Nicole Richie & Joel Madden | $10.2 million | Los Angeles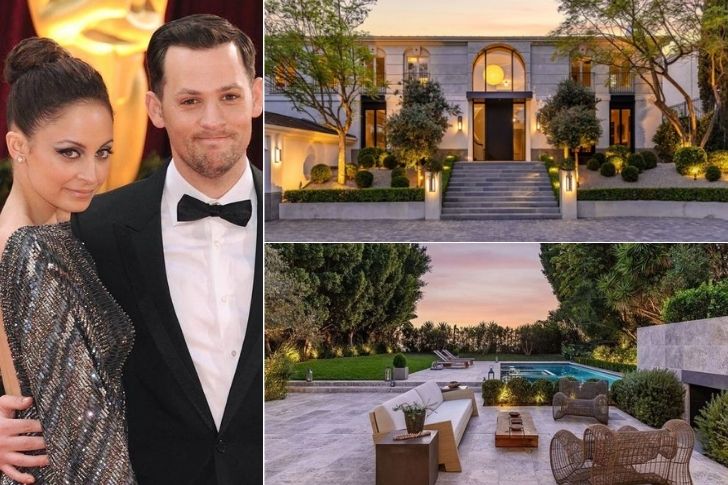 Nicole Richie and Joel Madden are unquestionably two of the most recognizable couples in Hollywood today. They started dating each other back in 2006, and no one certainly knew that it'd turn into a 10-year marriage and a thriving creative partnership. The two have undoubtedly been going strong since tying the knot on December 11, 2010. In addition, they seem to be living in bliss together with their two adorable children.
Besides a thriving marriage, Richie and Madden have also made several real estate acquisitions throughout the years. One of their most recent investment is a beautiful property in The Summit, Los Angeles. The two reportedly shelled out $10.2 million for the five-bedroom and six-bathroom home. In addition, the property features 6,165 square feet of living space and celebrity-grade amenities such as a swimming pool, a library, a spa, and many more.
Patrick Dempsey & Jillian Fink | $14.5 million | Malibu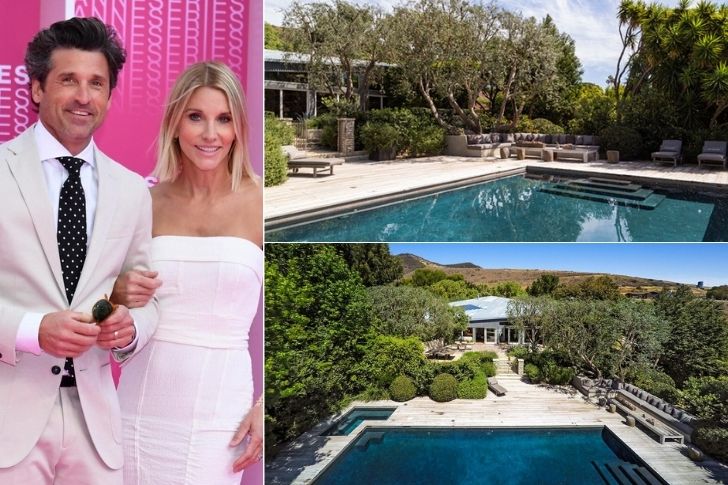 Patrick Dempsey is one of Hollywood's most sought-after actors, and he's married to Jillian Fink, a stylist and entrepreneur. The couple has enjoyed more than 20 years of marriage, and one could make the case that their relationship is pretty perfect. The two started dating in 1997 and decided to tie the knot two years later. Since then, Dempsey and Fink have been able to welcome three adorable kids, and you could say that they're living an incredibly dreamy Hollywood life.
Throughout the years, the couple been able to acquire several real estate investments in California. One of the most desirable properties under their ownership is their beautiful Malibu home. Interestingly, the couple recently placed this home for sale for a cool $14.5 million. The 5,500-square-foot home comes with multiple bedrooms and bathrooms, a swimming pool, a studio space, and a beautiful alfresco kitchen.
Zoë Saldana and Marco Perego-Saldana | $8.4 Million | Beverly Hills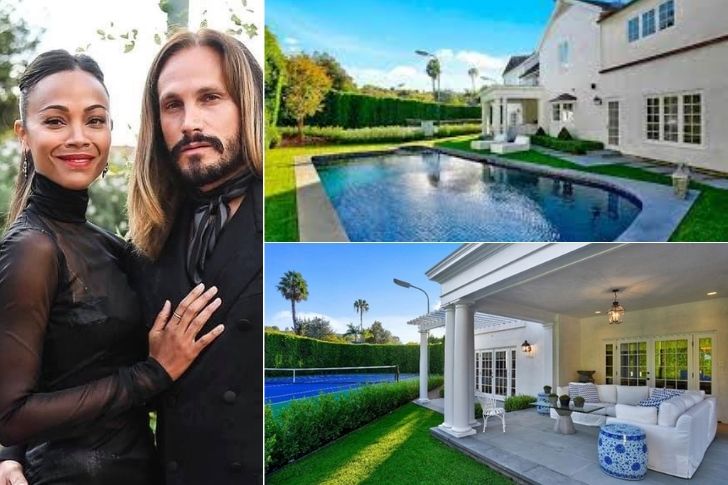 Zoë Saldana has been happily married to her husband Marco Perego Saldana since 2013. Together, they are parents to three lovely children. Although it is unclear how the two met, according to the actress, she had known her partner for over five years before tying the knot. According to Page Six, the couple met in New York and dated for several months prior to their secret wedding in 2013.
Back in 2016, Zoë was reported to have shelled out investments worth over $8.4 million for a property in the celebrity-studded area of Beverly Hills. The house is said to be a Colonial Revival-style one and sprawls over 6,332-square-feet of living area. It includes a spacious media room, a regulation championship tennis court, a rose garden, an outdoor barbecue with a fireplace, and a pool. The Hidden Valley Hills estate also hosts six bedrooms and eight bathrooms.
Prince William & Kate Middleton | Undisclosed Amount | Anmer Hall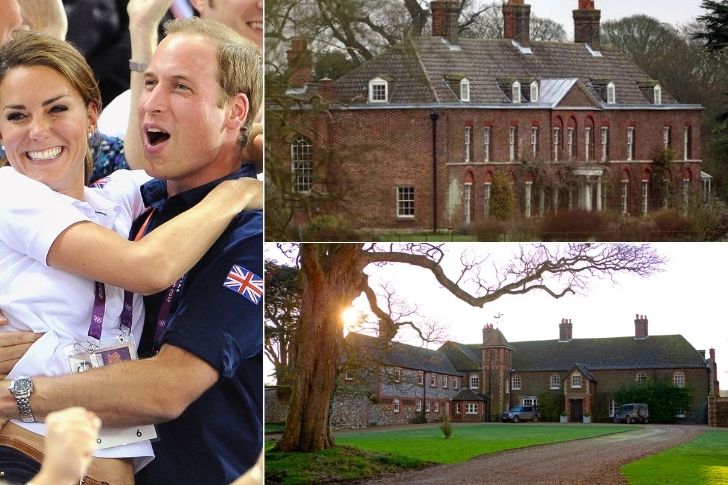 You could say that Prince William and Kate Middleton's romance is the closest we'll ever get to a real-life fairy tale. The two met while they were working on their degrees at the University of St. Andrews in Scotland. Eventually, Prince William and Middleton started dating, publicly announcing their engagement in 2010. A year later, in 2011, they married each other in a ceremony attended by several prominent people around the world.
Prince William and Middleton are now about to enter their 10th year of marriage, and they've been able to welcome three kids together. In addition, they own several properties together, and one of them is their beautiful mansion in the countryside called Anmer Hall. It's located in the Queen's Sandringham Estate, and it was gifted to them by the Queen following their wedding. It comes with several bedrooms, bathrooms, and it's spacious enough for their three kids to play around in.
Priyanka Chopra & Nick Jonas | $20 million | Encino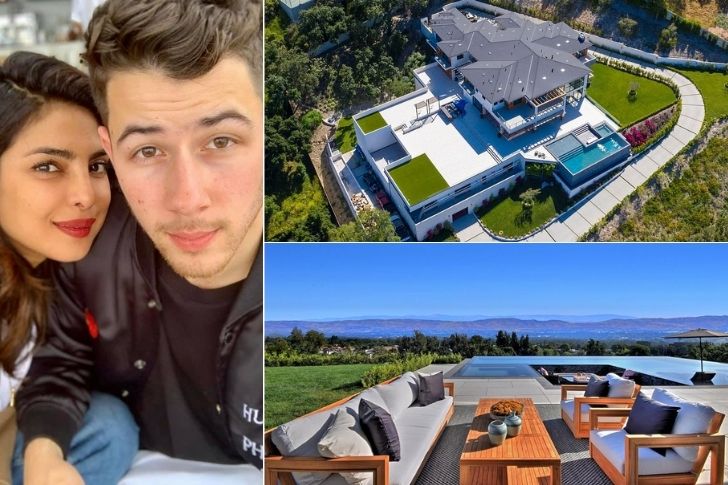 Priyanka Chopra and Nick Jonas are certainly two of the most adorable couples in the entertainment industry today. Their romance started in 2016 when the singer reportedly slid into his future wife's Twitter DMs, and a year later, the two publicly announced that they were already dating. Fast forward to 2018, Jonas proposed to Chopra with a fancy ring worth $200,000. The couple eventually got hitched before 2018 ended and are now entering their third year of marriage.
The couple once again made headlines when they purchased a massive $20 million mansion in Encino, California. Considering that they're both massively successful in their respective industries, we're more than confident that they didn't need any personal loans to help pay off the expensive $20 million abode. The house spans over three acres, and it features multiple bedrooms and highly desirable interior accents. It also comes with lavish amenities and breathtaking overlooking views of the hills.
Reese Witherspoon & Jim Toth | $16 million | Brentwood, Los Angeles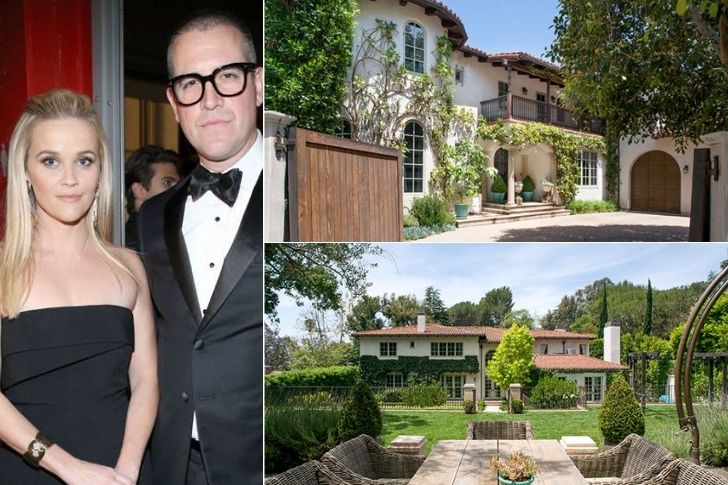 Reese Witherspoon is unquestionably one of the most recognizable Hollywood actresses today. She's been married to Hollywood talent agent Jim Toth since 2011. The two met during a party back in 2010, and you could say that they immediately hit it off. Witherspoon and Toth got engaged less than a year later, and in 2012, they welcomed their first child.
They recently celebrated their 10-year wedding anniversary. During those ten years, the couple has been able to acquire numerous real estate investments. They certainly have an impressive real estate portfolio, and their most recent acquisition is a new $16 million estate in the Brentwood area of Los Angeles. The massive property comes with seven bedrooms, nine bathrooms and boasts over 9,504 square feet of living space. It sits on a three-acre land and is fully equipped with luxurious celebrity-grade amenities such as a library, a top-of-the-line kitchen, a saltwater pool, and many more!
Seth Rogen & Lauren Miller | $2.12 million | West Hollywood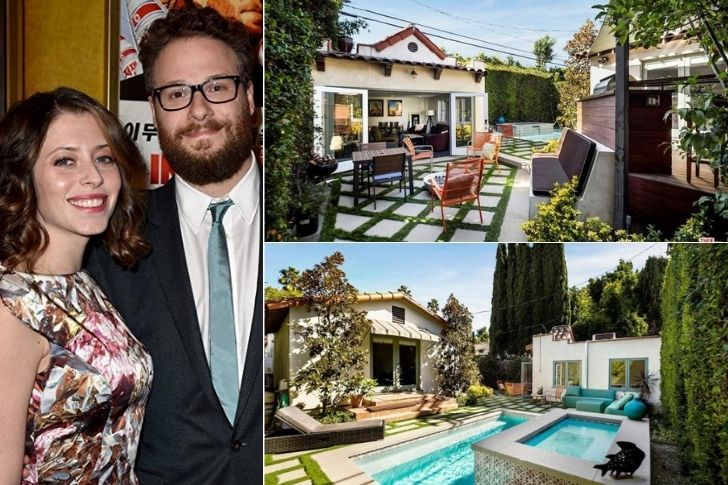 Seth Rogen is undoubtedly one of the most beloved actors in the entertainment industry. He's married to Lauren Miller, who's also an actor. They met back in 2004 and have since managed to keep their relationship away from the public eye. Though they're incredibly private with their relationship, we know that they have yet to have kids and recently celebrated their 10th anniversary.
Rogen and Miller have been able to put together successful careers in the entertainment industry. With this in mind, they have no problems acquiring any property that they want. One of the real estate investments they've made as a couple is their West Hollywood bungalow. It seems as Rogen and Miller are ready to move into another property as they recently listed this one for a cool $2.125 million. It features over 2,853 square feet of living space as well as four bedrooms and three bathrooms.
Serena Williams & Alexis Ohanian | $7 million | Bel Air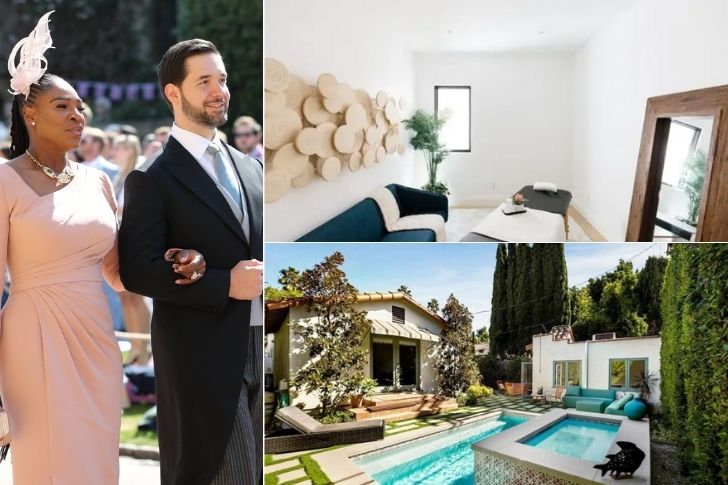 One could make the case that Serena Williams and her husband Alexis Ohanian are two of the most adorable celebrity couples today. The two met back in 2015, and you could say that they instantly fell for each other. They immediately started dating, and in 2017, they formally tied the knot in a private ceremony. Ohanian and Williams are about to enter their fifth year of marriage, and since then, they've been able to welcome a beautiful daughter.
The tennis player and Reddit co-founder have both had successful careers, resulting in healthy bank accounts. They also own several real estate investments, and one of them is their beautiful mansion located in the Bel Air neighborhood of Los Angeles. It comes with five bedrooms, seven bathrooms, and it has impressive amenities such as a spacious garden, a swimming pool, a yoga and massage room, a wine cellar, and a chef's kitchen.
Seth Meyers & Alexis Ashe | $7.5 million | New York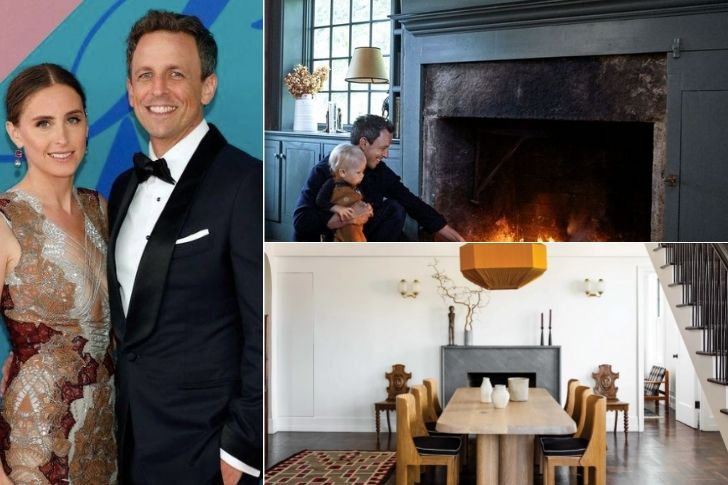 One could argue that Seth Meyers is one of the most recognizable personalities in television today. The television host has been married to his wife, Alexi Ashe, since April 2013, and they're about to enter their eighth year of marriage. Furthermore, in their eight years of marriage, Meyers and Ashe have been able to welcome two sons. From the looks of it, they're incredibly happy with each other, and they love spending quality time together with their boys.
Together, Meyers and Ashe acquired a beautiful 3,200-square-foot New York apartment back in 2016. The couple reportedly shelled out a cool $7.5 million for it, and it's safe to assume that they didn't need any home loans to help cover the bill. In addition, the property underwent tedious renovations two years later, in 2018. It now features ten bedrooms, updated interiors, and spacious living spaces, perfect for their two sons.
Terry Crews & Rebecca King-Crews | Undisclosed | Los Angeles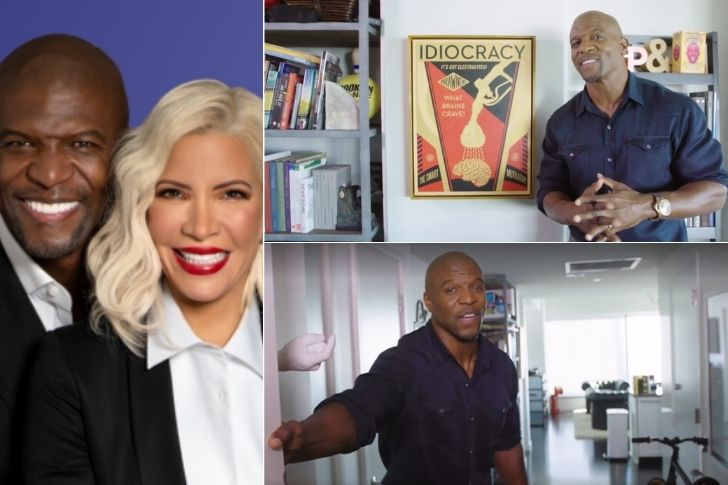 Former NFL player turned actor Terry Crews and his wife, Rebecca King-Crews, have had their fair share of ups and downs in their marriage. Fortunately, the two were able to make things work between them and their five children. The actor was able to amass a large fortune during his time as a professional athlete as well as an actor and TV host. He has used his investment money to purchase good real estate properties which he has also sold. The Crews family is currently residing in Santa Clarita, but he has invested in a loft in Los Angeles which he refers to as his "Fortress of Solitude".
The actor has shown his artistic side with his man cave in LA. With the spectacular view that he is treated with, it is not surprising that he spends some time here with his children. His loft has a playroom for him and his kids and a bedroom with gold and light blue wallpaper that brings out the beauty of his master bed. Clearly his loft is aimed to show off his creative side and he has done amazingly well for himself.
Tina Fey and Jeff Richmond | $12.9 Million | Upper West Side, New York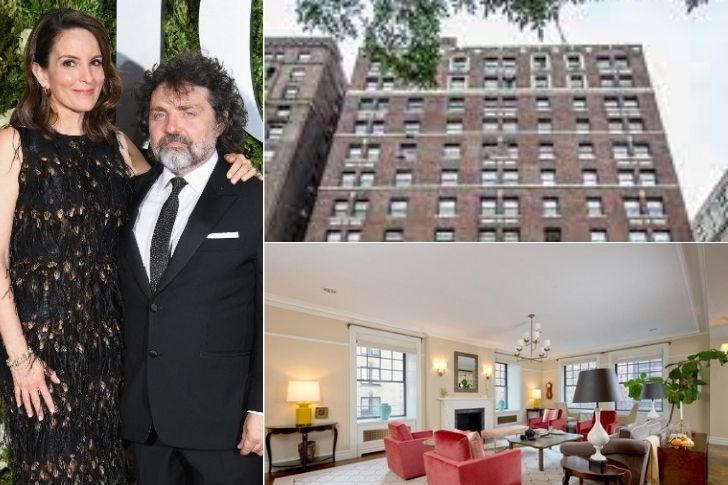 In an industry where love seems so fleeting, Tina Fey and Jeff Richmond's relationship should be something people should look up to. Their love has endured for over two decades and is certainly still going strong to this day. The two met at Del Close's ImprovOlympic Theater, where Richmond worked as an in-house pianist. The couple's love blossomed as they started dating offstage.
Fast forward to today, and the two have been happily married since 2001 and have two daughters together. They live in a duplex apartment on the Upper West Side of New York City. Reports show that Fey and her husband initially shelled out some investment money to buy a $3.4-million apartment back in 2009. In 2016, they bought the one directly above it for $9.5 million, making it a duplex. It has a couple of fireplaces and a private elevator. It also hosts four bedrooms and four-and-a-half bathrooms.
Vince Vaughn and Kyla Weber | $2.46 Million | Nichols Canyon, Los Angeles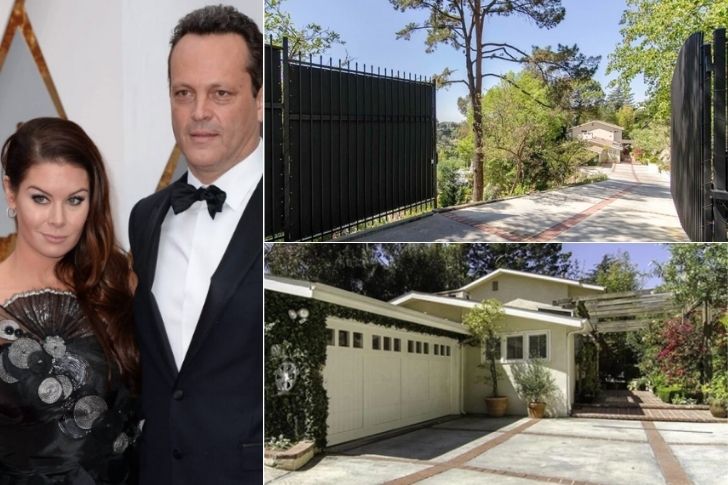 Vince Vaughn and Kyla Weber have been happily married since 2010 and have two children. The couple initially met at a wedding back in 2008. They were introduced by Vaughn's producer friend and immediately hit it off. Soon enough, the actor shelled $125,000 in investments for a diamond ring in 2009. The couple got married on the January 2, 2010, at the Lake Forest Academy.
The actor and his wife have been known to own multiple properties across the US. One of which was a lovely residence in the celebrity-pedigreed area, Nichols Canyon in Los Angeles. Reports show that they bought the Hollywood Hills residence back in 2014 from actress Kate Bosworth for over $2.37 million. The pad hosts three bedrooms and two-and-a-half bathrooms in a living area of 2,890 square feet. However, in 2018, the True Detective star sold the property for $2.46 million.